« A-B-C, 1-2-3, O-N-T!
|
Main
|
Mid-Morning Art Thread »
March 06, 2020
The Morning Report - 3/6/20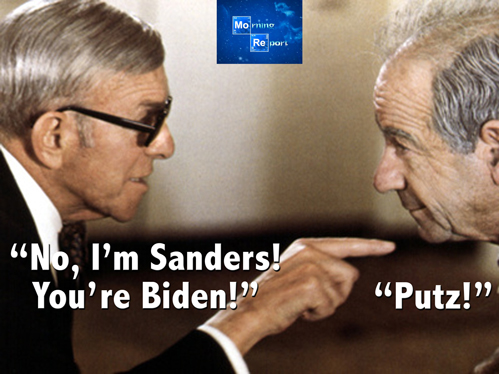 Good morning, kids. Friday, and the fallout over Senator Chuck "Kid Twist" Schemer's very public and open threat of violence against Justices Kavanaugh and Gorsuch is still smoldering. Given the nature of the Swamp, as well as the presidential race and coronavirus in the news cycle, I'm kind of surprised. That said, and with the weekend here, the cynic in me expects this to be forgotten come Monday, but who knows. Majority leader Mitch McConnell, laconic and jowly though his delivery may be, nevertheless ripped Schemer from the well of the Senate, reading his"shameful" threats into the record. With one hand dripping with rhetorical blood (for now) and the other clutching a rhetorical smoking gun (ibid), the execrable paskudnyak tried defending his comments until he saw the he couldn't, and then conveniently claimed he "misspoke." Funny how Leftists, to paraphrase Churchill, are always either at your throat or at your feet.
David Harsanyi in the NY Post notes:
...Schumer doesn't have the power to follow through on any threats, thankfully. His attack, like many less obvious ones, is just part of the left's concerted effort to delegitimize the court, denigrate its justices and undermine the legality of its decisions. This isn't surprising; the Constitution - and the jurists who are inclined to uphold it - are the biggest impediments to the progressive agenda. So expect a lot more of this.
But what Harsanyi misses is that his words have the power to motivate individuals like Dick Durbin-linked would be mass-assassin James Hodgkinson.
As I reported yesterday, when even ultra-Leftist Laurence Tribe, who is a close friend of Schemer, was outraged by the comments, you know he knows he stepped in it. But, the fact that he said what he said and then doubled down proves that he felt comfortable thinking he had the media in his pocket as well as a GOP that would huff, puff and then roll over, which is the usual way these things have gone since time immemorial. But this is the age of miracles and wonders; that is, the age of Trump. While I certainly do not expect what Mark "Great One" Levin is calling for, there is a definite hue and cry coming up from the GOP for, at a minimum, a vote to censure and condemn Schemer. At least one former US attorney rightly claims that the threats "may very well be criminal." They sure as hell sounded like that to me. I too, Senator, "am from Brooklyn."

NOTE: The opinions expressed in some links may or may not reflect my own. I include them because of their relevance to the discussion of a particular issue.
ALSO: The Morning Report is cross-posted at CutJibNewsletter.com if you want to continue the conversation all day.
Follow us on Twitter: @CutJibNews
Long Distance "Def" Dedication to the Democrat Party and Its Rival Factions


posted by at
07:14 AM
|
Access Comments