« Wednesday Overnight Open Thread (3/4/20)
|
Main
|
Mid-Morning Art Thread »
March 05, 2020
The Morning Report - 3/5/20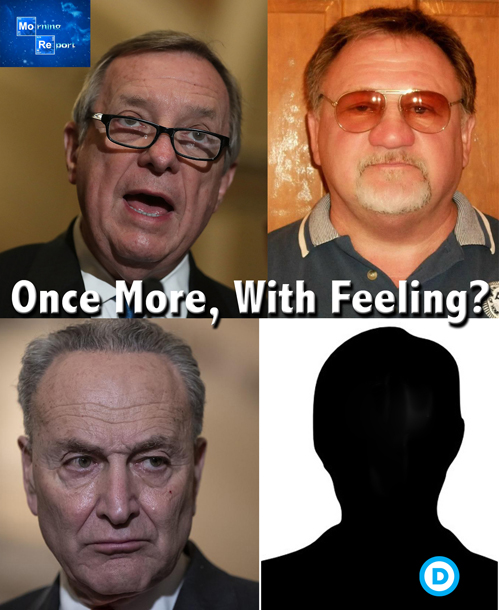 Good morning, kids. Thursday and I'm not even into the first sentence and my blood is already boiling over from the outright threats hurled at the Supreme Court by one of the most loathsome louts ever to hold elective office. And that's saying something given the nature of DC. Cuck Schemer plainly threatened Justices Kavanaugh and Gorsuch with the phrases "you will pay the price" and you "won't know what hit you." Given that both are lifetime appointees and part of an independent, coequal branch of our government, "pay the price", exactly how? And "won't know what hit you" is straight out of Virgil Solozzo's Book of Handy Phrases a few pages after "if I wanted to kill you, you'd be dead already."
What's equally sickening is the moral equivalency in claiming Schemer was merely responding to Trump's "attacks" on the Wide-Load Wiseass Latina and Ruth Bader Meinhoff. Ridiculous on the face of it since Trump was responding to attacks on him and his response was both non-threatening as well as appropriate, given both of their open animosity and vitriol of the President and his administration. The blowing way past the red line of Schemer's statement, at least from my recollection and knowledge of historical criticism of SCOTUS, is unprecedented but it's not unique. You'll recall Obama's thinly veiled threat and rebuke of the court, specifically aimed at the time at Justice Samuel Alito at a State of the Union address and when before the last foul word left his mouth, Schemer leapt to his feet, clapping like a retarded seal.
So what's going on here? Is this a deranged reaction to being helpless as one of the Left's sacraments, baby-killing dressed in drag as women's health and freedom of choice potentially smashed like the golden calf? Or is it the totality of their complete failure at taking out President Trump hitting them square in the face? Whatever is going on, the words coming not from some unhinged troll in his parent's basement but from political and cultural (allegedly) leaders have chilling and in many cases deadly effects, as we have seen now time and time again. That said, I am no fan of Laurence Tribe but I applaud his unequivocal rebuke of Schemer, who is a longtime friend and fellow traveler, and defense of what is supposed to be an independent court that is due the deference and respect of the other branches. But it's the same old story. The Left observes the laws, traditions and customs of America as founded only when it advances their cause, and that's virtually never. Other times it uses the Constitution as both a shield and cudgel to defend and attack us. That is, when they're not wiping their ass with it.
Historically, the Dems have great difficulty in advancing their goals legislatively and electorally, which is why the rely on packing the courts with leftist hacks so when the inevitable lawsuits fly against any bureaucratic or Democrat president's overreach, they are there to kill the challenge and forever etch in stone that which is antithetical to what the framers had in mind. Yes, I realize the New Deal, Great Society and Obama, but it was really the courts that cemented much of their destruction. With that in mind, it's not hard to see beyond the hatred of Trump the man representing we the people and We the People. Trump has proven himself now to be a mortal enemy of the bureaucracy. They know full well that four more years mean one or perhaps two more justices who can effectively reverse perhaps decades of socialist/globalist policy while wresting control over their most powerful political tool, the courts. Hell, he's already put well over a hundred judges on the courts and has perhaps flipped the perpetually risible and dangerous Ninth Circuit. That's why this election is for all the marbles, at least for the foreseeable future. In that light, Schemer's threats come from a place of desperation and impotent rage, yet makes them no less dangerous, both to the individuals they were hurled at and our society as a whole.
So, Chief Justice Roberts condemned them, and as Ace pointed out last night, it should have been a unanimous 9-justice communique. It wasn't, which is rather an alarming tell.
That leaves the Senate and majority leader Mitch McConnell. So far I have not seen anything coming from the Turtle. Considering his position on the Judiciary Committee, in light of this blatant threat, Schemer should be kicked off that committee effective immediately. Is the good old boys club more powerful than doing what's right? At least Senator Josh Hawley is set to introduce a resolution to censure Schemer. We shall see what happens, but from the New Testament, Matthew 7:16 "Wherefore by their fruits ye shall know them."

NOTE: The opinions expressed in some links may or may not reflect my own. I include them because of their relevance to the discussion of a particular issue.
ALSO: The Morning Report is cross-posted at CutJibNewsletter.com if you want to continue the conversation all day.
Follow us on Twitter: @CutJibNews


posted by at
07:29 AM
|
Access Comments