« Washington Post Suddenly Discovers That Bernie Sanders Has a Long History of Defending Indefensibly Oppressive Communist Regimes
|
Main
|
Kurt Schlichter: "Embarrassing Festival Of Never Trump Losers Occurs For Some Reason" »
February 27, 2020
"Diversity," "Feelings," and "Dinosaurs!:" Real Photo of Actual Whiteboard of Brainstorming Session at Star Wars Story Group Shows That the Franchise Disney Bought for $4.05 Billion Is Now Worthless
Star Wars announced a brand new publishing initiative called The High Republic and made clear the focus of the initiative is on "diversity and representation."

...

Waugh states, "We put together a really unique writer's room. We had really diverse voices with very different opinions about Star Wars."
Here's what this very "diverse" writer's room came up with: this diverse group brainstormed ideas for Soy Wars, and not one but two of the ideas were "diversity."
Boy, that is diverse!
Again, this is real. This is a screengrab from their announcement video.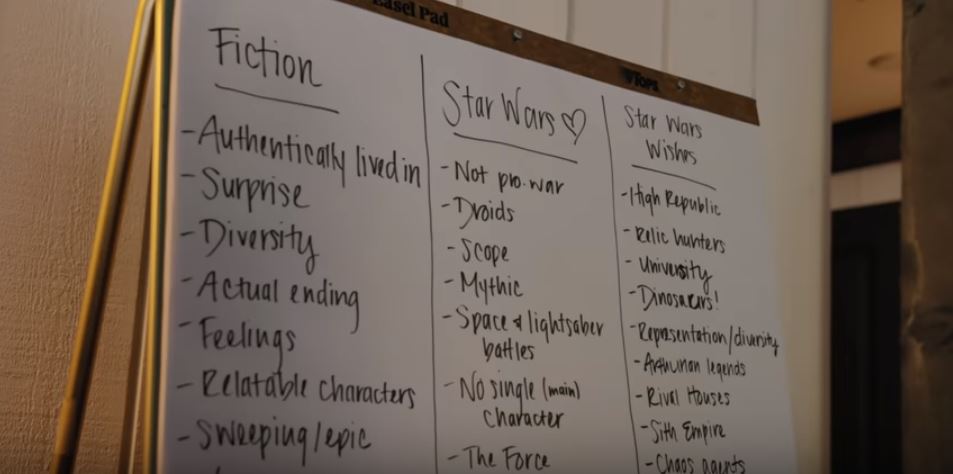 Here's the link for a bigger picture.
Under the "Fiction" category (and by the way, there is no rhyme or reason to these categories), we have "diversity" (yaayyy!!!) and "Actual Ending" -- meaning, I think, that it's good in fiction to have an actual ending in mind for a series.
They probably should have brainstormed "Actual Ending" before producing the brand-destroying sequel trilogy, but hey, late is better than never.
Another big bullet point? "Feelings."
The next category is "Star Wars <3," because nothing says hardcore sci-fi geek like cutesy-poo hearts.
Right under Star Wars, the team has scribbled "not pro-war."
Are you sure? Because you seem determined to fight this "Jedis vs. Sith" war forever. That seems pro-war to me.
Showing that they are Real Fans and not Fake Geek Girls, they then write "Droids."
Well, that's correct. Star Wars does in fact have droids.
Ten points for Gryffendor!
"Space + lightsaber battles." I like how they threw these both together. As if this is just the placeholder for "crap that the boys like which we are, sigh, obligated to make a half-hearted effort to include."
"The Force," they write at the end. Again: They're not wrong! They really know their Star Wars lore!!!
Finally, there's a category called "Star Wars Wishes" -- I guess this is stuff Star Wars does not have, but they wish it did?
This just gets random. "Relic hunters"? Well, wasn't three quarters of Rise of Skywalker nothing but random fetch-quests for relics? You could almost say the whole movine was about hunting relics.
"University." Great, Millennial girls get even more room to turn a boy's action property into a girls' coming of age story.
Then: "Dinosaurs!" With that big exclamation point.
Are these people aware that Star Wars routinely includes gigantic monsters which are at least dinosaur-sized if not many times larger?
Do they really think it will blow viewers' minds to see "dinosaurs!" in Star Wars?
Did they not see the giant space worm -- bigger than the Millennial Falcon -- in Empire? The Krayt Dragon bones on Tatooine? The T-rex sized Rancor beast?
And then in the later crappier movies, there are gigantic alien fish, gigantic alien Cthuloid tentacle balls, gigantic alien sand worms, etc.
Do they mean... Star Wars, in a galaxy far far away, is to have actual earth-born dinosaurs?
Well, you know, there are no bad suggestions in a brainstorming session. Until that one.
And then, once again, they write "Representation/Diversity." They had already included "Diversity" in the "Fiction" section, but I guess they really want to drive this one home. And apparently Star Wars has not had adequate diversity before, despite five of the six Disney movies featuring a woman lead, and featuring a mix of different races as the male c**ks following Strong Empowered Women's orders.
Note that Liberal White Women always consider White Women -- who are actually the largest demographic group in the country -- to be a "diverse" category.
But as I always say, "Liberal White Women are the Straight White Men of White Supremacy."
Before coming up with the very, very creative suggestion of featuring a "Sith Empire" -- wow! What a great idea! You've taken the two main enemy groups in all Star Wars movies and combined them! -- they also come up with the very, very creative idea of having the new stories feature "Rival Houses."
You know, like they're going to have in the upcoming Dune remake.
Oh, did I mention there was a giant sand worm under the sands of a desert in Rise of Skywalker?
Because there was.
Soy Wars is truly in very special hands, my friends.
Via HeelVsBabyFace.
The beginning of this video shows this super lame announcement.
Update: Shut up, idiot.
Mark Hamill

@HamillHimself

For centuries, men have had their chance to rule government with
middling-to-poor results. Who's ready to let women take charge
completely? Just women. I know I am.

posted by Ace at
01:04 PM
|
Access Comments