« Mussolini, Mayor Pete and the Long March [KT]
|
Main
|
Ace of Spades Pet Thread »
February 29, 2020
Saturday Gardening and Puttering Thread 2/29/20 [KT]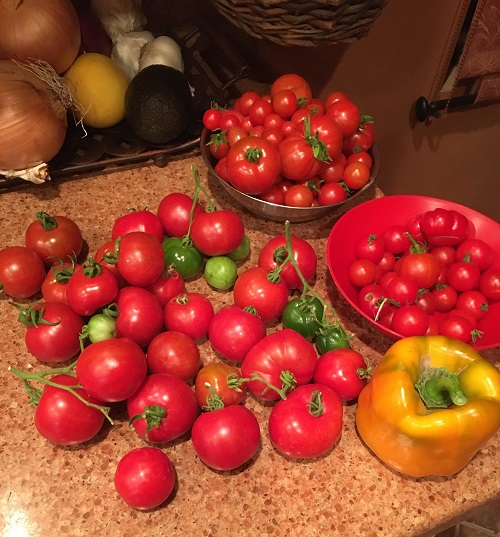 Happy Saturday to all you gardeners, putterers and dreamers. Today, we will be visiting some members of The Horde in warmer climes. If it is still snowing where you are, there is hope!
From Jeff, who also sent the photo above:
Here is a bit of AZ gardening. We grow two runs a year with the salad times (now) with the bonuses of beans, kale, chard, peas, celery, carrots, and a few others.

Our summer crop: tomatoes (the photo is from the patio and we have other chili and peppers growing as well), cukes, zukes, corn and others fuel the family.

We grow, ferment, pickle, and can.

All in 1000 sq ft of irrigated yard.
We hope to hear more about the irrigation later. From the salad times, is Romanesco cauliflower or broccoli?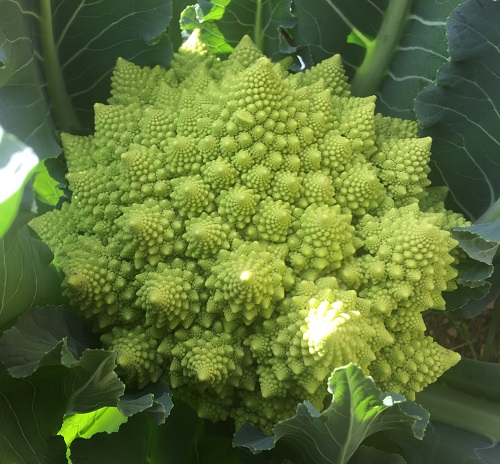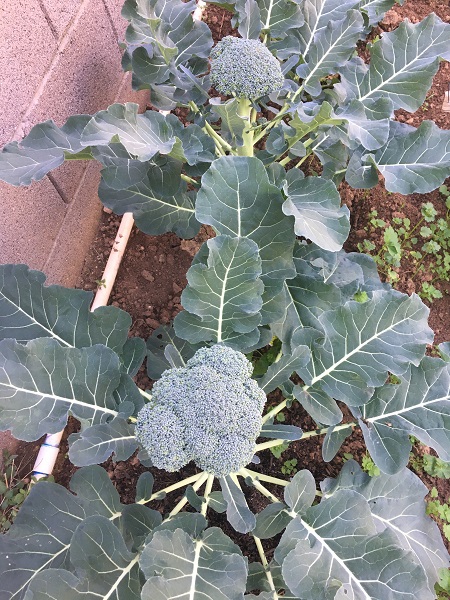 Tomatoes above are also from winter patio pots.

Not shown:
Kale
Spinach
Lettuce
Carrots
Radish
Turnip
Beets
Chard
Peas
Arugala
And others

We live in Mesa, AZ and are in what is called an irrigation district: we receive water on a schedule, flooding the yard. I will send a photo of that soon. I think Phx is the only city that performs this?

Some of our canals were from the Hohokam and Papago tribes of 200 -1400 AD.
Puttering
Here is some Puttering Greatness from the low desert:
I know that the garden thread is a bit hard in the winter for most of the Horde, so I had an idea that we could compare garden art on the thread. Mr. Wee Kreek and I have taken up welding and have been busy making garden art. Mr. Wee Kreek grinds and cleans the metal and he lets me do all the welding because I love it. We both collaborate on the design. All made from scrap material that people have given us or we have found at yard sales. Garden tools are my favorite. Also we have a destination pole with a plaque and distance of every family members birth place and this includes our furry kids.

I just thought it would be fun to see other peoples garden art, and see what other ideas are out there. On the garden front, we are heading into one of the biggest planting seasons for us. Trying some great new things this year. Fish pepper, which is hot but not killer with variegated peppers and foliage. A Kajari melon, chiltepin wild chile and a few other oddities. I did finally get a few ripe Kiwano melons, fun to grow but not great to eat. Mostly seeds and a bizarre flavor, I ended up giving most of them to my girlfriends chickens, as they apparently love seeds. They can't all be winners.

Hope everyone is poring over their seed catalogs and dreaming of spring.

Wee Kreek Farm Girl
I am saving some of their great art, in case someone else wants to send some in for comparison. In the meantime, here is a sample: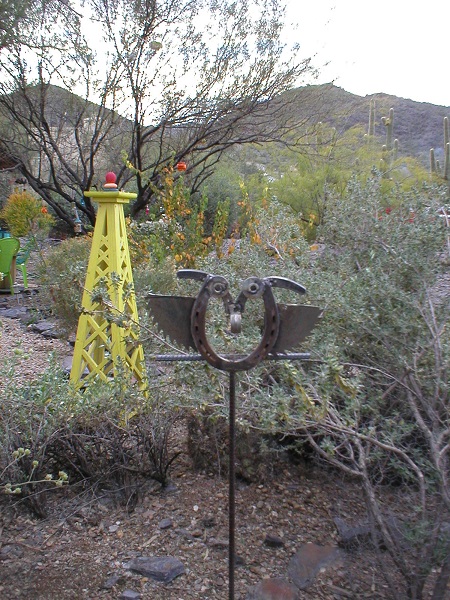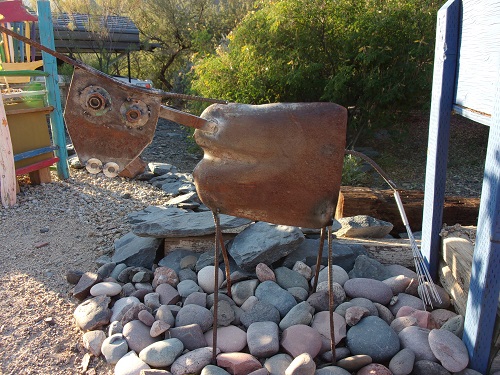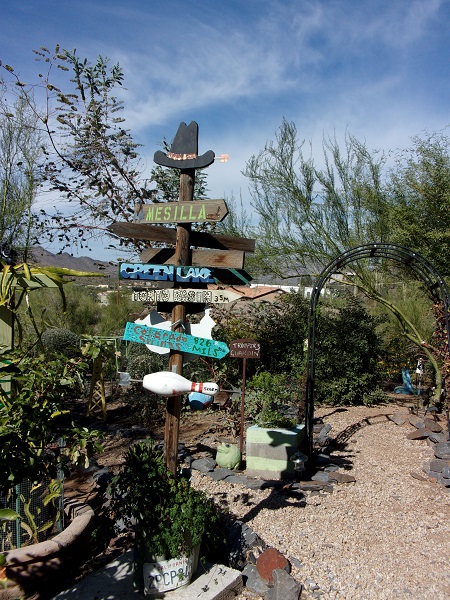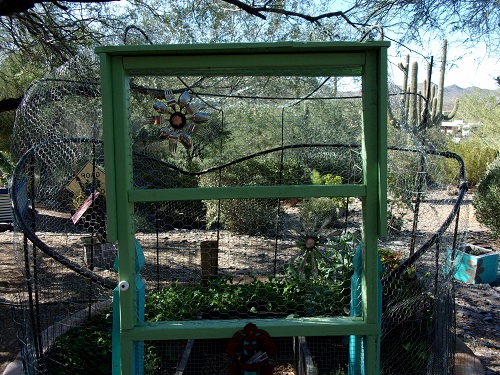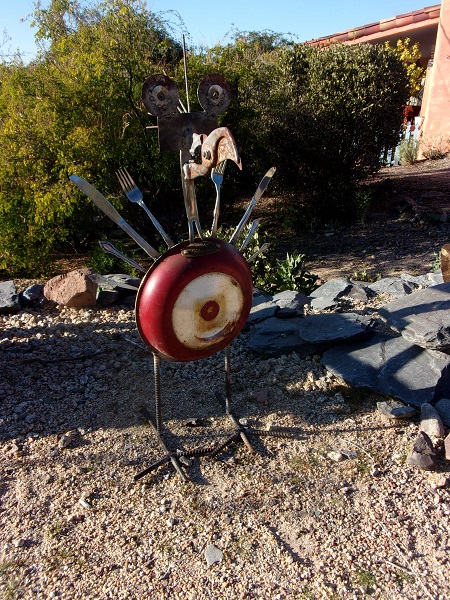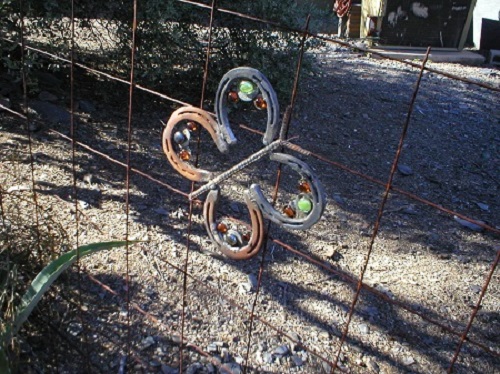 The Edible Garden
Wanna talk about stone fruit today? This is a peach that was grown and eaten by my niece and her husband.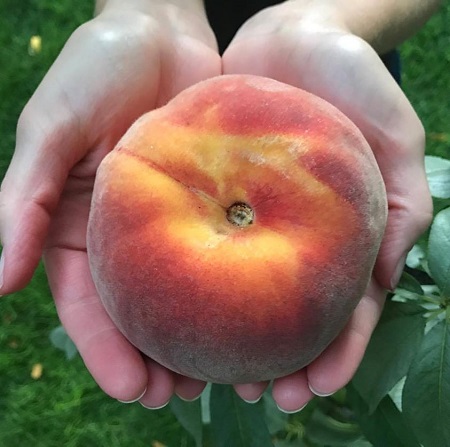 Our Pluots, Apriums, and Nectarines are blooming. Possible rain is forecast, naturally. Need to get the copper ready for brown rot blossom blight. We don't have to worry about frost with stone fruits very often around here, but it is a worry elsewhere, for sure.
Ever heard of fruit walls? They allowed the growth of fruits in Northern Europe during the Little Ice Age.
Established during the seventeenth century, Montreuil had more than 600 km fruit walls in the 1870s, when the industry reached its peak. The 300 hectare maze of jumbled up walls was so confusing for outsiders that the Prussian army went around Montreuil during the siege of Paris in 1870.
Espaliered fruit trees on fruit walls (not directly on the wall, but on wires set a bit away from the wall, usually) allowed for better pest control, climate control, ease of picking, etc. More work to set up.
Have you got a wall where a fruit microclimate set-up might be a possibility? Note that for early-blooming stone fruits, sometimes a situation in which the tree is shaded in winter delays blooming so that it misses frost some years.
Island Girl sent is this photo of green beans that her neighbor gave her.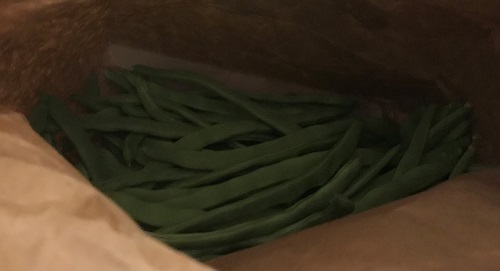 Green beans from my neighbors garden in exchange for our recycling we leave him. Varies fresh fruits and vegetables each time, he is 80!
What a great neighbor! They look yummy, alright. This is how they came: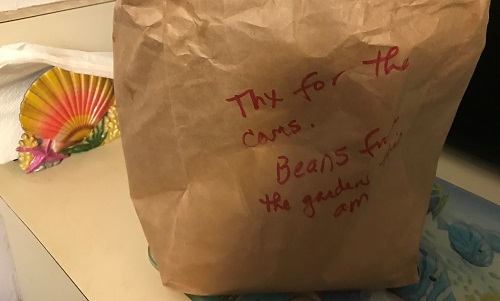 She also sent us a flower photo, perhaps inspired by the gift above. Care to identify these?
Love from Kauai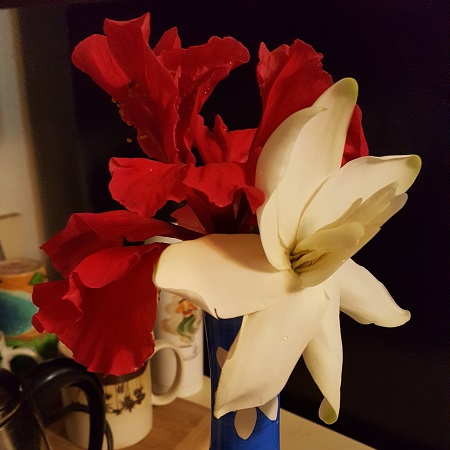 Gardens of The Horde
We have a ripe tomato near the front porch from one of our over-wintered plants, even though the tips of the plants got frost-burned.
The rosemary is in full bloom.
Anything going on in your garden?
If you would like to send information and/or photos for the Saturday Gardening Thread, the address is:
ktinthegarden
at g mail dot com
Include your nic unless you want to remain a lurker.

posted by Open Blogger at
01:12 PM
|
Access Comments