« Saturday Gardening and Puttering Thread 2/29/20 [KT]
|
Main
|
Saturday Afternoon Chess Thread 02-29-2020 »
February 29, 2020
Ace of Spades Pet Thread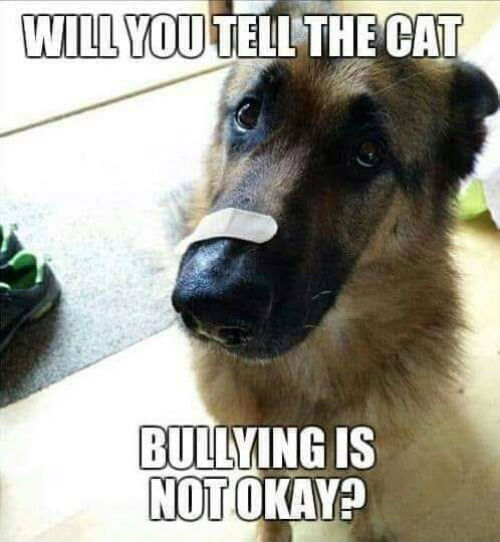 Good afternoon everyone. Welcome to the almost world famous Ace of Spades Pet Thread. Sit back, relax and enjoy the world of pets.
***
A Little of This. A Little of That.

From Teresa in Forth Worth, A tarantula sheds its skin.

From our regular contributor, Shibumi, "And now... links. Because that is more fun than doing taxes."

It seems several times a week I hear from Hank Curmudgeon. This week was no different. Cute relationship.

Thank you Shibumi and Hank. You folks sure do find the neatest pet things.
***
Meet The PetMorons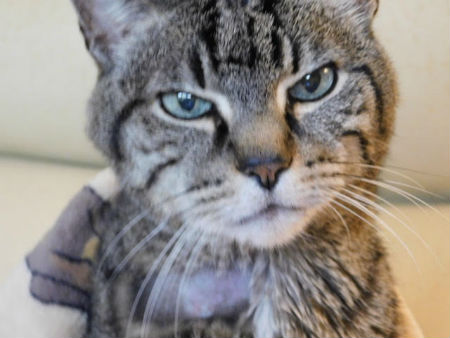 I was going to post the last two members of our feline family this week, but instead we got some lousy news. Birdman, one of our original kittens who was posted just a month or so ago, was diagnosed with kidney failure. It was already very bad and we couldn't see any reason to prolong the agony - his or ours. He was no longer filtering anything and poison was building up in his system. So this morning we visited the vet for the last time and Birdman passed over the rainbow bridge.

He was pampered to the extreme over the weekend, and we're pretty sure he and the other cats knew what was up. He used to follow me around like a puppy, and just this past year "raised" a litter of three feral kittens, grooming them, playing with them, and teaching them how to open screen doors. His legacy lives on in those three girls. His feral mother was our first rescue, and Birdman would have been 15 years old next month. He got his name because he never could give a proper "meow", it was always a cheep or squeak.

I'll post the the last of our rescues next time. For now - we had a heck of a time, Birdy, and I'll miss you waking me up every morning at 4.

As always, thanks for posting the pets. - BamaBubba

So sorry to hear of Birdman's passing. He certainly was a handsome young lad. Thanks for sharing your story with us. We know it must have been hard.
***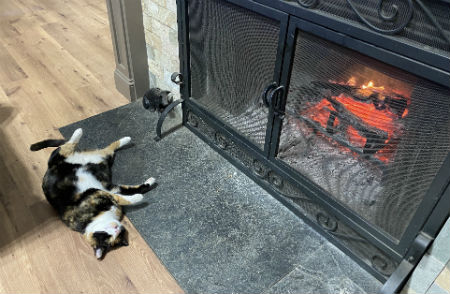 We've got quite a few cats (disclaimer - all spayed and neutered and up to date on their shots) as you tend to accumulate homeless cats when you live on 15 acres in the country. Well, we used to be out in the country before Ohio and New Jersey invaded. Anyhow, this girl is Batcat (because of her perfect imitation of Batman's mask). She does enjoy a fire in the fireplace. - Andrew
Tough life Batman, but someone has to do it amirite? Great photo Andrew and what a big hearted Moron you are. Thanks for the submission.
***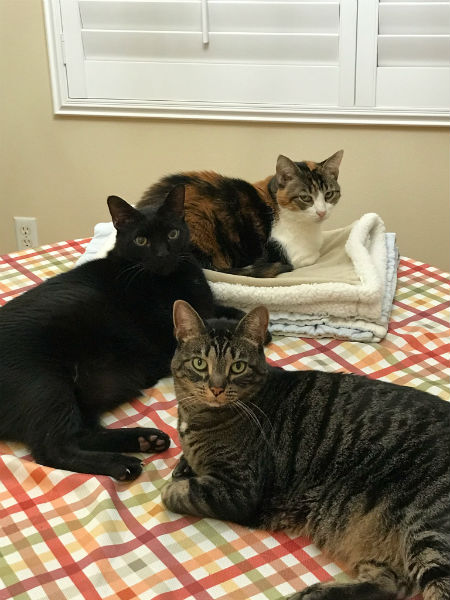 Hi, Misanthropic Humanitarian and fellow voracious readers of the Pet Thread.
Here is a Still Life With Sleepy Felines. We adopted Ashley (the black cat) and his soulmate Carmen (on the blanket) about 12 years ago from a group of cat-rescue volunteers. Carmen recently developed hyperthyroidism but she is stable with twice-daily methimazole pills. Their close friend Kitty came to the neighborhood a few years ago. We fed her outside for a while but when it got colder she decided to move in.
Congratulations on four years of the Pet Thread! - Rich
What a lovely "family" you have there Rich. Looks like you know how to perform the cat roundup. Cool photo. And thanks for your kind words.
***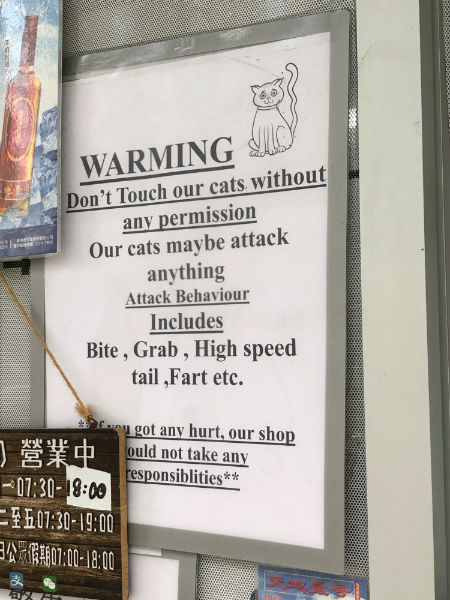 &&&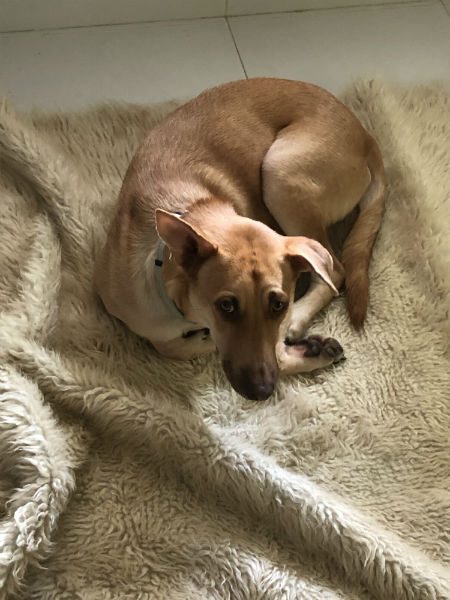 &&&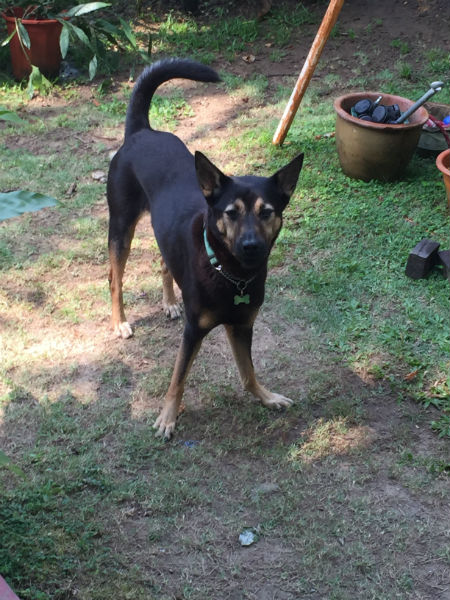 Mis Hum,


All the best to you and yours. Your man in Hong Kong, Publius Redux, here. I still can report that there are no rage zombies in the streets due to the COVID-19 virus. But everyone is wearing a mask. Anyway, we shall see in the next few days whether the ChiComs have this under control or whether this virus is a "wildfire" scenario.

In other matters I give to you the funniest "beware of _____" type sign I have seen in a while. It was posted at a local shop along my commute route, in English and Cantonese, and I am sure you will find it funny. I sure did. Please share with our moron pet folks if you also like it.

In other matters, I would like to also send along some honorary pet moron pics. As you know, ole Publius Redux, being the footloose and fancy-free ex-pat, does not have pets of his own (although I grew up with them in the family, extensively). Instead, I live my pet owner life vicariously through others. In this instance, for instance, my sisters'. Sister Redux lives in Singapore (and also used to live in Hong Kong) and has two dogs. They are cute as buttons, but a bit skittish except with those they know well, due to their backgrounds. One is named "Loosey." That's the black and tan coloured one. She is named that due to the fact that my sister rescued her from the streets of Mui Wo, on Lantau Island (where she lived at the time. That's my sister, not the dog, although I guess the dog lived there too, obviously) where she was a puppy running "loose" in the town and creating an awful racket while trying to avoid being caught. As legend goes, Sister Redux was summoned by the townspeople and when she arrived she simply scooped up the dog in her coat, looked at it and said "you are my dog now – I shall take you home and name you Loosey!" The dog reportedly sighed, stopped making noise and settled into her jacket. She was brought to Casa Sister Redux in Lantau and installed as a family pet.

The other dog, the orange one with the ear flopped over ( so cute) is also a rescue pup. His name is "Max" and she got him from a mutual friend who got him from a shipyard. So he's the cagey "dog from the Singapore docks." I picture him talking like Marlon Brando from On the waterfront! He is soft and sleek and always on the run. A cute pup indeed. Both are living the good life in casa Sister Redux Singapore. Talk about "lucky dogs!" Not sure if I can even guess at the breed mixture of these two true mutts. I will leave that speculation to the Horde (Have at it)!

Anyway – hope you like all this and can use some, if not all, of it. If anyone needs me they can get in touch with me at my website: https://www.thegrouchygweilo.com/
All the best MH! - Pax Ex -Publius Redux
It is always good to hear from you Publius Redux and I hope you don't mind that I shared your entire email. Just an awesome letter and quite the world you live in. Glad you are feeling well. Thanks for sharing today.
***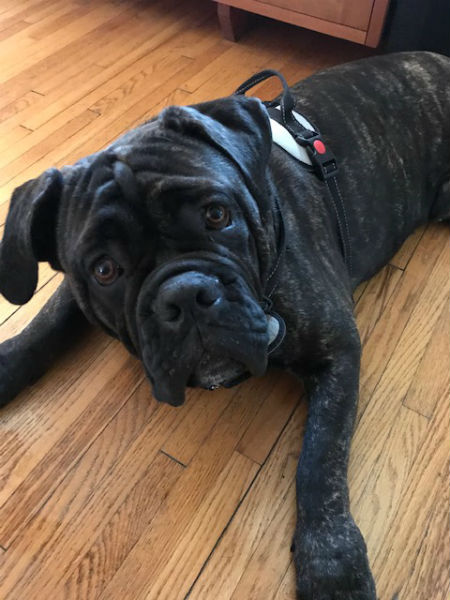 So glad you liked Miss Grace!!

This handsome fellow is Blizzard. He was rescued from a kill pen as a scruffy 4 month old (first pic). After a couple weeks, we gained his confidence (with lots and lots of treats), started sponsoring him and trained him to walk on a lead. He seems to be a happy boy, but needs a girlfriend.

We believe he has some mammoth donkey in him (thank you George Washington!).

MW in Texas
What a handsome animal. It is one thing to save a dog or a cat from shelter, but a donkey! Awesome. It sounds like he has found a solid home and has a great life. Thanks for sharing this story today.
***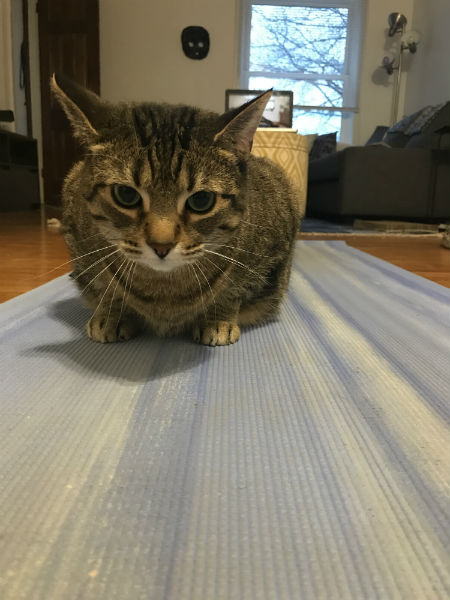 Meet Olive. She was an office cat at a previous employer. They were going to send her to a shelter. As I needed a pet I adopted her. She keeps me sane. Spud Bud in St. Louis
Thanks Spud Bud, great nic. The City? Well, you could do worse. BTW Olive is one of my "Grandkids".
***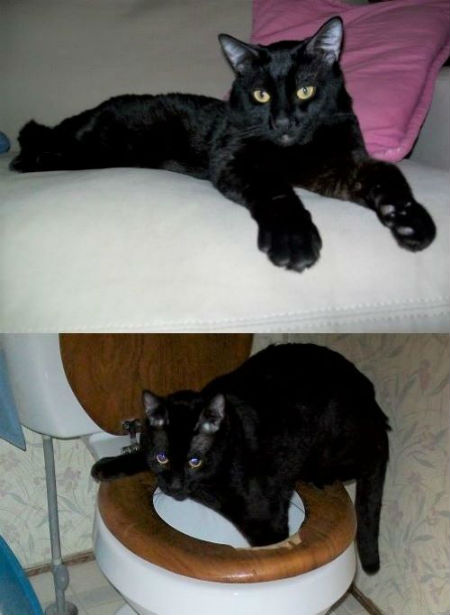 Hi MisHum,

Last December my mom had to put down her 18 year old cat. She was the last of three siblings, so when I came to visit I took her to a shelter in Spokane, WA to get another cat. This is Blackie. He's about 4-5 years old and was found in a trap that's also used to catch coons and such, and he was injured. After he was available for adoption he was adopted for a few days but was returned. They felt he was too needy and meowed too much (people are stoopid). Yes, he's needy, is a talker, and a lap cat (he head-butted me a few hours after we got him home). He's found a home. - Jake Holenhead
Well Jake, it sounds like a perfect match for both your Mom and Blackie. May he give her many years of companionship. Thank you for sharing with us today.
***

Thank you Morons for the links and pets. A great bunch of pets this week which is par for the course as you guys rock.
If you have something to share with us pet related, please contact us at petmorons at the gmail dot com.
Have a great week!!!

posted by Misanthropic Humanitarian at
03:00 PM
|
Access Comments