« Saturday Morning Coffee Break
|
Main
|
Saturday Gardening and Puttering Thread 2/29/20 [KT] »
February 29, 2020
Mussolini, Mayor Pete and the Long March [KT]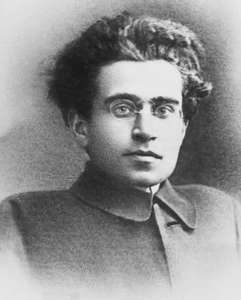 Antonio Gramsci
This week, someone made a comment on Facebook about how it was a shame that Americans were more afraid of European-style Democratic Socialism (in reference to Bernie Sanders and Denmark, in particular) than of European-style Fascism (in reference to President Trump, of course). Has the President made the trains run on time? Are people still upset that he put travelers from China into quarantine last month?
It got me thinking about Mayor Pete, whose father probably would not have founded a society dedicated to Antonio Gramsci if Mussolini had not put Gramsci in prison. If his father had not had this sort of dedication to Gramsci, would Pete have become a politician? (Would people still call him Mayor Pete if he were elected president?)
Mayor Pete's campaign seems to be fading a little from when he was attracting big donations last year with his abstract promises to bring America together.
Buttigieg tells voters that the next President will "stand on the rubble of what has been busted in our society."
But I don't think his career is over. I think he is in it for the long march. He might even be in the running for VP this year. The situation seems to me to be quite fluid. Whatever happens, his story provides some insight into the long march of Marxism through our institutions and culture.
Not many people in the general population noticed that on February 12, The Nation published a piece on what Mayor Pete had learned from Marxist Intellectuals. About Pete's father:
When he started working on Gramsci, the Italian thinker was a common touchstone for political discussions--but almost none of Gramsci's English-speaking devotees had read the Prison Notebooks in full, let alone were familiar with the full breadth of his work. The critic must have seen an important opening here: What were Gramsci's most passionate adherents failing to see?

A dedication to philology, a responsibility to what is actually in the books, lives at the core of Joe Buttigieg's work. And if he passed this along to his son, then Pete Buttigieg's politics might start to look less like dry technocracy and more like a sort of ethics: a principled care for lived experience in all its dull complexity, and a commitment to talking about it in ways that people will listen to.
Mayor Pete is dull because he is ethical?
A couple of weeks ago, there was a very well-written piece in The American Spectator entitled, Mayor Pete: Red Diaper Baby.
Pete Buttigieg's father, Joseph Buttigieg, . . was the world's foremost expert (certainly the English-speaking world) on the famous Italian Marxist Antonio Gramsci. Joseph, who died in January 2019, was no less than the founder of the International Gramsci Society. . . .

At the age of 35, in 1926, Antonio Gramsci was arrested in his native Italy by Mussolini and spent the last 11 years of his life in prison, where he would write, write, and write -- compiling a master volume of 33 Prison Notebooks. Of these notebooks, compiled mainly between 1929 and 1935, two of them, Notebooks 16 and 26, deal explicitly with culture -- that is, Gramsci's Marxist thoughts applied to culture. . .
Gramsci looked to culture, particularly through his theory of "cultural hegemony." If the fundamental transformers of the radical Left truly wanted to win, then they needed to first seize the so-called "cultural means of production"; that is, culture-forming institutions such as the media and universities. Gramsci himself foresaw societal transformation coming about by what others have characterized as a Gramscian "long march through the institutions." . . .

Not until leftists came to dominate these cultural institutions would they be able to convince enough people to support their Marxist revolution. "This part of [Gramsci's] thesis was like manna from heaven for many left-wing Western intellectuals," writes Samuel Gregg of the Acton Institute. "Instead of joining a factory collective or making bombs in basements, a leftist professor could help free society from capitalist exploitation by penning essays in his office or teaching students."
Read the whole thing for details on how Mayor Pete's upbringing may have affected his current views. There are a lot of fascinating details in this piece about the father, the son and academia.
When he was younger, Pete won the annual Profiles in Courage award bestowed by the JFK Library by picking Bernie Sanders as a "profile in courage".
Music
Hope you have a great weekend.
This is the Thread before the Gardening Thread:
Serving your mid-day open thread needs

posted by Open Blogger at
11:16 AM
|
Access Comments