« The True Evil Of Socialism Is Inequality...And It Is Most Obvious With Food!
|
Main
|
Bootygag Out? »
March 01, 2020
Food Thread:Your Mom Was Correct: "Wash Your Hands Before Dinner!"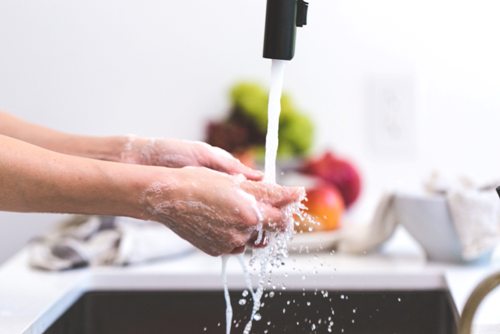 It's not the most exciting topic, especially compared to bacon, or grilling nicely marbled NY Strips over a hot fire, but it's pretty important in the grand scheme of things. Luckily, keeping clean and safe in the kitchen is pretty simple, and the benefits are vast...minimizing the risk of food-borne illness for you and your family and your friends.
I won't go into the gory and unpleasant details of failure to maintain sanitary and safe conditions in your kitchen, because most of us have experienced it, and it ain't fun, and can be quite serious indeed if one is unlucky and gets something other than a run-of-the-mill Staph. There are nasty E. coli strains and Campylobacter and Salmonella and a bunch of other ones that will put you in the hospital, or worse.
Ever wonder where some of those restaurant outbreaks com from? Or the ones that are traced to green onions harvested by our energetic and resourceful illegals who think crapping in the fields is perfectly okay?
Yeah...that's why a good start is to wash your hands before you start preparing food. And then washing vegetables thoroughly, because they are going to be eaten raw, and washing Central American E. coli off your food is a fine start to a good dinner.
I don't rinse poultry, because there is some evidence that it simply spreads potential contaminants around the kitchen. But segregating meats from all other foods and utensils and prep surfaces is another basic rule that when violated will get you sick in a hurry.
When I prepare meats, in particular poultry, I clear the work surface of everything else, just so that there is minimal risk of splashing or dripping or whatever onto another food or prep tool or surface. Then when I am done, I wash down the counter. Simple, easy, and very effective. And as tempting as it may be to use your favorite chef's knife for everything, if you do (and I use it for probably 75% of the cutting), wash it in hot soapy water whenever you switch to another food. After a few hours of cooking my hands are so damned dry from the constant washing that I keep a container of unscented hand lotion in the kitchen!
I use plastic cutting boards that get washed in copious quantities of hot (as in: my water heater is pegged at the maximum) soapy water. And then bleached or tossed into the dishwasher every few days, because why the hell not? I have read that wooden cutting boards are weakly antibacterial, but I prefer plastic.
Mostly this stuff is logical, and with just a few seconds of thought we can avoid most problems. For instance, just keeping cold food cold, and hot food hot prevents bacterial growth in the danger zone (41° to 145 °F). That's probably overkill, since bacteria is killed at temperatures inside that zone. But it's still a good rule. I also have a few food thermometers and an infrared thermometer for surfaces. And I use them all of the time! It's better to know that the chicken is at a safe temperature than assume it from cooking time and temperature. it takes just a few seconds, and can prevent hours or days of misery.
I have thrown out my share of food that was probably perfectly safe to eat, but why risk it? $5 worth of fantastic home made potato salad into the trash is painful, but not nearly as painful as the alternative.
I start with the general assumption that the surfaces of all of my raw ingredients are contaminated, and need to be washed, or cooked to the proper temperature...or both. And from that flows all of the the other things most of us do to minimize risk.
Oh...and don't cook bats or pangolins...no matter how good they look in the store.
By the way, does anyone else watch food handling in restaurants and is often shocked by how bad it is? The worst offenders seem to be the food truck and carts that predominate in the cities. I stopped at a red light on 47th and Madison a few mornings ago. it was early...about 6:15am, and the food cart at that corner was getting its supplies. In boxes. Sitting on the wet street. Absorbing all sorts of lovely things.
Why, no! I never eat anything from those things. Why do you ask?
******
Dear KitchenAid...Fvck you! If I want to turn off the exhaust fan over my range, that is my prerogative, and you building a stupid temperature sensor embedded in the fan built into the microwave that DOESN'T ALLOW ME TO TURN IT OFF until it decides the range is cool enough is nanny-state bullshit, and makes me think long and hard about buying from another company when I need to replace a kitchen appliance.
This is idiocy on a grand scale. What is the worst thing that can happen? My kitchen heats up? This isn't a fire suppression system, or in fact any sort of safety feature. It is a smug marketing group asking the engineers if it is possible, and the engineers saying, "Sure," and thinking, "But...uh...why?"
It's like the label on a bottle of Ambien that warns,"May cause drowsiness." Screw you...screw all of you nanny-state hacks. My kitchen, its temperature and everything else that goes on in it is none of your business.
Okay. I feel better now.

******
Isn't part of the pleasure of mayonnaise the mouth feel? That silky, luxurious thick fattiness that coats everything, including the bread so it doesn't get soggy? A slice just doesn't seem like it would to the trick. And, to be honest, sounds sort of gross. But this is Japan, so I am not surprised...
Individual Slices of Mayo Arrive in Japan Next Month
This is one of the pleasures of a market economy. Weird stuff appears all of the time, and almost as quickly? Poof...it's gone.
What strange and disturbing stuff do you lunatics recall from your misspent and dissolute youth that can no longer be found on the shelves of your local supermarket?
[Hat Tip: Bitter Clinger]

******
Well! Almost-eight-year-old bacon! I like it! Especially since mostly lurker Mr. Bingley used it in a mustard stew...hopefully the great recipe I posted a few months ago.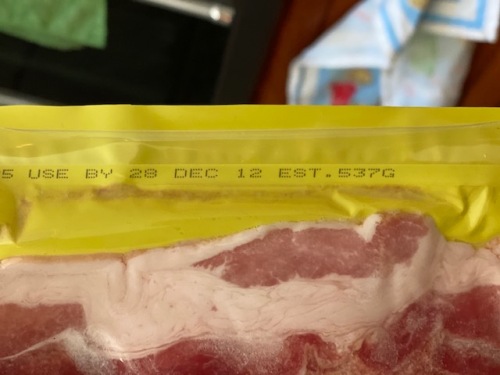 ******
Eric Ripert is perhaps the most prominent haute cuisine chef in America. I guess you could argue that Thomas Keller is in the running, and I am sure there are oodles of food magazines arguing the point. But he is an astounding talent, and actually makes cooking accessible...sort of.
Anyway, I find cooking fish to be rather difficult for a few reasons, but he makes this look easy.
Learn How to Cook Crispy Fish like Eric Ripert
Don't be fooled. It isn't easy, but he does make look a bit less intimidating. I noticed something that I don't do because I am a glutton...he cooks small pieces of fish, and that makes it much easier to manipulate, and less prone to falling apart.
He also has about 12 prep cooks doing the grunt work. That must be nice.

******
I am deeply conflicted. I have heard vicious rumors of making a roux in the oven, but that violates all that is good and pure and clean. And then there is the non-zero risk that some crazy Cajun will hunt you down and skin you for your sacrilege.
He makes the roux in the oven. THE OVEN!
To cleanse your palate here is a great and entertaining chef making the same dish...
How To: Make Chicken and Sausage Gumbo with Isaac Toups
I think I may have posted this before, but damn...he is worth watching again! I love the way he cooks. It is all about the pleasure of cooking and eating.

******
I really enjoy the flavor of za'atar, but it is undeniably a bit weird and pungent and maybe not for everyone. Plus, it might not be available everywhere in the country. But it's worth a try just once.
Za'atar roasted chicken over sumac potatoes
Sumac? I am less enamored of. But it's still a solid recipe and one that will get your attention. These are bold flavors, and she uses a lot of them!
******
One step forward (the local store has radically decreased its meat and produce prices) and two steps back!
Women Makers Raising the Bar
Ask me if I give a shit about the genitalia of the people producing the food I eat.
******
Food and cooking tips, Large-breasted Muscovy ducks, well-marbled NY strips, bartenders who use vermouth in Martinis, crisp bacon (although I am moving toward less crisp), thick and fluffy pita, and good tomatoes that aren't square, pale pink and covered with Mestizo E.coli:
cbd dot aoshq at gmail dot com
. Any advocacy of French Toast with syrup will result in disciplinary action up to and including being
nuked from orbit.
And yes, shaking a Manhattan is blasphemy...it's in the Bible!
******
&topic=world_news">

posted by CBD at
04:00 PM
|
Access Comments