« Food Thread: A Tale Of Two Restaurants...And Tacos!
|
Main
|
Sunday Overnight Open Thread (2/23/20) »
February 23, 2020
Gun Thread: Northam is an Idiot [Weasel]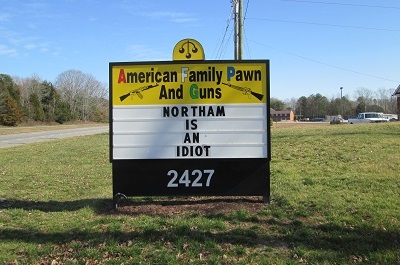 But, but, but... I had a mandate! - R. Northam (VA - Idiot)
This sign says it all, and I chuckle each time I pass it in Central Virginia on the way back and forth to the farm. It seems the Governor's gun control ideas aren't quite as popular as he thinks they are! Let's find out more below, shall we?

Virginia
For those of you not paying attention, the leftist gun-grabber's dream legislation, H.B. 961, bit the dust in Virginia last week. This despicable piece of legislation would have, among other things, prohibited the sale of "assault weapons" and silencers, and made illegal the possession of magazines with a capacity greater than 12 rounds.
What happened? Well the grassroots 2nd Amendment Sanctuary movement and more than 20,000 gun rights advocates showing up in Richmond may have had something to do with it. Personally, I don't think Governor Retard's commitment ever waivered, but when the noxious mess cleared the Virginia House of Delegates and made it's way to the Senate, it lost key Democrat support and was referred to the Crime Commission for "study" until next year. There are, however, a number of other anti-2nd Amendment measures which could make it into law this year. Virginia Democrats apparently lost no time in rewarding Sheriffs for their perceived act of defiance towards Richmond by voting down a 3% wage increase. Can you say retribution?
Here are links to the Virginia Shooting Sports Association (VSSA) and Virginia Citizens Defense League (VCDL) press releases on the story.
Does this mean it's dead, Jim? No. No, it is not dead.
It means the liberals kicked the can down the road because they didn't have the votes this time. Just as sure as .45ACP > 9mm, it'll be back as soon as the lunatics and retards see a chance to pass it. Assholes like Bloomberg and Soros, as well as losers like the Mom's Against Everything Cult play the long game, and you will see this material again, which is why it's imperative to remain vigilant.
Stay engaged. If you are in Virginia, and anywhere else for that matter, do not become complacent. Keep your eye on the local ball, and make sure your state representatives know your position on the 2nd Amendment. Do not find yourself in a position where your rights hang in the balance by the narrowest of margins. Civic engagement can work, but you have to participate.
******
Lurker Chris sends us this Second Amendment anthem music video with footage from rallies in VA and CT, and adds that all publishing royalties go to Virginia Citizens Defense League, Connecticut Citizens Defense League and the NRA. Thanks Chris!
******
Practice, Training, and Looking Cool
Here's a good article from the Mid-South Shooters Blog. I've been known to harp on practice and particularly how you practice and the linked article makes some great points (if its working) along those very lines. Defensive preparedness isn't about having the latest and greatest tacticool gear, it's about having the skills to put rounds on target and stopping a threat. That's it. No one is going to score your target or otherwise admire your bad-assery if God forbid you ever have to use your gun. Style points most definitely do not count. Your goal is to stop the threat, period, and your practice and training should be designed with that objective in mind.
When you go to the range, practice drawing from a holster and engaging the target if that is allowed. Start slowly and work on your speed from there. Practice magazine changes or reloading with a speed loader, and remember to practice with your non-dominant hand. Be safe, but be creative and mix it up. Remember, in a defensive situation your target is unlikely to be standing still at exactly 7 yards and permit you to make carefully aimed shots.
What is your routine when you go to the range? Do you think it prepares you for a real-world situation, or a bullseye competition?
'Nuff said (for today).
******
It looks like our pal Scuba_Dude's gun-buying rampage continues!
I finally took possession of my first rifle. A Savage 110 Tactical in .308, with a Harris bipod and a Nikon Prostaff 4-16x42SF Matte BDC scope.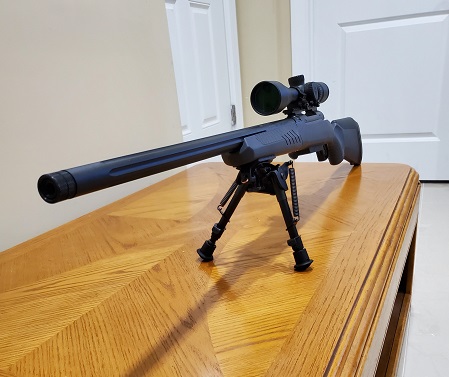 Whoa there, Hombre! That's a nice looking rifle! Congratulations!
******
Well here's a real treat, sent in by an anonymous lurker.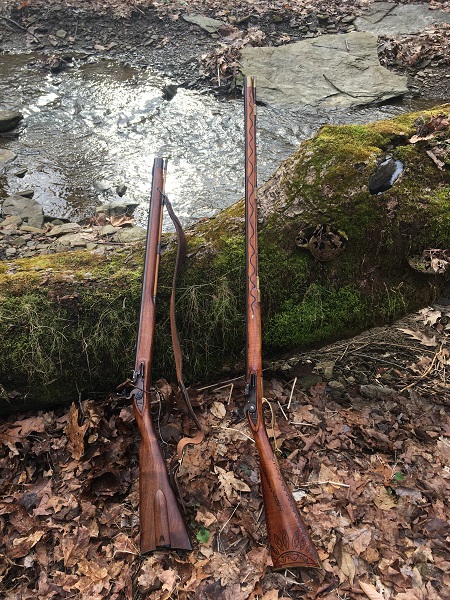 Those are a couple of fine looking weapons, and our anonymous lurker pal included the following:
Here's our favorite boomsticks out on the hunt a few weeks ago for flintlock deer season. We hunt completely 18th century, including all our clothing and equipment.

My buddy's German jaeger rifle, in .62 caliber, is on the left. These early 1740s style rifles were the first kind made in America, by German gunsmiths setting up shop in Pennsylvania and Virginia and within a few decades they had evolved into the more familiar and recognizable long rifle, like mine on the right. It's a Lancaster County style, in .50 caliber with a swamped barrel and a Native paint job. Don't think about calling it a Kentucky long rifle!

The American long rifle was born in Pennsylvania. 18th century backcountry hunters started asking for lighter, longer rifles more suited to carrying in the old growth forest on extended hunts, rather than the heavy, short rifles the German smiths used to make for upper class gentlemen killing deer and boar in the managed forests of Germany from tower stands for a day's hunt.

So the jaeger rifle stretched, and became lighter and smaller caliber and the barrel became swamped to save weight as it lengthened.

And before long, the rifles became useful for killing more than deer, but they were never, contrary to myth, a war winning weapon in the Revolutionary War. They were good for specific tasks, such as skirmishing and the woods warfare in the backcountry, but the musket and bayonet equipped the rank and file of the Continental army who slugged it out toe to toe with the redcoats on the farms and fields that became battlefields and eventually won the war. But the rifle was there too, at Trenton, Brandywine, King's Mountain, and Yorktown, as well as the hundreds of nameless firefights out in the backcountry woods, against native warriors who were capable of horrific tortures if they captured you alive. They too often carried rifles, in defense of their homes and their way of life
Are those cool, or what? And I'd nearly forgotten my obsession with owning a flintlock. Thanks anonymous lurker!!
******
Our pal DBCooper sent in the following target picture: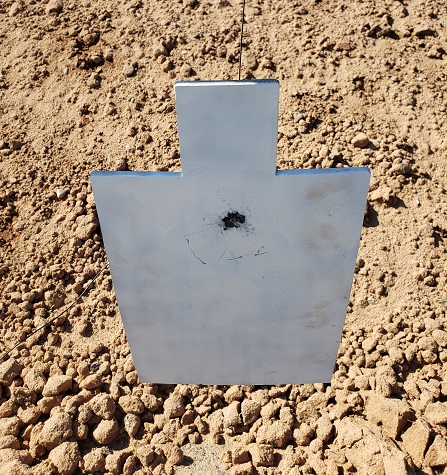 Wow! Nice group! I'm always cautious about asking people what distance they were shooting when they send in a target picture, but... what distance?
This afternoon, I was shooting at 1075 yards with my 6.5 Creedmoor.
Huh? What? What did you say?
This afternoon, I was shooting at 1075 yards with my 6.5 Creedmoor. First 3 were slightly low and about 16 inches right. I dialed up .3 and left .4 mils and fired 3 rounds. Spotter called two hits swinging steel and a miss right. Drove down to the target and looked like only one hit. The hits are 1/4 inch apart. I've never done that. That was a fun fluke...
Holy Shit! That's some nice shooting, brother! My only suggestion is to try and use the entire target next time... you know, spread the bullets around some.
******
NoVaMoMe 2020!!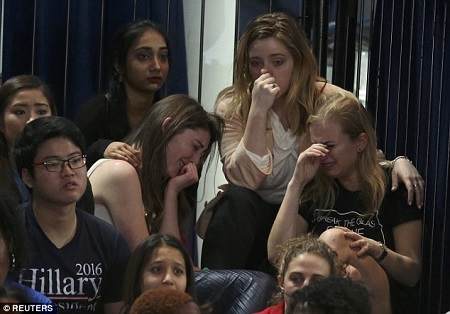 Very sad people who missed the registration window
Did you hesitate to sign up for the NoVaMoMe 2020? Did you ignore the frequent reminders to register? Did you think there would always be time to sign up later? Welp, if that's the case then I have some bad news... we've reached capacity and registration is now closed. For those who may still be interested we are starting a wait list in case there are any cancellations (HA!). To list your name, email us at NoVaMoMe2020 at gee mail dot com, beg for bluebell's forgiveness, and we'll put you on the list.
******
Link-O-Rama
I'm really very seriously not kidding around anymore. Buy Ammo
AmmoSeek - online ammo search tool
GunBot - online ammo search tool
SG Ammo
Palmetto State Armory
Georgia Arms
AmmoMan
Target Sports USA
***Mail Bag***
Gratuitous Uzi footage from WeaselAcres.
******
Please note the new and improved gmail account morongunthread at gmail dot com. An informal Gun Thread archive can be found HERE. If you have a question you would like to ask Gun Thread Staff offline, just send us a note and we'll do our best to answer. If you care to share the story of your favorite firearm, send a picture with your nic and tell us what you sadly lost in the tragic canoe accident. If you would like to remain completely anonymous, just say so. Lurkers are always welcome!
That's it for this week - have you been to the range?

posted by Open Blogger at
07:00 PM
|
Access Comments