« It's Our Constitution...If We Can keep It.
|
Main
|
Gun Thread: Northam is an Idiot [Weasel] »
February 23, 2020
Food Thread: A Tale Of Two Restaurants...And Tacos!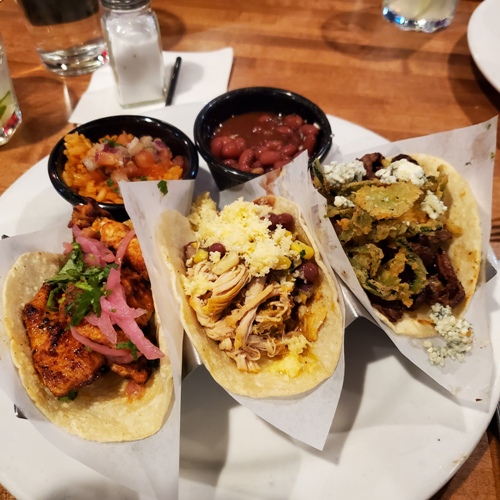 Those are the tacos from Cocina Madrigal, a casual Mexican restaurant in Phoenix. Below are the tacos served in lettuce wraps, which sounds sort of silly but is actually quite good!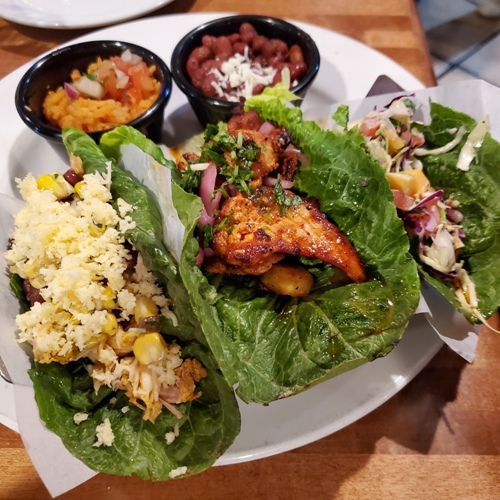 A Sunday dinner reservation during a holiday weekend in Sedona Arizona is a difficult thing indeed. But Mariposa (no link, because they don't deserve it) was well reviewed, and I thought, "What the hell, if there are no tables, maybe they will take walk-ins, and of course there is always the bar (which I love)!
As we drove up the valets started waving frantically for me to continue to pull around the circle in front of the restaurant...or maybe they were in the midst of some sort of drug-induced seizure...I couldn't tell.
Apparently the lights of the cars in the driveway shine into the restaurant (brilliant design!), and we can't have that! We were then informed that they wouldn't park the car for us because we didn't have a reservation, and that "We eat early in Sedona," whatever that is supposed to mean. They were condescending and rude and altogether unpleasant, telling us that if we really wanted to come into the restaurant we would have to go to another parking lot, but that they didn't recommend it.
We went to another equally packed restaurant, where we were welcomed by a friendly greeter who said that we might have luck at the bar...and we did. Five minutes later we were sitting at a crowded but friendly bar having cocktails and reading the menu.
Fast forward 24 hours...
We walked into Cocina Madrigal, a new restaurant in an industrial part of Phoenix. We had made a reservation (look! I can learn!) so we weren't worried, and I was intrigued by the uniformly excellent reviews.
Except...the young lady who had taken the reservation earlier that day had forgotten to note it in their system, and we were once again without a table for dinner! But Leo Madrigal runs a better restaurant than the pompous asses of Mariposa, and he had trained his employees in customer service. The greeter cheerfully took care of us, with a gentle warning that the restaurant was crowded and that there may be an extended wait for the food.
We wandered over to the bar (packed) hoping to order a drink, and while we waited we observed the waiters and bus boys and greeter and yes, the owner, bussing tables and serving food and taking orders, all at top speed with smiles on their faces and a cheerful word for every customer.
Was there an extended wait? Nope. And the Margaritas were good while we waited! We ordered simply....a bowl of guacamole and those tacos above the fold. The guacamole was excellent, and those tacos were great. Perfectly in balance, without too much of anything and without the big piles of cheese that ruin so many tacos I have eaten. Well, not ruin, but the cheese, while tasty, masks the other flavors, and Mr. Madrigal's kitchen was making top notch pork and beef and fish and chicken and shrimp, so why not feature that? Oh, those beans? They were fantastic!
We had the pleasure of the owner's company for a few minutes after we finished our excellent meal. We chatted about this and that, and his pride in his employees and his food was clear, and absolutely deserved.
How did one man create a friendly and welcoming atmosphere in which to showcase his culinary and hospitality skills, and another create a restaurant that made us feel so unwelcome that I felt compelled to write about it? I think we all have some ideas about that, but it comes down to not losing that human connection to one's customers.
I am sure that the food at Mariposa is fine, although when I go back to Sedona (and I will, because it is beautiful) I will carefully steer clear. But when I am next in Phoenix? I'm going straight to Cocina Madrigal from the airport (less than 10 minutes away). And I hope any of you in the area for business or pleasure and in need of a restaurant for a simple and excellent meal will give it a shot. This isn't white tablecloth dining...it is spartan and simple. But the food and service are topnotch, and the prices are extremely reasonable, and that is a combination that is hard to beat.
[No, he didn't comp our meal (nor should he have)]

******
Okay...it's old, but it's also weird. Butter cookies with peanuts? I guess?
Actually, it is Canadian peanut butter, courtesy of commenter "Vendette," who seems to have some strange connection to America's hat.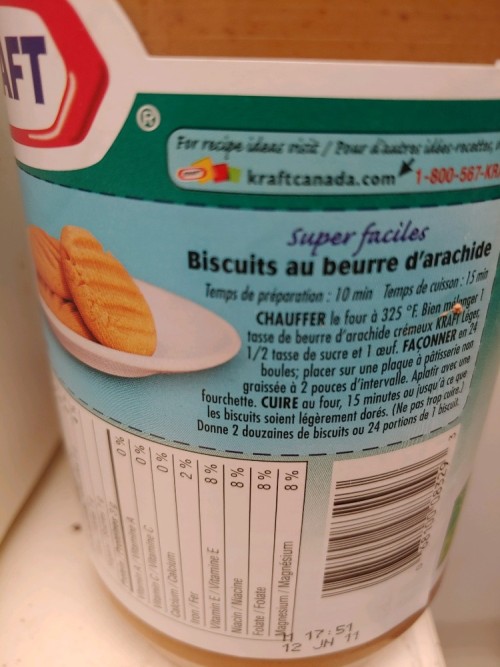 ******
I like hot sauces, and I can't recall one that I did not like, aside from the really stupid ones made from pure ghost pepper or scotch bonnets. That is pure masochism and food virtue signalling.
Here's a fun video about the production of the most famous hot sauce of them all...How the Tabasco Factory Makes 700,000 Bottles of Hot Sauce Per Day. I like Tabasco sauce, although I have very limited experience with their flavors other than the classic one.
Speaking of hot sauces, I really enjoy the regional ones, and will seek out those bottles at breakfast joints and more casual restaurants when i am traveling.
How about you? Any regional favorites?

******
TMI. Way, way TMI!

So you just ate a pile of hot chicken. Guess what happens in about 24 hours?


If you thought that hot chicken you just braved burned going in, imagine what it's gonna feel like on its way out. Sure, all the hot flashes and cold sweats were a real gas, when you were showing off around a table of like-minded thrill-seekers. But as with so many difficult challenges in life, you'll be doing battle with the demons of intestinal fortitude completely alone. (Unless you're into some weird group-elimination thing we don't even want to know about.)
Oops! Hat Tip: TxMarko
******
I am vastly amused by British recipes (yes, I am simple). The cooking vernacular is a strange mix of all sorts of things, like "courgette" for zucchini, or "runny honey" for...um...honey. I guess the British also used solidified honey so they have to specify, but it still makes me chuckle.
Roast pork with peaches, garlic roast potatoes and courgette gratin
Anyway, this is a pretty standard pork-with-fruit dish, but I noticed the potato variety as a new one to me. I take British potatoes very seriously, because they are, in the main, better than ours. Fried, roasted, stewed...they're usually great.
******
Food and cooking tips, Large-breasted Muscovy ducks, well-marbled NY strips, bartenders who use vermouth in Martinis, crisp bacon (although I am moving toward less crisp), thick and fluffy pita, and good tomatoes that aren't square, pale pink and covered with Mestizo E.coli:
cbd dot aoshq at gmail dot com
. Any advocacy of French Toast with syrup will result in disciplinary action up to and including being
nuked from orbit.
And yes, shaking a Manhattan is blasphemy...it's in the Bible!
&topic=world_news">

posted by CBD at
04:00 PM
|
Access Comments