« Saturday Morning Coffee Break
|
Main
|
Saturday Gardening and Puttering Thread 2/15/20 [KT] »
February 15, 2020
California Transportation Update [KT]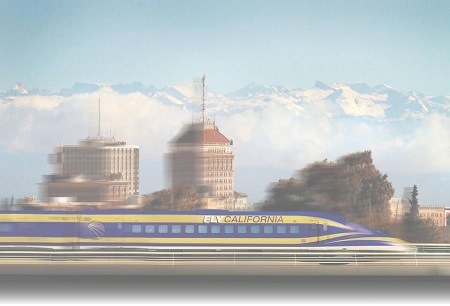 High-speed train flies through downtown Fresno
Good morning! It's a little chilly there in the Central Valley of California, but it will be nice later in the day. Unfortunately, Democrats are in full control in California now. Here are a few of the nitty gritty results with regard to the current transportation situation. Just in case anybody out there is still thinking about moving here.
Public Transportation, San Francisco
Well, they have finished that remarkably expensive train (or bus) station in San Francisco, and repaired the major cracks that developed in the structure.
Ten million fewer riders took BART on nights and weekends last year than rode the trains just four years earlier.

The transit agency released those figures as it launched its annual two-day workshop for BART Directors on accomplishments of the past year, and the challenges ahead.

BART also released results of a rider survey of why fewer people took the trains.

The number one response was that people are just going out less on weekends.

Number two was weekend trains don't run often enough, but reasons three, four, and five were lack of cleanliness, worries about crime and concern about the homeless.
All that public transportation boosterism gone to waste.
There are other problems, though. They need a new bill to fix things:
The empty buses leaving the new Salesforce Transit Center in San Francisco suggest that the Bay Area public transportation system isn't working.

"This is supposed to be San Francisco's Grand Central Station, it's not. There is no one here," says San Francisco resident Seth Andrews, as he points around to the empty station.

Andrews uses Bart and Muni every day. He says he is frustrated with the daily delays. "The schedules, I don't trust that at all," complains Andrews about Muni trains.
State Assemblyman David Chiu (D-San Francisco) calls Bay Area public transportation "inefficient" and "unreliable."

"After investing billions of dollars in transportation in recent decades, only three percent of all Bay Area trips are made with public transit," says Assemblyman Chiu. But he thinks better integration could fix the problem.
The bill aims to set up a task force to resolve issues around ticket prices and scheduling. They need to "Move the conversation forward."
Be sure to watch how quickly this bill fixes "the problem".
High Speed Rail, Central Valley
I am seeing more actual work on the High Speed Rail line now, after seeing construction sites looking sort of abandoned, with huge equipment idled in fields and along roads, for a long time. In the cities, homeless encampments moved onto properties left idle after being bought for this project. Just like the encampments along the freeways in Los Angeles and the Bay Area, but with more dogs.
They seem to be getting serious about finishing the stupid Bakersfield to Merced high-speed rail line. The tracks, anyway. They are less serious about moving people using the rail line. The tracks are connected to federal money:
Advancing California's leadership in building a modern, clean, and sustainable transportation system, the California High-Speed Rail Authority has issued its Draft 2020 Business Plan for public review and comment. . .
The 2020 Business plan outlines the following priorities:

Complete the 119-mile Central Valley construction segment and lay track pursuant to the federal funding grant agreements with the Federal Railroad Administration;
Expand the 119-mile Central Valley segment to 171 miles of operable electrified high-speed rail connecting Merced-Fresno-Bakersfield, three of the fastest growing areas in California;
Commence testing of electrified high-speed trains by 2025 and put those trains in service by 2028-29 . .

The rest of their plans involve "bookends". Los Angeles and San Francisco. Can you think of anything to say during the public comment period that would make a difference?
Cars, Sacramento County
Sacramento County says it's illegal to work on your own car in your own garage.
One commenter on the Grassroots Motorsports forum reported that he'd already been issued a $430 fine for working on his car in his garage:

nimblemotorsports said:

umm, I have not been left alone, they levied a $430 fine yesterday. You can request a hearing to review the code enforcement decision, that costs $700 to complain.

These rules aren't from some fussy HOA, it's an entire county. As to why the county is so against home automotive repair and work, they state this reason:

5. Why is Code Enforcement Concerned About Residential Automotive Repair?

The chemicals involved in major automobile repair can pollute our neighborhoods and endanger the health and wellbeing of our residents. Furthermore, this kind of activity increases vehicle traffic and the visual impact can negatively impact property values.
It appears that "major automobile repair" is anything you don't finish within 24 hours. Or something. It's kind of vague.
I think it's kind of racist, too. I have in mind a certain "community" that likes to work on cars in front yards. But that's not what the code says. It covers garages, too. Why is there a "visual impact" if the work is in a garage?
Music
Not being able to work on your own car would have put a damper on the popularity of the Beach Boys back in the day.
Hope you have a great weekend.
This is the Thread before the Gardening Thread.
Serving your mid-day open thread needs

posted by Open Blogger at
11:16 AM
|
Access Comments