« Tuesday Overnight Open Thread (2/11/20)
|
Main
|
Mid-Morning Art Thread [Kris] »
February 12, 2020
The Morning Report - 2/12/20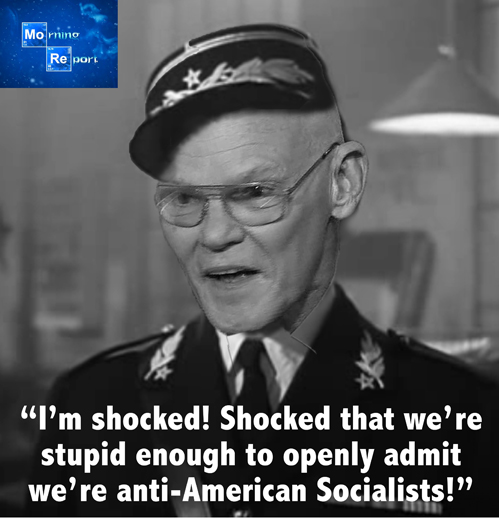 Good morning, kids. Midweek and the big story this morning is the New Hampshire Democrat Primary where Bernardo Sandersnista took first, with Mayor Peter Puffer in second and Amy Klownbuchar in third. Nowhere to be seen, quite literally was Joe "Go Vote For Someone Else" Biden, who took it on the lam to South Carolina even before the sun went down on the Granite State. Elsewhere, both Andrew "Out-the-Ying" Yang and Michael Bennet threw in the towel and Elizabeth Wan's campaign is barely limping along a trail of tears.
But as you both break down the results and step back to get a broader perspective, there appears to be nothing but disaster ahead for the Democrats both in terms of this election and its future as a political party going forward. First, Bernie barely squeaked out a win and his numbers were actually worse than in 2016. Then again, there are more contenders this time around and a win is a win no matter how you slice it, so in theory that boosts his chances going forward. In theory. In terms of the nomination, the DNC is doing all it can to openly (and more than likely clandestinely) take Sanders out because despite 50 years of brainwashing in the schools and in the media, most Americans are repulsed by Socialism, Socialists and the rhetoric now proudly proclaimed by its leading proponents within the Democrat Party.
But in a national contest, Trump's performance in New Hampshire as an incumbent handily beats Obama's numbers from 2012, to say nothing of a national approval approaching or more than likely above 50%. At that level, and all things being equal, as of this moment Trump is unbeatable no matter who the Democrats field, and especially a bust-out socialist. Well, the Democrats themselves took out Biden with the Sham-peachment fiasco that exposed him and his crooked son as the generational criminals they are, while Biden's combined hair-sniffing, girl-groping, eye-bleeding and brain-damaged mouth probably was the real culprit in his imminent demise.
I suppose they wanted Biden to be the sacrificial lamb to run against Trump, just like Dukakis in '88 and Mondale in '84, so as to theoretically preserve the electability and record of their rising star(s) for future contests. The problem is the Democrats have no one, at least someone who is a phony "moderate" that can effectively fake being sane and pro-American to a majority of voters. The other problem the Democrats have is that too many in their party, both elected officials and their base, are anything but sane and pro-American. Dem Rep and failed prexy candidate Tim Ryan is echoing James Carville's and now commie-pinko Van Jones' cri-de-coeur about Democrats embracing the Socialist cray-cray which could lead them to in his estimation a 48-state wipeout.
Unfortunately, Ryan, Carville and all the rest will never acknowledge that it's more than just the label of "Socialism" that will wipe them out; it's the actual policies behind that moniker that, thank goodness, more and more Americans are being made aware of. For that, they can thank not only President Trump's words but his deeds that have helped more people in more ways improve their lives and prospects than any big government policy or welfare state could ever come close to doing. That, more than anything will doom Bernie, the Midget or anyone else come November. The only way they even have a shot is if they outright reject Green New Deals, no bail or jail for criminals, a disarmed populace, censorship of wrong-think, open borders, infanticide pre- and post-natal, trannies in girls rooms, legalized heroin, national health and everything else they seek to impose on this nation. That is, of course, a non-starter, because what they really seek is absolute power and control. And that leopard is never going to change its spots.


POLITICS, 2020 ELECTION
Along with the New Hampshire Primary results, some other political items to take note of include, Operation Chaos II, Bernie Boogaloo looks to be a thing in South Carolina, ex-CNBC info-dame Michele Caruso-Cabrera is now tossing her bra into the ring to challenge Toothy McBigTits for her seat. I don't know how she rationalizes her pro-free market, anti-big government spiel with running as a Democrat but sure, why not? Also, more speculation that Ms. Donkey-Chompers might try to primary Cuck Schemer, with Biden fading and probably Tulsi Coffeecake as well, the Dems' last chance at a semi-normal candidate may be Klobuchar, although Michelito Lo-Lo is spending millions to claim that mantle. Means nothing considering he's a malignant dwarf with a Napoleon complex who wants to run every aspect of your life. Or put another way, a Socialist. And finally, it's conservatism that's the real "resistance" now in "Amerika."
NOTE: The opinions expressed in some links may or may not reflect my own. I include them because of their relevance to the discussion of a particular issue.
ALSO: The Morning Report is cross-posted at CutJibNewsletter.com if you want to continue the conversation all day.
Follow us on Twitter: @CutJibNews


posted by at
07:33 AM
|
Access Comments