« Stupid Jerk ONT
|
Main
|
Mid-Morning Art Thread »
February 07, 2020
The Morning Report - 2/7/20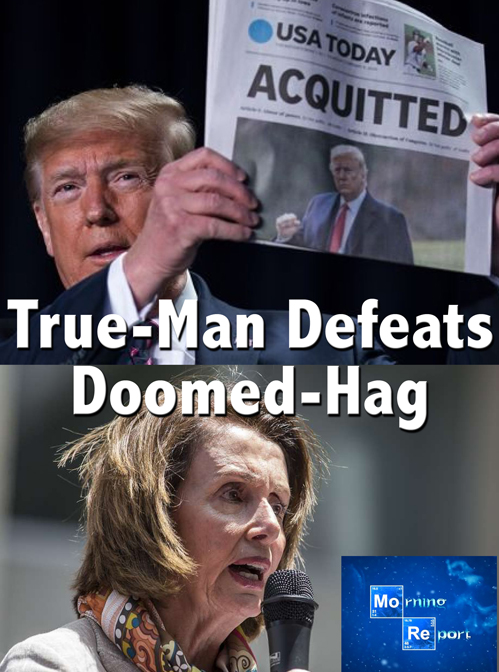 Good morning, kids. The weekend is here and what a week it has been. The President and the American people and the crusade to take back the republic went from victory to victory as the Democrat-Media Complex and globalist counter-revolution suffered multiple disasters and humiliations. Despite the vile, bitter rage hurled at us as they flailed about, it has been a week to both revel in and savor both in the moment and perhaps for what it might portend for the future, not only this November but perhaps well beyond that. That said, it was still tempered by the punch to the gut about the fate of Rush Limbaugh, a man who more than any other has helped give us a fighting chance at American renewal. For now, he is still with us (and I am champing at the bit to hear him again at noon Eastern) and just like the nation, where there is life there is hope.
In any case, the President spoke yesterday about his vindication, blasting his enemies and praising his allies, most notably the First Lady and family for having to have had to endure the pain of watching a husband and father - and most egregiously themselves as well - get trashed and persecuted day after day for well over four years, yet be able to perform his duties magnificently. As someone who was a Cruz booster and reluctantly pulled the lever for Trump, I was content just to avoid you-know-who, which was what I had done for the previous two election cycles. Today, after experiencing all he has actively done, and even more importantly caused massive self-inflicted wounds by the forces arrayed against him, I can honestly make the case for Donald J. Trump being one of this nation's greatest presidents. And we still have one year left with an option for four more.
That being said, we're in no way out of the woods. But if this past week is any indicator of the trajectory of the President and his supporters, and the trajectory of the other side, I am buoyed by what's in store for us and that whatever attempts to derail and sabotage him might be in store will Wile E. Coyote on them. Again. And again...


TRUMP SHAM-PEACHMENT ACQUITTAL
As the President reveled in the acquittal from the sham-peachment, the agitprop media totally melted down and yet again, only revealed themselves to the American people as being the unhinged maniacs that they accuse the President of being. But even CNN's Wolf Blitzer was gobsmacked as daughter-of-child-pimp Maizie Hirohito exclaimed repeatedly that the President was not acquitted. You go with that, toots. Back on Planet Earth, the GOP is planning to expunge the President's impeachment from the record if they take back the House next November and, after his nano-second of irrelevant infamy, Pee-Air Defecto Romney is going to face the prospect of a vote to expel him from the party. I'm not sure if that will happen but if it does come to a vote, the pressure will be on to either kick his ass to the curb or face a backlash from an energized and very pissed off base. I suspect they'll just try to table this thing to death in the hopes it's forgotten. We really need to have a long memory and insatiable thirst for righteous vengeance.

Also, the administration is now going to go after Generalissimo Alexander "Bearclaw" Vind-Bag for his role in the more than likely Schiff-for-Brains engineered Ukraine call plot that started this sham, a look at Eric "whistleblower" Ciaramella and his fate going forward, ripping Mittelschmerz's taking the Lord's name in vain vis a vis his vote to impeach and remove, and finally, Jim Jordan has been promoted to top Republican on the House Judiciary Committee. If, please G-d, we do take back the House, Jordan unleashed and going after the real criminals is going to be a sight to see.
NOTE: The opinions expressed in some links may or may not reflect my own. I include them because of their relevance to the discussion of a particular issue.
ALSO: The Morning Report is cross-posted at CutJibNewsletter.com if you want to continue the conversation all day.
Follow us on Twitter: @CutJibNews


posted by at
07:30 AM
|
Access Comments