« "Our Democrat Party Has Been Stolen From Us By a Bunch of Communists:" Democrats Vow to Never Vote Democrat Again In Reaction to Nancy Pelosi and Democrats Refusing to Applaud for America
|
Main
|
Nasty Dirty Decrepit Nancy Pelosi Was Testing the Pages of the Speech to See If They Could Be Torn; She Was Planning This From the Start »
February 05, 2020
Traitorous NeverTrump Mercenary and Credibly Accused Gay Hair-Rapist Mitt Romney: I Vote to Convict
Updated: The NeverTrumpers Rush to White Knight for Mittens!
But apparently he's already leaked his vote to his liberal media allies: He's voting to convict.
This is what he already told very liberal very partisan liberal hack McKay Coppins:
"This has been the most difficult decision I have ever had to make in my life," he told me yesterday afternoon in his Senate office. Roughly 24 hours later, Romney would deliver a speech announcing that he was voting to convict President Donald Trump on the first article of impeachment--abuse of power. For weeks, the senator from Utah had sat silently in the impeachment trial alongside his 99 colleagues, reviewing the evidence at night and praying for guidance. The gravity of the moment weighed on him, as did the pressure from members of his own party to acquit their leader. As his conscience tugged at him, he said, the exercise took on a spiritual dimension.

...

In the end, the evidence was inescapable. "The president did in fact pressure a foreign government to corrupt our election process," Romney said. "And really, corrupting an election process in a democratic republic is about as abusive and egregious an act against the Constitution--and one's oath--that I can imagine. It's what autocrats do."

...

He also knows his vote will likely make him a pariah on the right. Already, he says, he's experienced firsthand the ire of the base. At an airport recently, a stranger yelled at him, "You ought to be ashamed!" During a trip to Florida with his wife this past weekend, someone shouted "Traitor!" from a car window.
Oh you poor dear. You should compare notes with Anita Sarkesian.
In his Senate speech, he's whining about "abusive texts and emails."
I imagine he is plotting a third-party bid, or will signal that he'll run as a Vice Presidential running mate with a Democrat.
Update: Shut up, Wesley.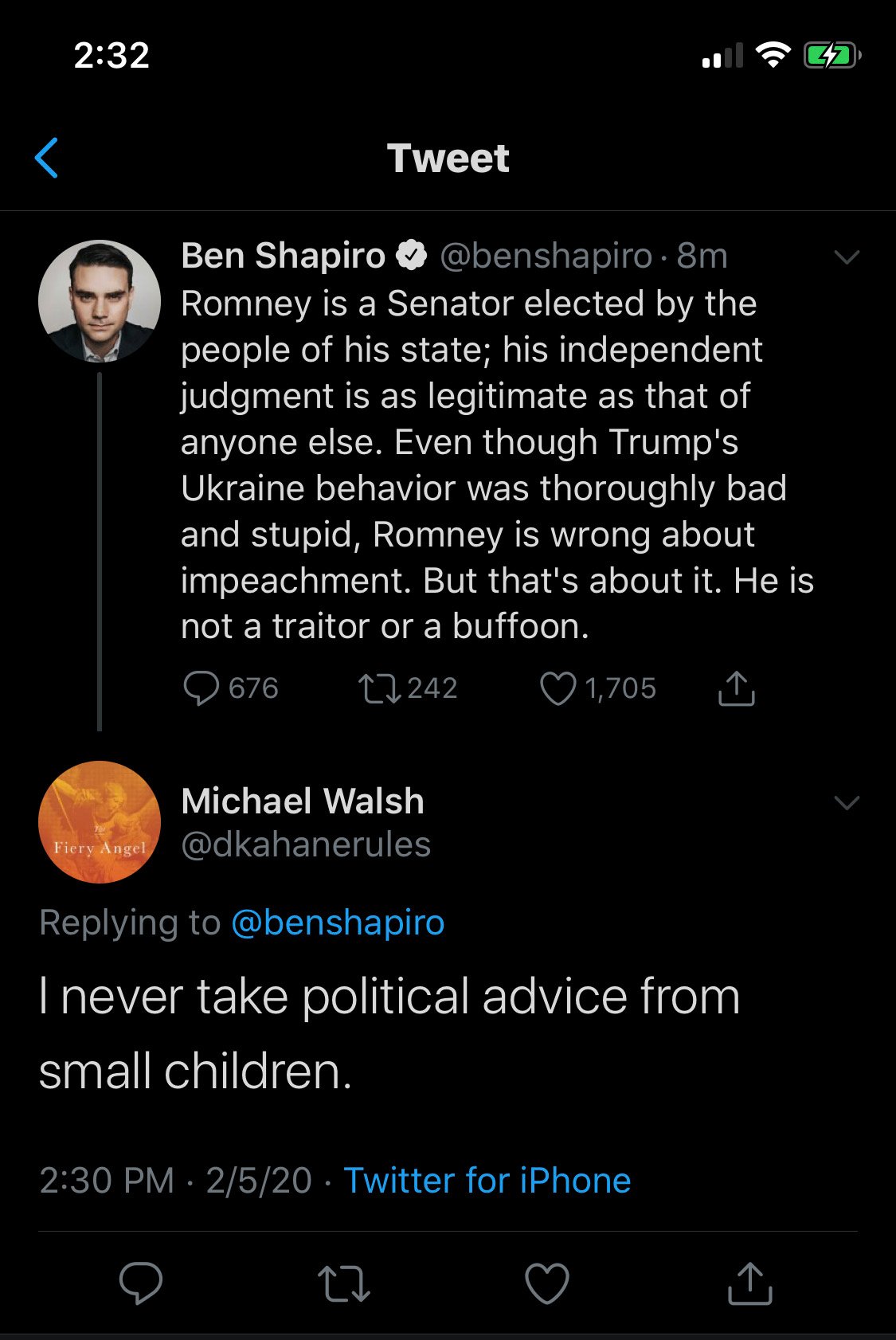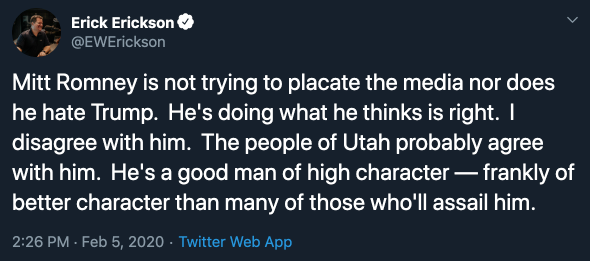 You know, people will say "Ben Shapiro is pro-Trump now" or "Erick Erickson is pro-Trump now."
Or, "Rich Lowry is softening on Trump."
Rich Lowry, the guy who seized on the opportunity to slander kids for wearing MAGA hats?
Oh yeah, he's totally "coming around on Trump."
No, they're still NeverTrump. They will always be NeverTrump.
What they're doing is career protection. The NeverTrump audience is only 10% (or less) of the Republican audience, so anyone who hopes to have a career based on popular engagement -- as opposed to just having a billionaire patron and audience of one, as many of the AEI grifters do -- has to at least pretend they're "open" to the believes of the 90% of the party they not-so-secretly despise.
They're forever doing this dance where one week they'll say they've decided, after long thinking and many prayers, to support Trump, etc., etc., and the next week they're suggesting he should be impeached.
Both sides, y'all!
I wouldn't mind this as much except it's clearly dishonest, mercenary behavior. These aren't their genuine thoughts -- their genuine thoughts remain virulently NeverTrump.
They are just trying to Con the Rubes as usual by occasionally saying "Trump is preferable to a Democrat" while all the rest of the time they're babbling out Democrat talking points.
People don't believe me. They think these people -- who have been guilty of self-serving mercenary careerism all their miserable social-climbing media suck-up lives -- are "straight shooters."
That these ridiculous egotists are really re-evaluating their past righteous Twitter Convictions.
When have they ever done that before?
But, fine. Trust their claims. Pretend they don't have a blindingly obvious reason to adjust some of their rhetoric to pay their rent.
But still: My theory explains their behavior. Yours doesn't.
Discuss.
GREAT Question: If Mitt is so honest that his integrity is beyond any dispute --
Do NeverTrumpers believe he was more pro-abortion than Ted Kennedy when he ran as a pro-abortion Republican in Massachusetts?
If he lied then, why not now?
And further: Who says he's telling the truth now?
Which Boomer Rubes are stupid enough to believe that Mitt Romney never lies for political advantage?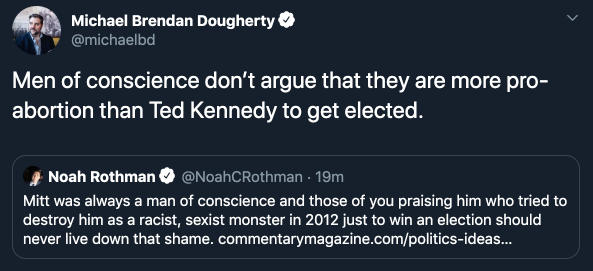 posted by Ace at
02:05 PM
|
Access Comments