« The Morning Rant: Minimalist Edition
|
Main
|
The Soyciety Pages: Bill Kristol Declares, "We Are All Democrats Now" »
February 04, 2020
Democrat Debacle in Iowa
There are still no results. Supposedly there are problems with the app for reporting results, though we also know that last night, Joe Biden's general counsel wrote a letter to the Iowa Democrat Party demanding they continue checking the results.
AmGreatness' headline: "Suspicion, Chaos Win Iowa Caucus."
A CBS reporter tweets:
Kathryn Watson

@kathrynw5

The winner of tonight's Iowa caucuses: Trump, who will claim Democrats are in total disarray
A friend says, "He's going to claim they're in disarray?"
Via AmGreatness, you know who else claims the Democrats are in disarray? Left-leaning Politico:
The disarray dealt a huge black eye to Iowa, which was already struggling to defend its coveted first position on the primary calendar. Democratic campaigns grew more furious as the night wore on with no word.
And also via AmGreatness, Politico reports that the Trump campaign is making trouble:
"They can't even run a caucus and they want to run the government," Brad Parscale tweeted alongside a flushed-face emoji. "No thank you."

A statement from the campaign read: "It would be natural for people to doubt the fairness of the process. And these are the people who want to run our entire health care system? Tonight President Trump posted a record performance in the well-run GOP Iowa caucuses with record turnout for an incumbent."
Bernie supporters are crying conspiracy: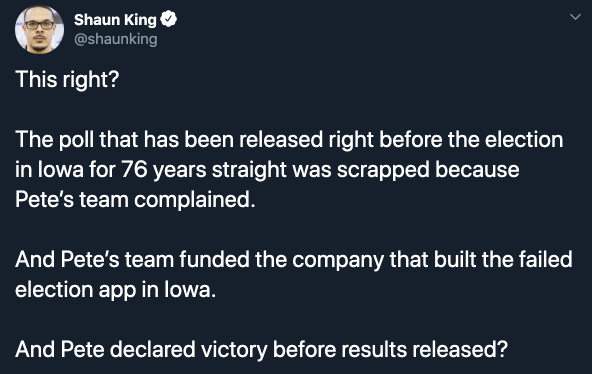 Ilhan "Omar" Nur, who knows something about conspiring, detects a conspiracy:


The company that makes the app that failed in Iowa is called Shadow, Inc. Gee, that doesn't sound too sinister.
The Bernie Bros sure think so. They're now linking this company to Hillary Clinton.
Democrats have a scapegoat for Democrat incompetence: RUSSIA.

Sean Davis channels Stefon for his take:

posted by Ace at
11:50 AM
|
Access Comments