ę Democrat Debacle in Iowa
|
Main
|
GALLUP: TRUMP JOB APPROVAL RISES TO HIGHEST LEVEL EVER, AT 49% Ľ
February 04, 2020
The Soyciety Pages: Bill Kristol Declares, "We Are All Democrats Now"
The whole C**kshed is deep in mourning: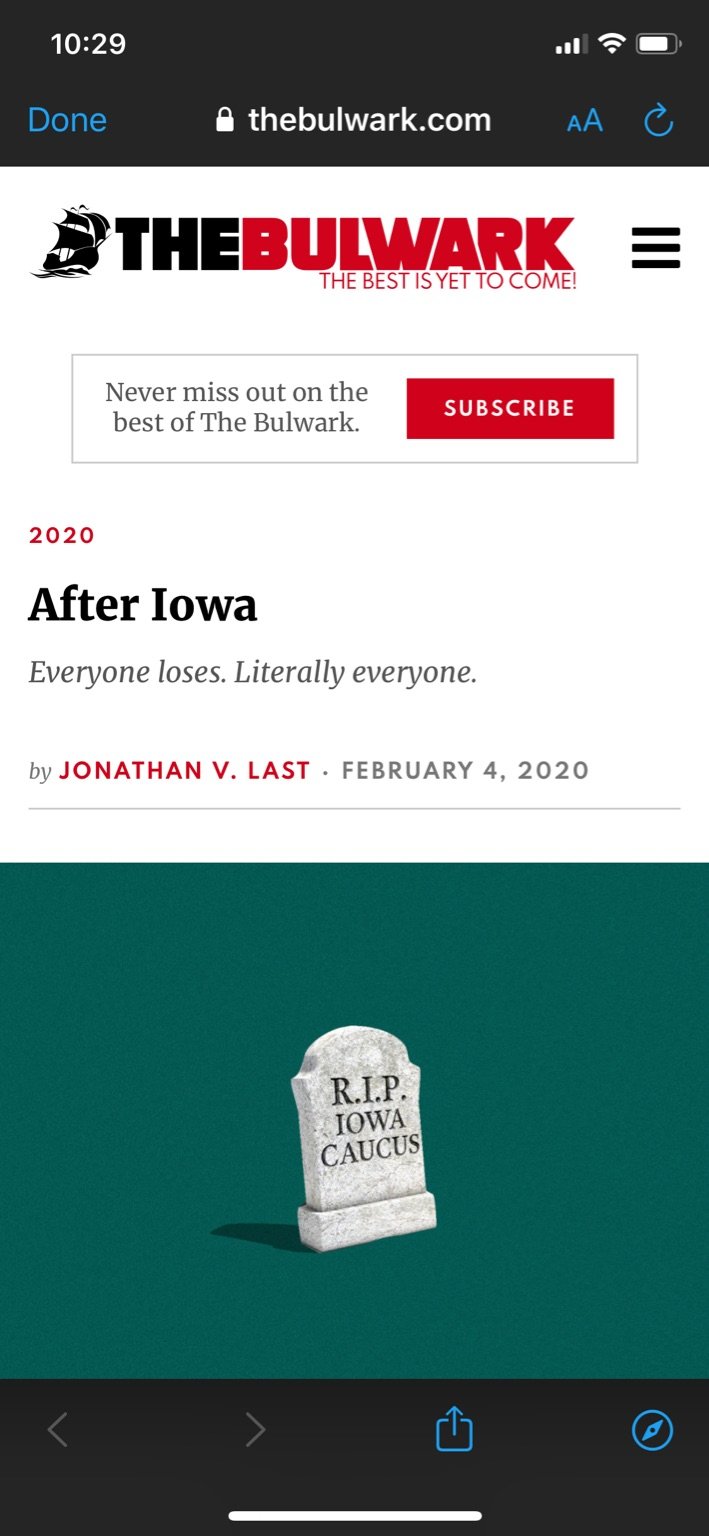 "Everybody lost?" Uh, no. Actual conservatives and Republicans didn't lose.
But if you're being paid to agitate for Democrats, yes, you lost.
FoxNews has its finger on the pulse of America:
Jonah Goldberg knows what caused the Democrat debacle -- "gremlins."
And he argues that "Both sides!" should now suffer from a plague of gremlins:
Can't blame your own political party, the Democrats, ever, eh Jonah?
Max Boot, of course, has announced he is leaving the Republican Party many, many times before -- too many, in fact, to get another column out of re-announcing his years-old resignation from the party.
But hacks are lazy and want to shit out easy rant-pieces.
What's a lazy liberal hack to do, then?
Well, now Boot is moving on to a different type of column formula: Instead of re-writing the same column declaring that he's left the party, he now invents a new repeatable formula -- he's not only left the party, but also, he's never coming back either!
Shut up you two bitter old venomous queens.

Related: Because National Review is now a "balanced" liberal/conservative, Democrat/Republican magazine -- no longer a conservative one -- of course they had Kevin D. Williamson write up what should be titled "The Conservative Case for Liberal Nannystate Tyrant Michael Bloomberg."
Because that's where they are now. And an alleged libertarian or "conservatarian" decides he wouldn't mind a little more tyranny in his governance.
The obvious point of comparison here is the guy currently in fourth place, behind Senator Warren: former New York City mayor Michael Bloomberg. Bloomberg has plans, too -- but, unlike Warren, Sanders, Biden, et al., he has a pretty good record for bringing those plans to fruition. After a wildly successful career in business, he went into politics, which is what you do when your tens of billions of dollars are no longer enough to satisfy your colossal vanity. He served three terms as mayor.

And, damn his eyes, he was pretty good at it: Murder rates went down, and high-school graduation rates went up. His government routinely ran surpluses. As Mike Pesca put it in Slate: "It's true that Bloomberg is running differently than everyone else in the race and itís also true that he's not a politician in the emotive or empathetic mold of recently successful candidates. But in fact, Bloomberg does have a message that could appeal to voters, and itís a simple one: Michael Bloomberg has a greater record of accomplishment in office than any candidate in the race." How? Because Bloomberg is the nerd that Senator Warren pretends to be: a creature of data, measurement, and cold-eyed assessment of political, economic, and institutional realities.


[I]sn't he exactly the kind of guy progressives and independents always say they want? Pragmatic, non-ideological, results-oriented, and bipartisan enough that he's already been elected as a Republican and an independent? ...


A problem-solving realist with a strong, non-hypothetical record in the real world? No, no, say Democrats, give us the rampaging socialist wackadoodle that's never had a real job.
Williamson does note that Bloomberg's position as an abortion absolutist and gun confiscator may make conservatives "detest" him, "of course."
But he sure does load up a lot of compliments for Bloomberg.
NeverTrump is in a difficult career position: They need to maintain their brand identity as Alleged Conservatives Who Hate Conservatives (and Trump), because that's their entree into the media.
But they can't endorse Sanders -- which they may very well wind up doing -- and still cling to their Brand Identity of being "conservatives who are really, really, really open to Democrat ideas." If Sanders gets nominated, NeverTrump will either have to endorse the socialist -- giving up the "conservative" fig-leaf.
That's bad for their careers.
And they're just as desperate about this turn of events as the Democrat Establishment is. And why shouldn't they be? They are pretty much just the Democrat Establishment themselves.
As Matthew Continetti reports, the Democrat Establishment is prepping Mike Bloomberg in case Joe Biden fails.
Washington Free Beacon founding editor Matthew Continetti on Friday said that the Democratic National Committee (DNC) is opening the door for Michael Bloomberg if other establishment candidates fail to defeat Sen. Bernie Sanders (I., Vt.) in early primary states.

On Friday, the DNC eased requirements to qualify for future debates, despite a crowded primary field. Continetti said the gambit shows that the party is looking to the billionaire as Plan B if former vice president Joe Biden continues to struggle.

"If Bernie wins Iowa, heís already very well positioned in New Hampshire. That will set the Democratic party on fire," Continetti said during Fox Newsís Special Report. "And thatís why I think youíve had this rule changed to allow Mike Bloomberg into the debates. This is their insurance policy if the Biden campaign collapses."
And it seems that the Grifter Guild of Conservatism, Inc. is staring to talk up Bloomberg as their own Plan B.
So, if Biden is going to lose to Sanders -- which he might very well end up doing -- NeverTrump needs an alternate candidate they can claim is "bipartisan" and therefore can support for president while still pretending, for mercenary careerist purposes only, to be "conservative."
And that's why you'll be seeing a lot of NeverTrumpers talk up Michael Bloomberg as someone who has previously run and won "as a Republican." Sure, he ran in an ultraliberal city and governmed as a nannystate liberal and had been a Democrat just months before he decided to run, but hey, he was "a Republican."
And so "True Conservatives" can support him. Despite a couple of superficial flaws.

posted by Ace at
01:10 PM
|
Access Comments