« Learning from Women [KT]
|
Main
|
Ace of Spades Pet Thread »
February 08, 2020
Saturday Gardening and Puttering Thread 2/8/20 [KT]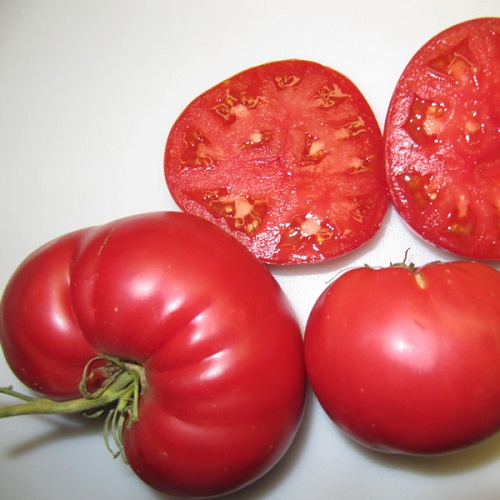 Hello to our gardeners, putterers and winter dreamers! It is almost Valentine's Day, which means that our thoughts turn to heart-shaped tomatoes among other things. These tomatoes, as a class, are meatier than most tomatoes, with intriguing flavor and generally with few seeds. The one above is Sherry's Sweet Heart.
6-10 oz. fruit, Some are Larger. Large Pink Heart. Beautiful. Meaty, dense fleshed pink heart tomato. Good production, Mid-season. Plant has droopy wild foliage common with hearts. Very good flavor, well balanced, sweet-acid.
There is a multicolored one from Wild Boar Farms called Crushed Heart:
Crushed Heart was released in 2016 by Wild Boar Farm and developed by Brad Gates, Napa Valley, California, USA. Medium to large fruit (100-300g), heart-shaped, irregular, often with elongated, pointy ends. Very meaty, only few seeds. Light pink in color with green/yellowish stripes and light antho splash. Very vigorous, indetermiante plants with regular wispy leaf foliage. Very good production until first frost. About 80 days from transplant.
Also from Wild Boar Farms, a round one called Persuasion:
2-4 oz. fruit, Mid Season, Lovely pink-rose colored with green-gold striping and varying degrees of anthocynin splashes. Very good flavor. Great hang on the vine ripe ability and post harvest self life.
Some of the tomatoes with "anthocynin splashes" are not particularly tasty. Valued for health reasons. Maybe this one tastes better.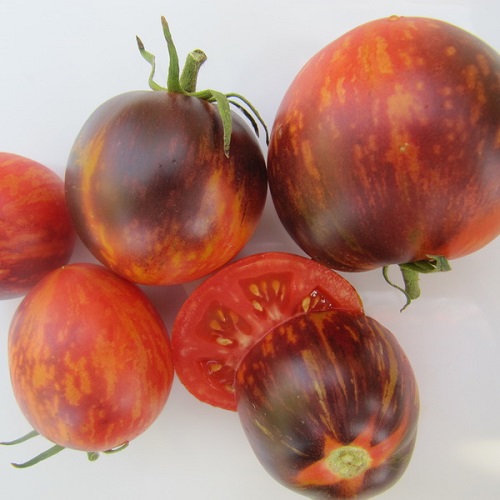 The Horde Does Edible Gardening and Puttering
Last week, in the post and the comments, there were several good tomato suggestions. Kindltot had some for folks in coastal areas:
Locally, my narcissus and daffodils are starting to put out the first buds, and the neighbors Witch Hazel is blooming, so it is time to start looking for what I want to do this year in gardening.

I like the Cherokee Purple tomatoes for the flavor, but they are a bit marginal here, it takes a good hot summer to get a good yield. I also like the Willamettes and Siletz since they were bred for this area, so they take up the difference.
I am looking at the Indigo rose and the black Krim, since who doesn't want to eat black tomatoes! I do find the flavor is more pronounced with the darker tomatoes than with the tomatoes I grew up with

However, I think I have about 12 Quarts of tomato juice in the pantry still, so I better get cracking on drinking and cooking with it before harvest.

I will be planting Kentucky Wonder string beans again, since they turned out so well, and I suspect I will be pickling dilly beans with them this year.
I put down garlic where my compost was, and with luck that will come up this year, and I always plant chili peppers.

I need to clear an area and get ready to till to plant lettuce and put in the potato hills. What seems to grow best here are the yellow potatoes.

One thing that I have discovered over many years is that the plants I put at the corners of the garden plot NEVER do well. I am not sure if this is a watering issue, or if there is too much competition with the lawn. I may plant basil on the corners from now on.
As hinted to in the "Persuasion" information above, Black Krim and Indigo Rose are dark for different reasons and won't taste similar. Indigo Rose is an anthocynin tomato.
I don't think of basil as an extraordinarily tough plant. Maybe it's a climate interaction. Interesting.
Of the Wild Boar Farms tomatoes, I think Pink Berkeley Tie Dye is a good one to try in cooler summer climates. Compare to Cherokee Purple. Make sure it is the PINK one. "Berkeley Tie Dye" has wilder coloration and flavor - quite acid. This is the pink one.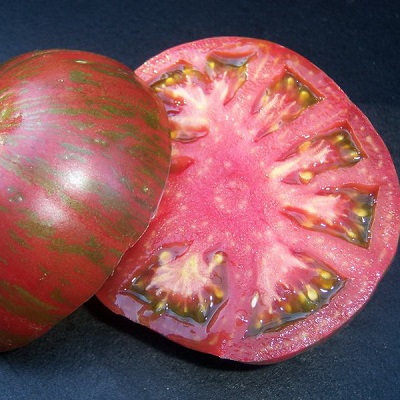 I like this little tomato for hot-summer climates - AAA Sweet Solano: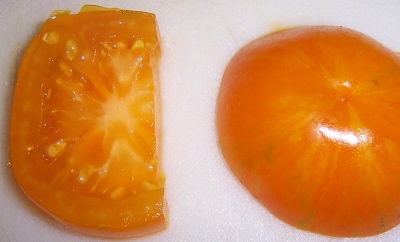 Kindltot may need some suggestions for using up that home-canned tomato juice. Mmmmm. How about some soup to go with Larro's second baking project? This one includes basil.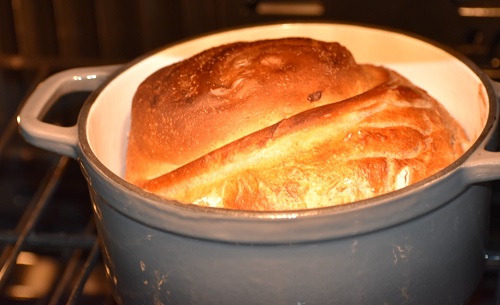 You can see the starter to the right, I think.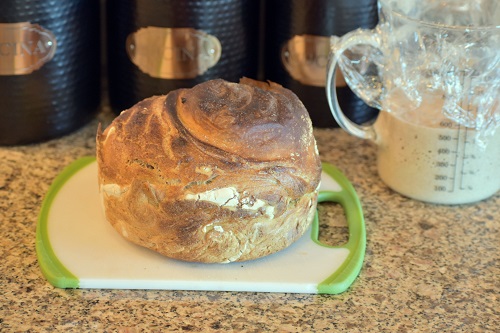 This time about 10% whole wheat.

Now this is why God made butter!
Update: Illiniwek has been busy.
Hey KT

Just three pics of my window garden ...

Buttercrunch lettuce and dwarf blue curled kale on top --
little snow pea, purple hybrid on the bottom, new snow on the outside.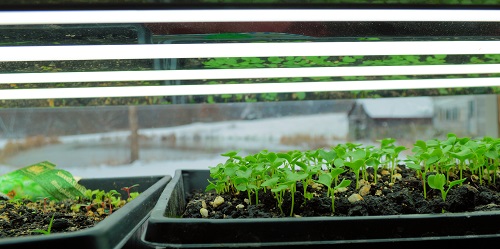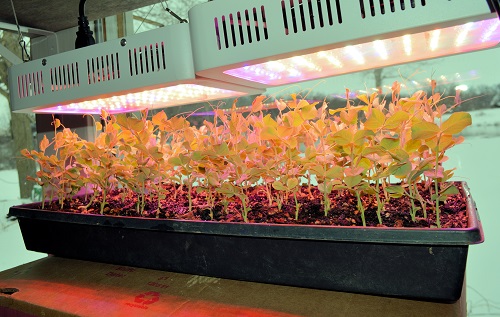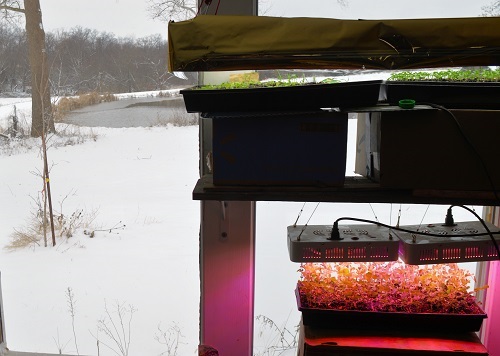 I like the lights.
Critters
From Jake Holenhead a pheasant, photographed some time ago near Spokane: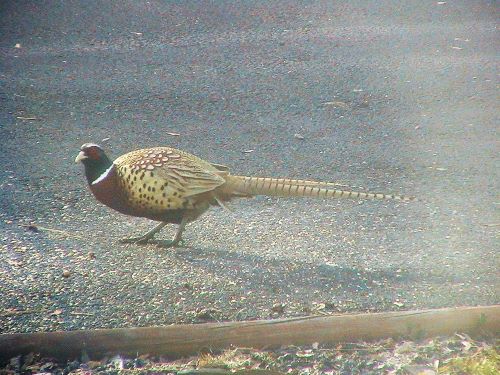 Showy bird.
Sky
Sunset from Colorado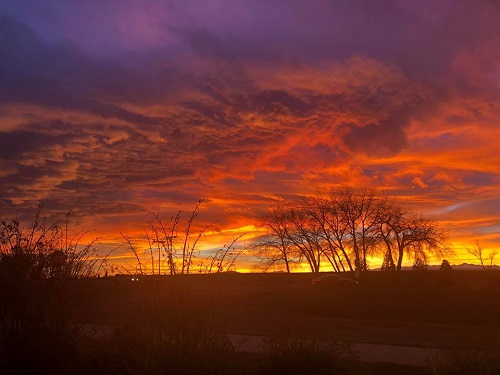 From RS:
I'm a religious reader and lurker of the Saturday gardening thread. I've enjoyed the recent sunset photos and attach for your consideration some sunrise photos taken in West Texas.

If you would like to send information and/or photos for the Saturday Gardening Thread, the address is:
ktinthegarden
at g mail dot com
Include your nic unless you want to remain a lurker.

posted by Open Blogger at
01:22 PM
|
Access Comments