« Saturday Morning Coffee Break
|
Main
|
Saturday Gardening and Puttering Thread 2/8/20 [KT] »
February 08, 2020
Learning from Women [KT]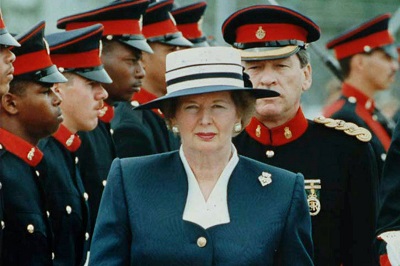 Margaret Thatcher reviews the troops
Well, it has been a big week in the news, featuring several women behaving badly. Notably at President Trump's State of the Union Address. Some other incidents didn't get as much attention.
On the diversity front, there was that Elizabeth Warren staffer complaining that Democrats were becoming too obsessed with pronouns. That's divisive.
And on TV, Claire McCaskill called Ben Carson a "thing". I know he's a Republican, but he's still black.
And in the DNC:
Late Tuesday, the board for the Milwaukee 2020 Host Committee terminated President Liz Gilbert and her chief of staff, Adam Alonso. The move comes just one day after the board suspended the pair and launched an investigation into "toxic workplace" allegations.

The Journal Sentinel reported Tuesday that a group of senior women staffers wrote an unsigned letter last week complaining of being "bullied and intimidated" . . .
J.J. Sefton picked up a piece on six minority women leaving Elizabeth Warren's campaign, claiming a toxic work environment.
Other women may be the answer
Fortunately, there is a program tailored just for racist white Democratic women.
David Thompson explains:
In racial-dominatrix news:

Why liberal white women pay a lot of money to learn over dinner how they're racist.

Says the Guardian,

A growing number of women are paying to confront their privilege - and racism - at dinners that cost $2,500... A frank discussion is led by co-founders Regina Jackson, who is black, and Saira Rao, who identifies as Indian American. They started Race to Dinner to challenge liberal white women to accept their racism, however subconscious.
Rao and Jackson believe white, liberal women are the most receptive audience because they are open to changing their behaviour. They don't bother with the 53% of white women who voted for Trump. White men, they feel, are similarly a lost cause.
The clients of these women are counseled against having "unmonitored thoughts".
But there's more to progressivism than diversity. Elizabeth Warren got caught looking kind of guilty getting off a private jet this week, too. What happens when progressive goals clash?
Titania McGrath approvingly linked a piece in Vice by a young Woman of Color, on why she was walking away from being a climate activist:
Armageddon is a small price to pay if it means that we can finally dismantle whiteness.
You might want to read the responses to Titania's tweet for some suggestions. Heh. Or even click over to the piece in Vice if you need to brush up on your progressive arguments. Too bad that young climate activist can't get a gig to rake in some big bucks for making white progressive women feel guilty. Maybe she could get paid to tear out their kitchen appliances or something.
Are progressives really serious about the climate thing?
Compare and Contrast:
There was another woman a few decades ago whose advice sometimes went unheeded.
Quillette posted a piece yesterday entitled Thatcher Warned Us to Go Slow on European Integration. Too Bad We Didn't Listen. About Thatcher biographer Charles Moore:
According to Moore, the end of the division of Germany was a factor in the attempted coup against Gorbachev in 1991. He also points out that one of the Russians who became convinced that his country had been humiliated by the West during this period was none other than Vladimir Putin, then serving as a KGB officer in East Germany.
And so it is somewhat ironic that Thatcher is remembered by her critics as an inflexible Cold Warrior: At this critical juncture, she had argued for being more sensitive--not less--to the perspective of Russians. Had her advice been heeded, the Russians might have felt less slighted, and the last 30 years of East-West relations might have unfolded differently.

Thatcher's arguments and warnings over the issue of European integration were similarly pushed aside. And, as with the USSR, the nature of Thatcher's objections have been mischaracterized. In a major speech about the future of Europe, delivered in Bruges on September 20th, 1988, she "began with a grand historical sweep, taking in the Romans, Magna Carta, the Glorious revolution and much more, all designed to show that Britain was part of European civilization." Thatcher also made it clear that "Britain wanted no 'cosy, isolated existence' on the fringes: 'Our destiny is in Europe, as part of the Community.'"

What Thatcher did oppose was the project of "ever-closer union," and the resulting weakening of the influence of nation states. . .
In her speech at The Hague, as Moore summarizes it, "she prophesied that large-scale immigration caused by free movement would cause 'ethnic conflict,' and bring about the rise of extremist parties, that there would be 'national resentment' because of one-size-fits-all financial and economic policies under a single currency, and that a more centralized EC would not be able to work with the influx of new member states from the former Eastern Bloc."

This obviously has specific relevance to Brexit and the political forces that led to it (though Thatcher herself, who died in 2013, never lived to see any of this play out). More generally, the common thread is that Thatcher understood the pattern of reaction and counterreaction that governs human affairs, including affairs of state. She stuck by the hard lessons of history even as others around her surrendered giddily to the fin de siecle euphoria that accompanied the end of the Cold War.
Worth reading.
Music

Have a good weekend.
This is the Thread before the Gardening Thread.
Serving your mid-day open thread needs

posted by Open Blogger at
11:16 AM
|
Access Comments