« Saturday Gardening and Puttering Thread 2/8/20 [KT]
|
Main
|
Saturday Afternoon Chess Thread 02-08-2020 »
February 08, 2020
Ace of Spades Pet Thread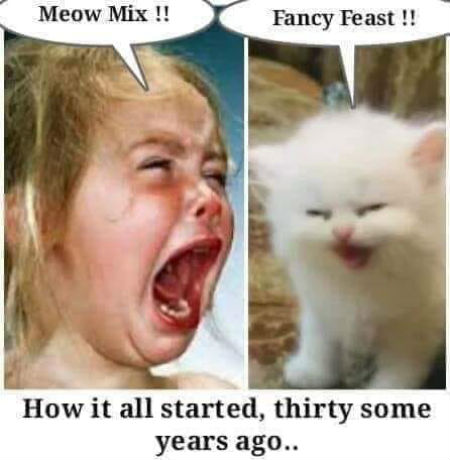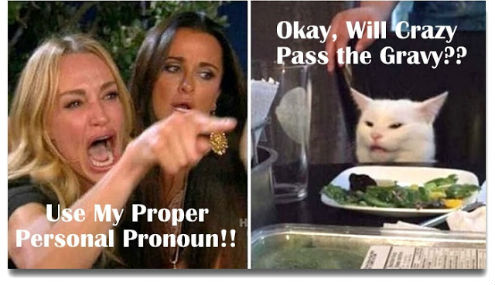 A little history lesson this afternoon. Any way, welcome to the almost world famous Ace of Spades Pet Thread. Speaking of history on February 13, 2016 the Ace of Spades Pet Thread made its debut.
If you go back to visit it DON'T COMMENT ON IT. Pixy will ban you. And my magic wand is broken this weekend.

Any way enjoy the world of pets.
***
A Little of This. A Little of That.
JSS submitted two neat links this week. The first is of a lynx family. The second is a cool cat at the pool.
***
The Pet Thread can have A Feel Good Story of The Day.
***

From our friend Hank Curmudgeon, "I think both links should be posted. They kind of compliment each other."

Even the normally brutal Second City Cop blog likes this...be sure to read the comments...
Meet The PetMorons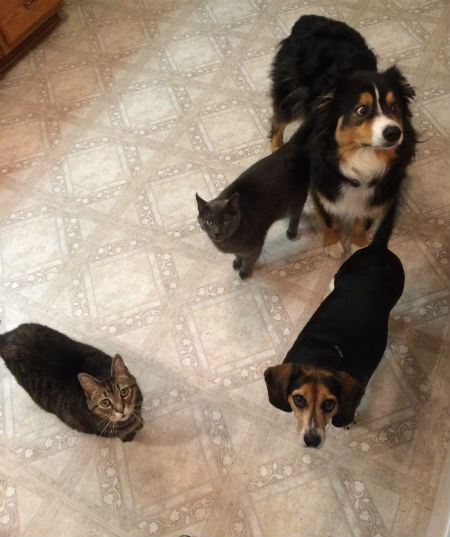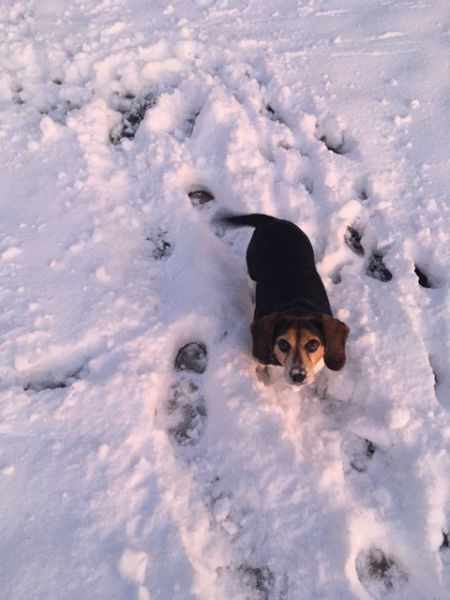 Hello, Ace-world & Bob from the NSA, Big Fat Meanie here. Here's a photo from the weekly staff meeting, taken some time in 2018.

Duke is the Australian shepherd and is determined to keep this a squirrel-free workplace.
Olaf is the Russian Blue cat and is determined to keep this a bird-free workplace.
Lady is the beagle and is determined to steal everyone's food out of the fridge;
JJ is the tabby and was the elder statesman, who has since been eaten by a coyote.

Fortunately, all of them get along pretty well, except for JJ, who was eaten.

Hope you guys are well and thank you for hosting this wonderful blog!
Good afternoon Big Fat Meanie, thanks for the compliment and thank you for the submission of your wonderful pet staff. Sorry to hear of JJ's demise.
***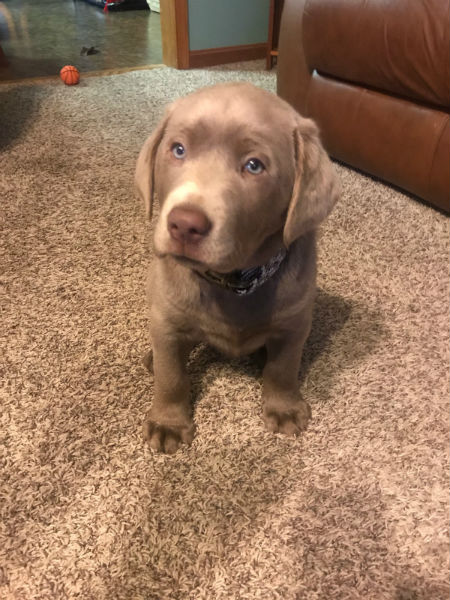 Hi. I post under the handle jsg (just some guy). This is my sister's new puppy. He is a silver labrador named King. We babysat him last weekend and now I am really having a hard time not running out and snatching one up. He is so adorable it should be a crime.

It is a crime. The law says you must obtain a puppy if you see or visit one. Just ask Mrs. Mis. Hum. Cute pup, we hope that King provides years of companionship to your sister.
***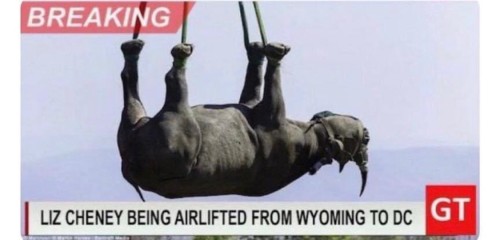 This is Notsothoreau. Here's my goat picture.
And that is all she wrote. I'm curious about this story. Hopefully Notsothoreau will share with us today.
***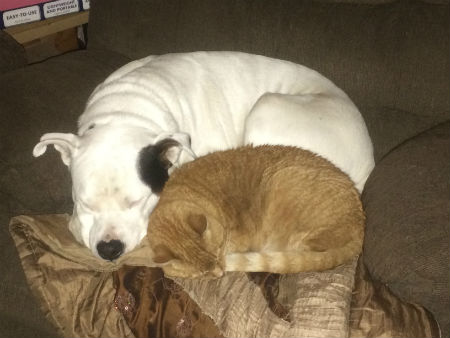 This is George our dog and Ocee our cat. George, an American bulldog, was on the street for God knows how long in the middle of winter (this is Buffalo) when he was picked up and brought to the pound. After no one picked him up he was brought to the SPCA where my wife, who had just lost her beloved German shepherd, adopted him. George was a bit rough at first from his time on the street but four years later he is my best buddy and our best boy. The following very cold and snowy November (again, Buffalo), an orange cat, a house cat who found himself on the street, came up on our porch and decided he was going to live at our house. Ocee is simply the best cat a family could want. George and Ocee are best friends and look after one another. They have brought so much joy to our lives. Sincerely, Nick (last name withheld)
You and your wife are good people. What a wonderful story. A bonus is that those 2 get along so well. Good pets that bring joy. Thank you for sharing.
***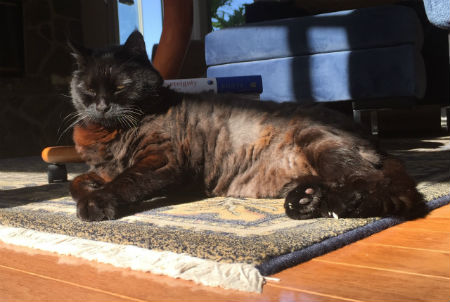 My beautiful 27 lb Maine coon mix, Salem, was probably 17 yo (he adopted us when the vet thought he was almost 2 years old after someone dumped him in our neighborhood). He was a consummate hunter who had to be outdoors every day and a big lovey sun bear who loved to be petted and knew a bunch of tricks. He's appeared on a past AOS Pet Thread when he returned after harvesting a rabbit. He fended off coyotes in the past and even drove off a bobcat last week. But this week he met a bigger coyote who sensed his age/weakness despite his size and we lost him. I cry often because I was the one who let him out when he wanted to go out that night. Best pet I've ever had. R.I.P. Mister Man - Keena

A beautiful cat. Please don't beat yourself up about letting Salem out. We send our condolences to you on your loss.
***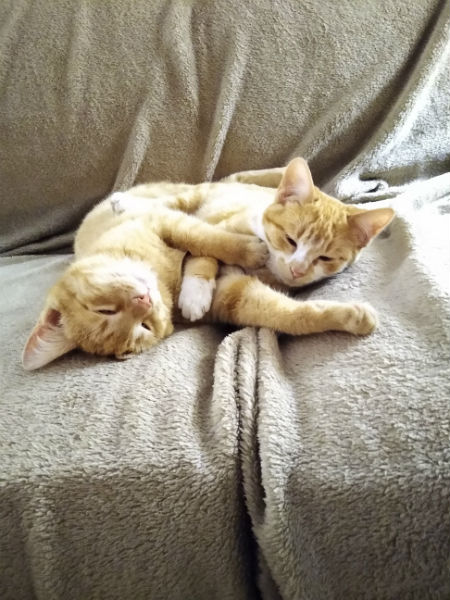 Dear Misanthropic Humanitarian et al,
LONG-time lurker, just call me DadVan. First, my sincere thanks for helping us get through the last two pet-less years. My wife and I have been literally blessed to have several VERY special dogs and cats over forty years of marriage, but had to put down the last ones (17 year-old cats named Titus and Nellie) just months apart several years ago. Living semi-rural, many of our pets have come to us "organically," having been dumped by others. So... We prepared our hearts and waited. And waited. While we waited, I would look forward to each SAT's AoS Pet Thread, enjoying the pictures and stories, sharing them as possible with my wife. To make this longish story short (and leaving out many false-starts, etc.), we could wait no more, thus adopted these two bonded brothers from a shelter that was "advertising" them in one of the local pet stores (that sells no cats or dogs, just facilitates adoptions). Meet Fili (L) and Kili (R). Yah, named after the two dwarf brothers in "The Hobbit." Sleeping was the only way to get a non-blurry picture... They're ~five months old, and have happily turned all our lives upside-down.
When I first saw this photo I thought. There is a handful. And after reading your story, I was right. Congrats on the new additions to the family. Thanks for sharing today.
***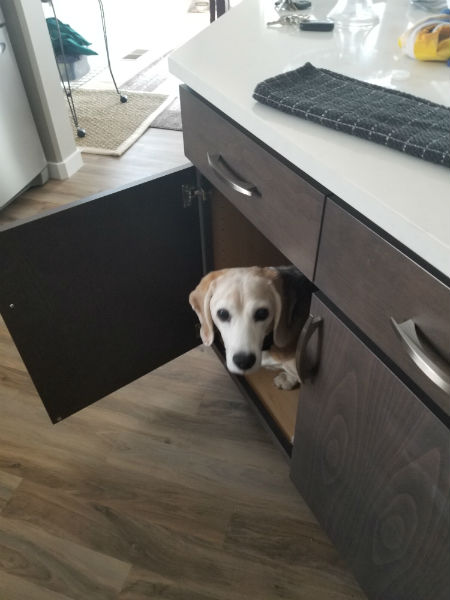 Hi MisHum!

This is my boy Sam. We got him back in April of 2006 when he was six weeks old. For the last two years he has lived with congestive heart failure and a chronic bladder infection due to a bladder stone that couldn't be removed because of the risk of surgery due to his heart condition. These issues were found through routine checkups at the vet; if you saw him you would never know anything was wrong with him. He was full of energy and mischievousness. On January 21, we took him to the vet because he had been acting differently: walking into a room and stopping, moving slower, things like that. We thought he might either be getting arthritis or doggie dementia. We were devastated when our vet told us he had non-regenerative anemia and there wasn't anything we could do, and we were looking at only a matter of days. She suspected he either had an autoimmune disease or some form of cancer. With his advanced age and health issues, the testing to find out what was wrong with him would take a lot out of him, and she told us he might not to be able to tolerate treatment even if we could find out what was causing it. So we decided to take him home and love and spoil him for the time he had left. He did really well for the first week or so, was still doing okay up until Saturday last week, then went downhill fast on Sunday. We said goodbye to him on Monday night.- Jordan61
I first saw the pic and I giggled. Then I read Sam's story and my smile left and I feel so bad for you folks. It is so tough to lose a pet. Sam had a good life. Condolences.
***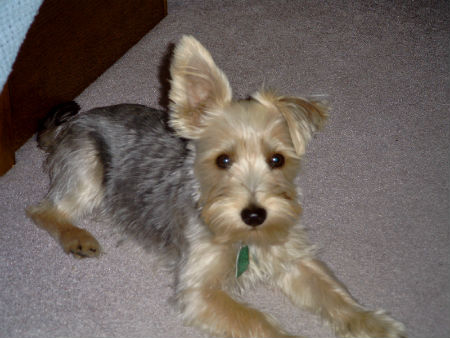 This is our Yorkie, Sparky. He is 13 now, and as a qualified teenager,
he eats everything in sight and doesn't listen to anything I say. He's
mainly a good dog and quite intelligent. I would swear that he can tell
time (time for my treat, dad! time for a walk, dad!) and even understand
when certain key words (walk, ride, go, play) are spelled out between my
wife and I.

Thanks for the thread, MisHum. I enjoy it every week.-The Neon Madman
Congrats on your pooch making the teenager years. Sparky looks like he has lived up to his name. Thanks for sharing today.
***

From our very first Pet Thread.............

Our dogs Derry on the left and Dreamer on the right (Summer 2014). Irish and Irish Red & White Setter.
***

You folks make this thread a success every week. Thank you for sharing the ups and downs of pet ownership. This is a great thread where we forget about all the political and current even news.
If you have something you wish to share you can reach us at petmorons at gmail dot com.
Thanks again and have a great week!!!


posted by Misanthropic Humanitarian at
03:00 PM
|
Access Comments