« Gun Thread: Super Bowl Edition [Weasel]
|
Main
|
The Morning Report - 2/3/20 »
February 02, 2020
Sunday Overnight Open Thread (2/2/20) Palindrome Edition
(No. It isn't me.)
***
The Quotes of The Day

Quote I

"Considering you're talking of a fine up to $250 a day and revoking your privileges at our clubhouse here, suing us with our own money, that's pretty unfair," Mark Skarupa Gilbert HOA resident

Quote II

"When I looked at the curriculum, I'd be happy to read some of this stuff, but I will tell you I know that the chair would gavel me because it is completely inappropriate for me to say here. And I think that if it is inappropriate for me to say on the dais, I don't think that's something that I would want to teach a kindergartner." Washington Rep. Michelle Caldier (R)

Quote III

"You are right that I am being provocative but I am provoking some clear thinking, I hope. It is all too easy to request others to do things that carry no personal cost to yourself. The question is whether you and others are prepared to make personal sacrifices to achieve the goals of environmental improvement (which I support as a goal)." Professor Andrew Parker of St John's College at Oxford University

Quote IV

"If you're a chronic user of marijuana, you are more resistant to anesthetics, both those that put you to sleep, like propofol, and those that keep you asleep, like various anesthesia gases."Jeffrey Uppington, an anesthesiologist at UC Davis Medical Center

Quote V

You go back to my campaigns," he said. "I sort of watch how the president reacts to his opponents, and it's not the way I did it. But you know what? He won and I didn't. On the other hand, he won and I didn't but I would not have done what he's done in order to win." Sen. Mitt Romney (R-UT)
***
Slowly but surely, The US Army continues its march to Special Snowflake tune.

West Point Now Forces Cadets to Learn About "Gender Norms" and "Toxic Masculinity" – Forces Them to Watch Transgenderism and Gay Lifestyle Documentaries
***

Today is 02/02/2020 -- the first global palindrome day in 909 years

Today is 02/02/2020 -- the first global palindrome day in 909 years

Today is a very special occasion -- the date is a palindrome, meaning it is the same when read forwards and backwards.

It is February 2, 2020, or 02/02/2020, in both the MM/DD/YYYY format and the DD/MM/YYYY format. At just after 2 a.m., it was 02:02:20 on 02/02/2020.
This is the only time such a date will occur this century.
The previous palindrome date in all formats came 909 years ago on 11/11/1111. The next will come in 101 years on 12/12/2121 and after that there will not be another until 03/03/3030. Solihull School Maths Department wrote on Twitter: "Today is a Palindrome Day in all date formats (UK, USA, ISO). It's also a palindrome day of the year (33) and there are a palindrome number of days left in the year (333). Quite a unique day!"
***

Believe all women. No. I don't think so. They are as imperfect as men are.


Amber Heard admits to hitting Johnny Depp in audio clip, #JusticeForJohnnyDepp trends
'I sometimes get so mad, I lose it.'

The hashtag #JusticeForJohnnyDepp trended on Twitter after a recording was released of actress Amber Heard admitting to violence against her ex-husband, Johnny Depp.

In the recording, Depp and Heard are having an argument when Heard says, "I can't promise that I won't get physical again. … I sometimes get so mad, I lose it.
***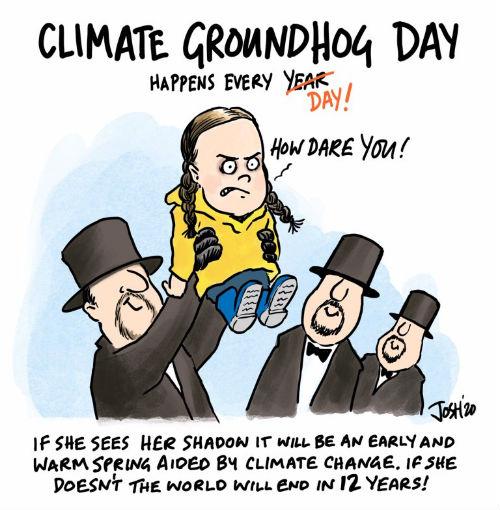 It doesn't matter what the rodent saw today. Here at Fort-Misanthrope, it's 6 weeks of hard winter left. Everything you wanted to know about Groundhog Day and woodchuck sex.
Groundhog Day is all about woodchuck sex
Six more weeks of Tinder.

According to legend, if the groundhog sees his shadow on February 2nd, there will be six more weeks of winter; if not, an early spring is predicted.

Of course groundhogs—also known as woodchucks—don't emerge at this time just to be furry weather predictors. So what's the real reason? Research into groundhog biology shows they have other priorities in early February than mingling with the people of Punxsutawney, Pennsylvania.
***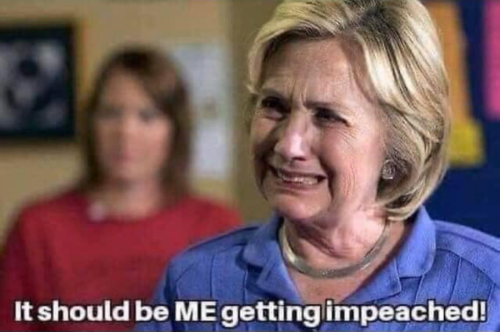 ***

Tit for tat.'Red Flag Laws' abused. Who knew?

LARIMER COUNTY, Colo. — An arrest warrant has been issued for Susan Holmes, the petitioner who tried unsuccessfully to use Colorado's new red flag law to have guns removed from the officer who killed her teenage son.

Holmes is wanted in Larimer County for alleged felony perjury and attempt to influence a public servant, according to court records dated Jan. 23.

The date of her offense is dated Jan. 9, the day she filed her extreme risk protection order petition against Cpl. Phillip Morris, an officer with Colorado State University
***

Rep. Ilhan Omar Nur (D-MN) continues to live that Sugar Momma life. Living and loving on campaign funds.

Rep. Ilhan Omar (D., Minn.) continues to push campaign cash to a firm run by her alleged boyfriend, filings show.

Omar's new committee filings submitted Friday morning show that between Oct. 1 and Dec. 31, 2019, her committee made $215,000 in additional payments to the E Street Group, a firm run by political consultant Tim Mynett, Omar's alleged boyfriend. The payments were reported as going toward consulting, direct mail, research services, travel expenses, advertisements, and graphic design.

The new payments mark another increase in money funneled to the firm. Mynett's group is yet again the highest-paid vendor from Omar's campaign.

The committee reported hauling in $403,000 in individual contributions while disbursing $404,000 over the last three months of 2019. The $215,000 paid to Mynett's group for its services accounts for 53 percent of the total disbursements from the campaign during this time.
***

Thank you for your service, General Flynn. What should we take away from the Flynn prosecution?

What lessons do we take from this nightmare, all to different from the "things that go bump in the night" variety as this one is happening, right now, to an American family which, until Andrew Weissmann and his dangerous posse of tyrants descended upon them like locusts, was the very picture of the kind of American family everyone would admire.

As much as it pains me to say it, never, never, never trust anyone with FBI or many, not all, with the Department of Justice.
Never, never, never sit down and talk to prosecutors for three entire days as his former attorneys had Gen. Flynn do — they are called "prosecutors" for a reason as it is their job to put you in prison, not to become your friend.
Be ever vigilant in your choice of counsel in the event of this kind of legal jeopardy–there are many sources of sound information upon which to base an informed decision in the public domain.
If you are urged, against every instinct in your mind and body, to agree to something you know is not right, get out that minute and hire another lawyer. Once a lawyer has lost the client's trust, as obviously happened in this case, it is, quite simply, over.
***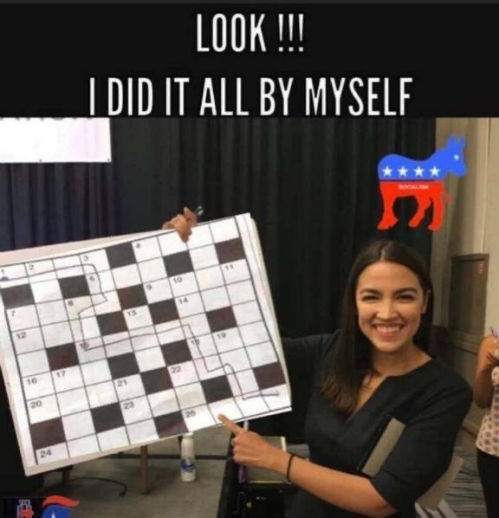 (H/T Chavez the Hugo)
***
President Trump doesn't let the Schiff Show detract from "National Defense". Another terrorist leader is sent to meet his 72 goats.

President Donald Trump appears to have added another name to the list of terrorists that his administration has killed as the Central Intelligence Agency (CIA) reportedly launched a drone strike that killed the leader of Al Qaeda's affiliate in Yemen.

"The officials expressed confidence that the Qaeda leader, Qassim al-Rimi, was killed in a January airstrike in Yemen but were awaiting confirmation before making a public announcement," The New York Times reported. "If confirmed, his death could represent a significant blow to the Qaeda affiliate, which remains one of the most potent branches of the terrorist group. The Yemen branch, Al Qaeda in the Arabian Peninsula, has tried to attack the United States and Europe and is thought to still want to."
***
The ONT Musical Interlude
On this day: 2 Feb 2014
Skinny Puppy sent the US government an invoice after finding out their music was used as torture device in Guantanamo Bay. Despite the band's aggressive sound, they said they had never envisioned their music being used in such a way. Asked how they felt about their songs allegedly being used in the detention camp, singer cEvin Key replied: "Not too good. We never supported those types of scenarios. … Because we make unsettling music, we can see it being used in a weird way. But it doesn't sit right with us." via thisdayinmusic.com
&&&
***

I'll gladly pay you Tuesday for a hamburger today. Can I trade you a hamburger for sex? Genius Award Winner.

JANUARY 31--A New Mexico man arrested in a prostitution sting agreed to give an undercover cop a Chili's hamburger in return for sex, according to a criminal complaint.

Police say that Dominic Calderon, a 36-year-old registered sex offender, was collared Tuesday night after riding his bicycle up to the female officer, who was standing on an Albuquerque sidewalk.

After Calderon and the cop agreed on $80 as the price for a sexual encounter, Calderon asked the undercover cop for her phone number, explaining that he "did not get paid until Friday."

Noticing that Calderon was carrying a bag of food from Chili's, the vice cop asked what was inside. Calderon replied that it was a hamburger, prompting the undercover to propose a barter deal. "I told Dominic that my fee could be the burger," the cop reported.

When Calderon agreed to the swap, he was arrested for patronizing prostitutes, police report. While the complaint notes that, post-arrest, "Dominic's items were tagged into evidence," it is unclear whether the burger itself is now in a police storage locker.
***
Before you judge a man, walk a mile in his shoes. Tonight's Feel Good Story of The Day.

Two weeks ago, Logan Fontenelle Middle School teacher Trey Payne's basketball shoes were stolen from his classroom.

His students pitched in and replaced the stolen shoes.

my favorite teacher mr. payne got his shoes stolen, so me and a few classmates put together our money and bought him a brand new pair! #bps #bekind @RippeJeff pic.twitter.com/NRQ6fX0JhI

— Emma Mitchell (@EmmaxMitchell) January 28, 2020
On Tuesday, a group of Payne's students surprised him with a card and a present. After reading the students' card, Payne shaked his head in disbelief and reluctantly pulled a shoebox out of the gift bag.
***
Weekly commenter stats for week of 2-2-2020

Top 10 commenters:
1 [611 comments] 'TheJamesMadison, 003 with a License to Kill' [85.70 posts/day]
2 [551 comments] 'Christopher R Taylor'
3 [506 comments] 'Miklos Caroliniensis'
4 [498 comments] 'artisanal 'ette'
5 [492 comments] 'Mike Hammer, etc., etc.'
6 [463 comments] 'Skip'
7 [445 comments] 'm'
8 [427 comments] 'garrett'
9 [426 comments] 'runner'
10 [423 comments] 'Tom Servo'
Top 10 sockpuppeteers:
1 [503 names] 'Miklos Caroliniensis' [70.56 unique names/day]
2 [64 names] 'Jimmy Lennon's Junior'
3 [62 names] 'Count de Monet'
4 [54 names] 'Senator a klobberknocker'
5 [52 names] 'mindful webworker'
6 [46 names] 'LeftCoast Dawg '
7 [40 names] 'Huck Follywood'
8 [31 names] 'freaked'
9 [31 names] 'Balrog of Morgoth'
10 [30 names] 'Notorious BFD'
***
Tonight's ONT has been brought to you by Hetrosexual Toddlers.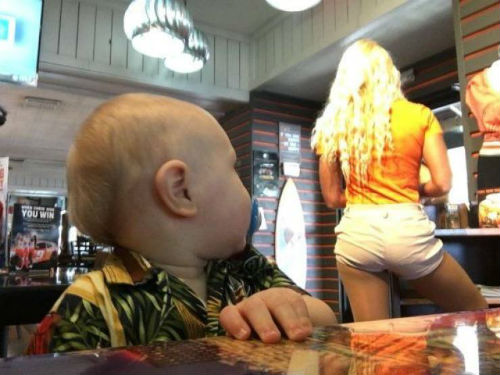 Notice: Posted with permission by the Ace Media Empire and AceCorp, LLC. ONT tips, loose change and burner phones to petmorons at gmail dot com. Complaints? Send them to Eric Ciaramella.

posted by Misanthropic Humanitarian at
10:09 PM
|
Access Comments