« Super Bowl Thread
|
Main
|
Sunday Overnight Open Thread (2/2/20) Palindrome Edition »
February 02, 2020
Gun Thread: Super Bowl Edition [Weasel]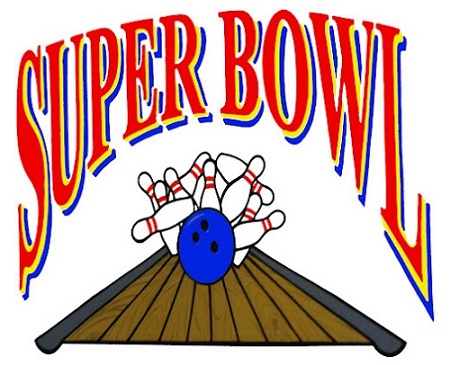 Well it's that time of the year again, that special day when we break out the chips and cheese dip, order pizza, drink beer, watch social justice commercials, and throw up in the neighbor's living room. It's Super Bowl Sunday!! Yay!
Truth be told, I don't give a shit about the Super Bowl, and haven't watched a football game in years. For me, at some point it stopped being about the game and guys working together as a team, and started to be about a bunch of overpaid, preening thugs showing off for the camera. Then they started the kneeling during the National Anthem bullshit, and that just cemented the decision I'd already made. One more reason is that I live in Northern Virginia and guess my team is supposed to be the Redskins, which is reason enough to be bitter and angry. The only possibly redeeming factor in the entire mess that is the NFL are the cheerleaders, and I think they get left at home for the big game. Having said that, I am not so set in my convictions that I didn't buy a couple of squares in the office football pool... go Chiefs!
So that is the official WeaselPosition on football, but feel free to discuss the game if you like! Now let's get to the guns and shooting, shall we?
I've been thinking about getting a scoped .22 for plinking down at the farm, and recently found this little dusty and unloved gem.

It's a Colt Colteer 1-22, around 25,000 of which were made between the late 1950s and early 1960s. It's now the only gun I have which doesn't have a serial number, required by the Gun Control Act of 1968. The scope is a Weaver B4 made in El Paso, Texas around the same time. It's a great little single-shot rifle and one whole hell of a lot of fun to shoot! I went to the farm this week with my shooting buddy and between the two of us had fair number of weapons to choose from. Guess which one we ended up shooting the most? Go ahead, guess! Yep - it was the little .22 plinker. We set up a few steel plates at 100 yards and had a great old time just plinking away!
A .22 rifle isn't going to win you the Badass of the Day award at the range, but for the simple joy of shooting they're hard to beat and can often be found for as little as $200. When was the last time you spent an afternoon shooting cans on a fence at 4 cents per round? If you ever have a chance to get one, grab it!
******
Here's a neat little sub gun - the gas operated closed bolt design 9mm Sig Sauer MPX K.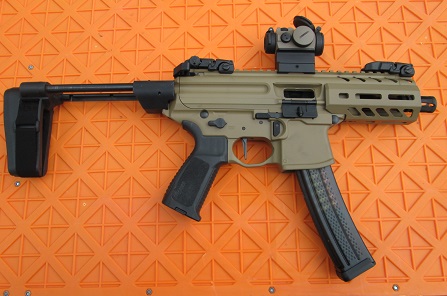 If you are behind on your gun buying take a look at this. The observant among you will notice the barrel appears to be pretty short, and you're correct. It's 4.5 inches long, which is somewhat less than the minimum 16 inches to be classified as a rifle. What gives? Well, it's actually a pistol with a helpful supporting brace attachment, that's what gives. The one pictured above has an upgraded aftermarket brace and an Aimpoint Micro T2 red dot optic, bringing the price well above the $2,200 retail price for the gun alone. It's fun to shoot and features the usual solid Sig Sauer quality. The model was introduced in 2015 and is Sig's answer to the H&K MP5.
******
At some point along the line, I realized I had enough spare parts lying around the house to make a whole rifle.

This started out as a Savage 10 and is now sporting an aftermarket .308 barrel, Nightforce scope and Harris bipod as well as a few other parts. I think my idea at the time was to make a T/R Class rifle for club level matches, but that never really materialized. Today, I use it simply for recreational shooting and it is pretty damn accurate and definitely fun to shoot. With regular ol' commercial ammo it's probably around a 1 MOA-ish gun, and if I worked up a target load for it I could improve on that quite a bit. I like it just the way it is, however, just shooting it for funsies.
Last week I mentioned taking my own great advice by ordering two cans of 7.62x51mm M2 Ball ammo from SG Ammo. It's surplus from the 1980's made by PMC, and at less than 50 cents per round it's hard to go wrong. The idea for this week was to take the chronograph to the farm and test the 40 year old surplus ammo against modern production ammo and report the results here. I even remembered to bring the chrono, but couldn't get it to register the shots and ran out of time. I think there were two problems - I set up the chrono on a wobbly table, and also pretty much forgot the sequence for arming the chrono for the shot. I still want to do the test and will read the manual and devise a better setup next time I head down for the weekend. I can say the 30 or so rounds I did shoot appeared to be very consistent at 100 yards but I want to see what the velocities look like. Stay tuned!
******
Link-O-Rama
I'm really very seriously not kidding around anymore. Buy Ammo
AmmoSeek - online ammo search tool
GunBot - online ammo search tool
SG Ammo
Palmetto State Armory
Georgia Arms
AmmoMan
***Mail Bag***
Our pal BifBewalski sent in this great video. As long as we're celebrating greatness today, let's take time to think about and give thanks for the young men and women who are the real heroes.
******
Please note the new and improved gmail account morongunthread at gmail dot com. An informal Gun Thread archive can be found HERE. If you have a question you would like to ask Gun Thread Staff offline, just send us a note and we'll do our best to answer. If you care to share the story of your favorite firearm, send a picture with your nic and tell us what you sadly lost in the tragic canoe accident. If you would like to remain completely anonymous, just say so. Lurkers are always welcome!
That's it for this week - have you been to the range?


posted by Open Blogger at
07:00 PM
|
Access Comments