« Sunday Overnight Open Thread (2/2/20) Palindrome Edition
|
Main
|
Mid-Morning Art Thread »
February 03, 2020
The Morning Report - 2/3/20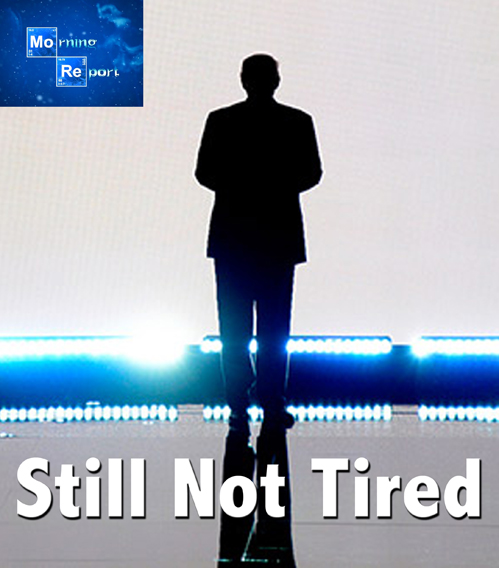 Good morning kids. The start of a new week and for President Trump and we the people the winding down until the final vote for acquittal and vindication from the utterly false and fabricated charges brought against him by the Democrat-Media Complex. The situation was in doubt until about Friday morning, at least insofar as the Dems looking to hijack the Senate and introduce even more witnesses but a combination of longstanding friendship between Lamar Alexander and Mitch McConnell, as well as Elizabeth Wan attacking the integrity of John Roberts to his face which infuriated Lisa Murkowski that sealed the deal and brought it to an end. Or at least postponed the inevitable final vote until Wednesday.
There really was no good reason why they should not have held that vote immediately, except for the fact that the Dems wanted to sabotage Bernie Sanders ability to fly off to Iowa and campaign for today's caucuses, as well as prevent Trump from crowing about the acquittal at tomorrow's State of the Union speech. That was Mitch McConnell's doing, for better or worse, not that it really makes much of a difference. There are a couple of schools of thought vis a vis allowing more witnesses. First, in theory, the GOP could have called the Bidens, Schiff-for-Brains and even Eric "whistleblower" Ciaramaella, which would have revealed even more raw corruption and criminality of the former as well as the truly explosive facts of the latter two essentially cooking up the entire raison d'etre for the impeachment in the first place. That is, assuming that John Roberts would not have run interference for the Dems as he did in muzzling Rand Paul's questions that essentially would have revealed those facts or that McConnell and company would have allowed the Dems to only hear from more lies cooked up by anti-Trump witnesses. More than a bit ironic that Elizabeth Wan was correct in her assessment of the Chief Justice, albeit for the wrong reason.
The other side of the coin, which I happen to agree with, is that as desirable as it is to have the aforementioned criminals grilled under oath, the impeachment trial of the President was the absolute wrong venue in which to do it. It is better suited for a time when the Bidens', Schiff's and Ciaramella's and others' criminality will be the exclusive focus, as well as when the public is actually watching, which fewer and fewer were as the sham-peachment dragged on, the media's censorship, spinning and outright embargoing of that eventuality notwithstanding. That said, Lindsey Graham was on the Sunday shows and is promising to hold independent Senate hearings and call Ciaramella to testify. Meh, Lindsey always talks a big game with this kind of red meat but rarely if ever delivers. We shall see.
In any case, since this a "smart military blog," the Dems are now crawling away from what for them is their battle of Kursk. After inflicting a lot of damage on the body politic over the past three years, but repeatedly coming away with nothing as Trump grew stronger and stronger, they hurled everything they had at him for one final push, and came up empty. Although they still can do quite a bit of damage, they are for all intents and purposes, a spent force. I mean, what more can they do after impeachment, another round of impeachment on different trumped-up charges? And if they think that this latest ploy by E. Jean Carroll to get Trump's DNA to prove he raped her years ago is going to go anywhere, that's just beyond pathetic. Really, the only thing left for the Democrats is actual violence. There are protests scheduled for Wednesday, but the way things are going, the violence if it happens is going to be directed at each other as the DNC is attempting to fix the primaries and steal the nomination yet again from Bernie Sanders. Not that any of their candidates have a shot against Trump (at least as of this writing) but Bernie would get absolutely destroyed next November if he were to win it. They know it and we know it. About the only people who don't are Bernie's followers who will eagerly follow his Pied Piper version of "The Internationale" right off of a cliff.
Despite everything, Nancy Von Paulus has not learned her lesson and continues to blast away at John Roberts as well as McConnell. Not a very smart move as I think both of them don't appreciate being slimed by a tired old trot who grifted and grafted her way to the top. Both these guys have long memories, McConnell for sure. And despite her claims that the President will be "impeached forever," considering the nature of the charges, the proceedings and the mood of the American people, like everything else they have tried, this too will have exploded in their faces and leave a mark of shame on the Democrat-Media Complex for all time.
Some excellent essays from Roger Kimball as well as Victor Davis Hanson are worthy of your consideration.
NOTE: The opinions expressed in some links may or may not reflect my own. I include them because of their relevance to the discussion of a particular issue.
ALSO: The Morning Report is cross-posted at CutJibNewsletter.com if you want to continue the conversation all day.
Follow us on Twitter: @CutJibNews


posted by at
07:30 AM
|
Access Comments