« Saturday Afternoon Chess Thread 01-18-2020
|
Main
|
Saturday Overnight Open Thread (1/15/20) »
January 18, 2020
The Occasional Fishing Thread, Dream Fish and Road Trips Edition - Hosted By Bandersnatch

Welcome Piscators and Piscatrixes, Nimrods and Nimrettes, and Rough Riders of all genders to the current installment of the occasional fishing and hunting and other wholesome outdoorsness thread, Cabin Fever Edition.
So it's Winter and while four or five of you may be ice fishing you're either drunk, your typing fingers have frozen, or you can't read in the first place. If you do that sort of thing we'd love to hear about it. Meanwhile, I'm going to lead with a bleg and then weave it seamlessly into the content.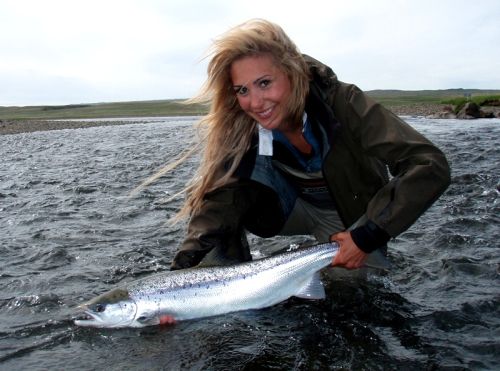 What do we know about fishing in Iceland? I'm going for the first week of July. It's not a fishing trip so the question is what to do with one day of fishing? Most of what I find online is from guide services. Do I need a guide? Do I want a guide? How well will I do on my own. We're talking river fishing for trout or salmon, fly rod. Something said if you bring your own gear you have to disinfect it. How do you disinfect fishing gear? Oh, since the first draft of this post I have gained access to a salmon river, the Hvita, if that further informs your speculation.
The title for this thread, Dream Fish and Road Trips, is taken from this book: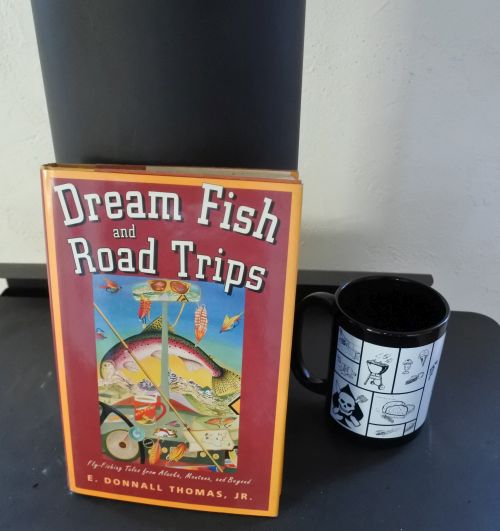 So if you're not out shack drinking over a hole in the ice you're sitting around scheming next year's fishing trips or reading about fishing. This is the fish books section of the Bander'Brary: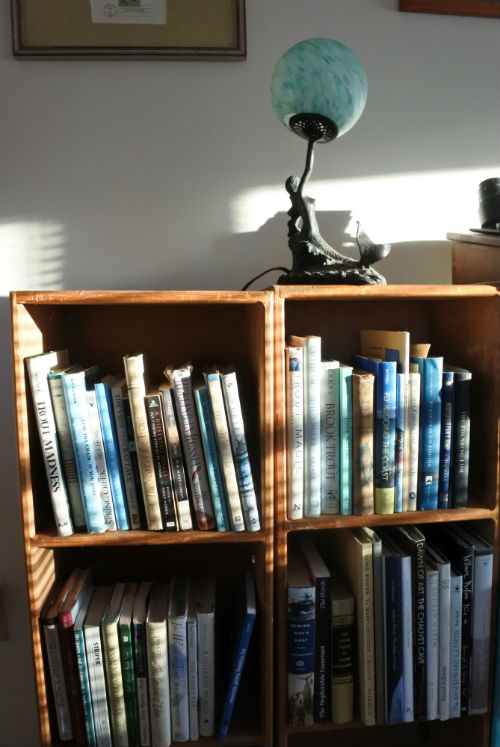 You get basically three kinds of fishy books. There are how-to's, stories about going fishing, and books about the fish themselves. The how-to's are kind of quirky. Past the beginner stuff of here's which end of the rod to hold you get a lot of strong opinions about how to do things correctly. There's a guy named Kenny Abrames from JackStraw's neighborhood who insists that the only way to fish the surf is with a floating line. He has drawings and diagrams and everything. I guess everyone in Rhode Island is high all the time.
The "I went fishing and this is what happened" genre is a mixed bag. There was a judge on the UP of Michigan who wrote under the pseudonym Robert Traver. His books Trout Magic and Trout Madness are a delight. He is mostly self-deprecating and talking about how streamside restores his soul. His Testament of a Fisherman is what I used in the very first occasional fishing thread to describe why we do this.
A Colorado guy named John Gierach wrote a book called Trout Bum about how he'd given up pretty much everything to be a hippie and just fish for trout. He had a droll style that worked so well that he now makes a living out of just going fishing and writing stories about what happened. It's a mixed bag. The then editorial page editor of the New York Times, Howell Raines, wrote a book called Fly Fishing Through the Mid-Life Crisis, which has to be one of the best titles of all time. Unfortunately it's just a bunch of name-droppy anecdotes of famous people he's fished with because Howell Raines is an asshole.
Russell Chatham is sui generis and worth checking out. His fame was as a painter, but he wrote charmingly about all of his passions all mixed together, so there would be stories about hunting, fishing, drugs, wine, and sex all in the same story and the hook and bullet press found it hard to place him. His books are The Angler's Coast and Dark Waters. Find "The Great Duck Misunderstanding if you can.
The only books I go back to these days are the ones about the fish themselves, Brook Trout by Nick Karas, Striper by John Cole. At the end of the day you really want to understand the biology, the habitat, the spawning, the migrations of the fish. John Hersey's Blues comes close, but he too is tainted by having been an NYT writer.
I should spend the winter tying flies but I don't, so that's not much to talk about. I could lie, I guess. I'm a fisherman. Fishermen lie.
Let's get to the mailbag.
Moron MoJo Tee has a pretty bride.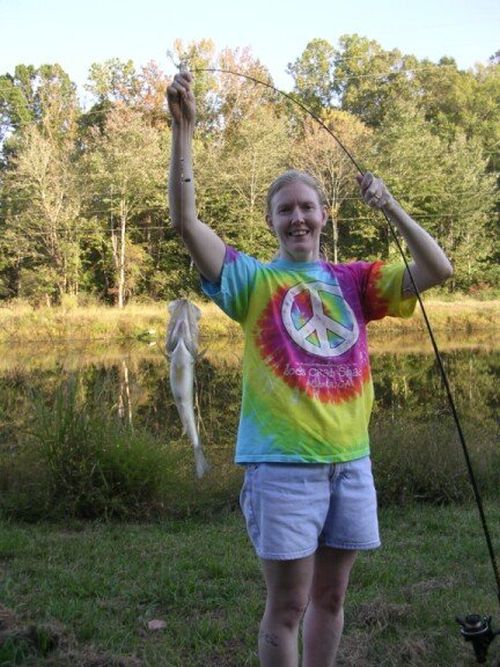 You requested fishing photos so I have attached one of of
Bkgnd: Newly wedded we bought a house on small acres in Georgia with the
attraction of a small pond. Our old rods/reels had decayed so we bought
some simple new fishing gear so we could go fishing that afternoon. I
was wondering if there were any fish in our pond _AT_ALL_ for over an
hour... THEN my lovely wife 'L' caught a big (to us) BASS!!!
It took us 2 days to finish eating it: frying it 1 filet/side per day.
Thank you honey for the FRESH FISH!!!
A guy I'll call NLoevy has this: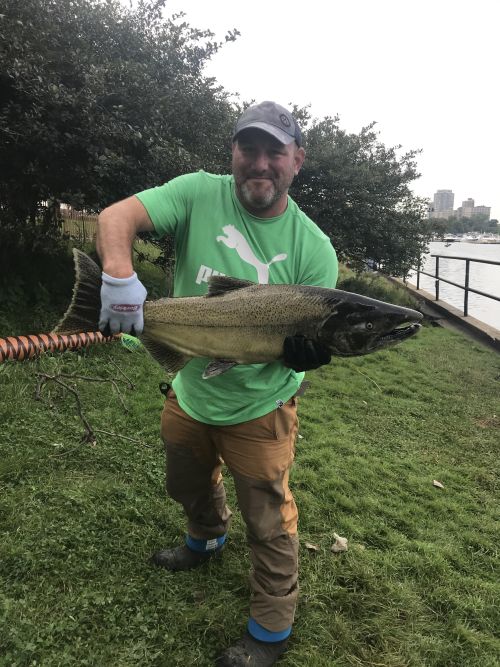 here is a 22 lb king salmon taken from the bank just inside Diversey Harbor on Lake Michigan. Put up nice fight and was smoked and turned into smoked salmon dip. Enjoyed by all at our Yom Kippur break the fast.
Ever wonder what our own Bitter Clinger looks like? Ever wonder what he looks like with a big honking redfish?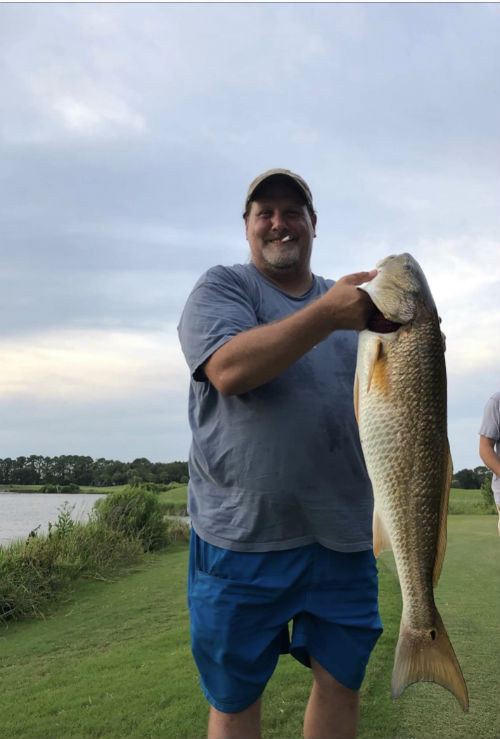 My 23 pound red caught on 8 pound test trying to catch flounder for supper last summer. In the dead of winter, Laissez les bons temps rouler, warmer times are ahead!


Finally, MisHum sent this in. It didn't come with a story. I will choose to believe that it's a close personal friend and that with judicious blog networking I will one day be able to fish with her and perhaps teach her the roll cast.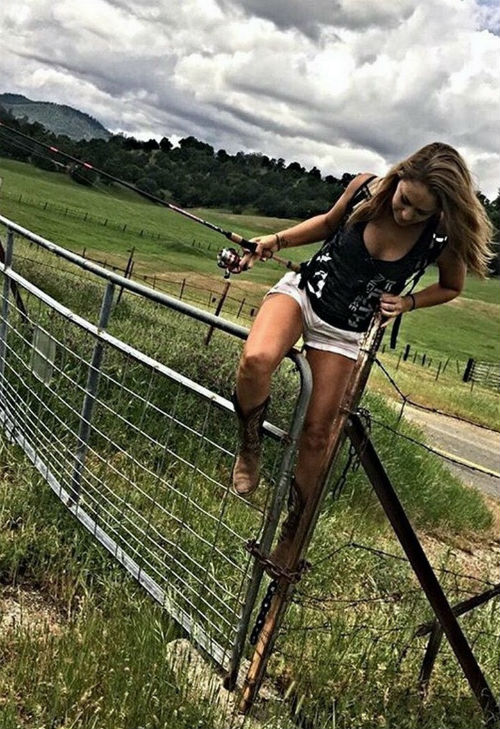 And with that we move on to the raison d'etre of this here HQ, the comments section. Brickbats, praise, and fish brag pics are welcome at aoshqfish at sign gmail thing


posted by Misanthropic Humanitarian at
07:30 PM
|
Access Comments