« Saturday Gardening And Puttering Thread [KT]
|
Main
|
Saturday Afternoon Chess Thread 01-18-2020 »
January 18, 2020
Ace of Spades Pet Thread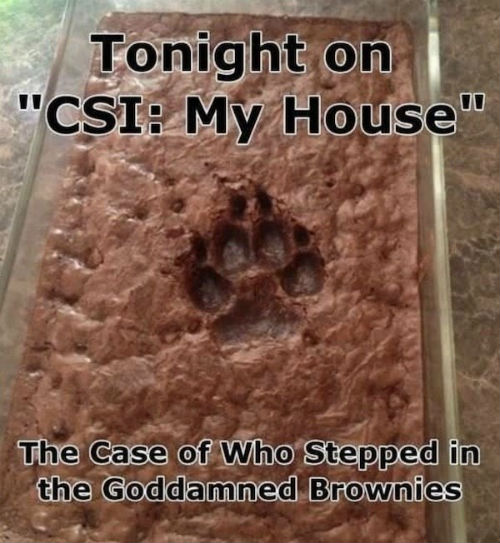 ***

Good afternoon and welcome to the almost world famous Ace of Spades Pet Thread. Just a suggestion, kick back, relax and enjoy the world of animals.
***
A Little of This. A Little of That.

Relaxation tips...........................

***
Some people deserve a miserable termination.

It took three days for the vets to remove the glue and it could take up to four months for her to recover completely.

It is feared that the dog's cruel owner abandoned it in a sewer and glued its eyes to stop it from finding its way back home.

The dog's rescuer, named only as Carlos, has agreed to adopt it as soon as it's well enough to return home with him.
***
From our friend Shibumi. Her submission simply said, OMG. Bad ass cat. And I can't argue. Thanks Shibumi.
***
***
Meet The PetMorons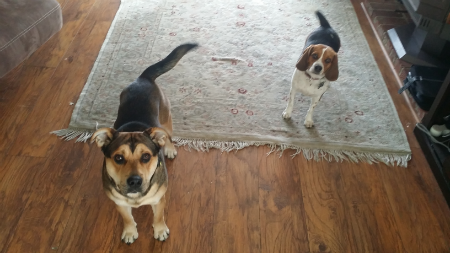 Longtime Lurker, love the pet thread every week. Pictured are our two troublemakers.

On the Right is Allie McBeagle, a 3 YO purebred beagle who's protected us from all things dangerful (like Umbrellas, Trash Cans, bicyclists, joggers, motorcycles, cars with loud exhausts, and the Mysterious Dog Satellite that passes overhead). When not protecting us from Dangerful Things, she spends her copious amounts of free time either cadging belly rubs or burrowing under duvets.

on the left is Link, who we adopted back on the 2nd of this year. According to Washoe humane society, he's about 2 years old, and at least half german shepherd, and half everything else (the mother in law wanted to call him Heinz because he's got 57 Varieties). Deep in his heart, though, he's convinced he's a 4 lb lap dog. When not romping around with Allie, Link spends his free time invading people's personal space, tagging along after my son and running off threats that are beyond Allie's ability to intimidate.
Dogs which invade personal space and cop belly rubs, my kind of pooches. They look happy, healthy and ready for mischief. We appreciate your Pet Thread love.
***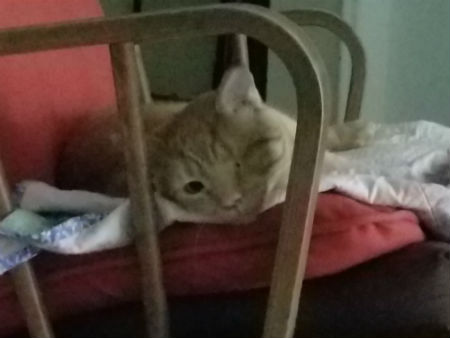 This is one eyed Jack, a committed couch spud. Ex-feral, he's had a rough life but has come a long way. If the cat could talk, what tales he'd tell. -Citizen of Bureaustan
Jack appears to have fit in quite well at your home. I suspect he does have a few stories to tell. Thanks for sharing with us.
***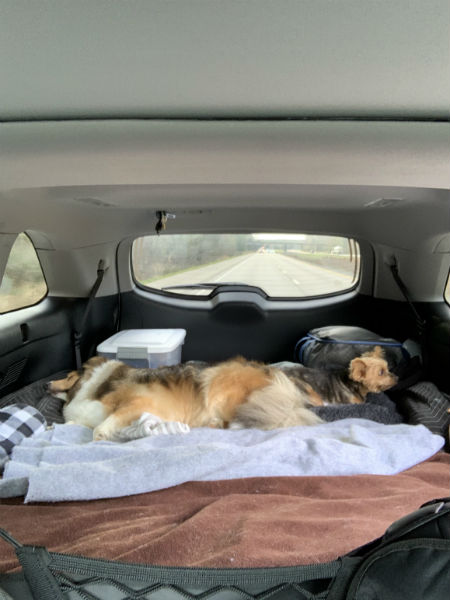 &&&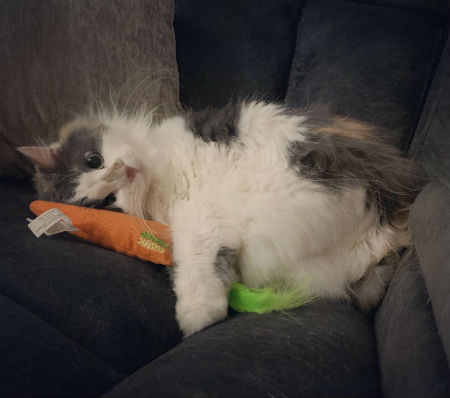 &&&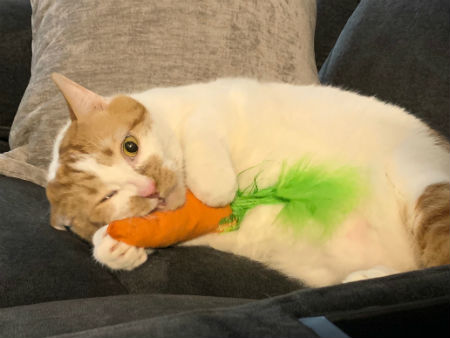 Hi there -

Just got done enjoying today's pet thread and thought I would send a long some updated photos of the ladies.

Lily the Sheltie and Pinky the Terrier are each sassing me, par for the course; we recently drove to AL from TX and back in our new baby truck, which as you can see both of them found having the entire back of the Highlander to roam around in while lying on a 3" gel foam mattress topper covered in blankets completely unsatisfactory. It's because of Lily I traded in my paid-off Tundra for the Highlander, since she was miserable in the front seat of the truck on our long trips (the back belonged to Pinks). I've informed Lily she needs to get a job pronto to pay off the car debt.

And lastly, two photos of my sister's formerly-feral kitties stoned on catnip from the same toy - Botch is the tabby cat/orange and white, and Queen Squiggs is the ragdoll/grey/white/brown. Queen Squiggs says she's clearly the prettiest kitty on the pet thread.

Always enjoy the pet thread, thanks for putting it together each week!

Lurker Tina

You're welcome Lurker Tina. From the looks and sounds of it your pups are really spoiled rotten. Good luck with the truck payment. Your sister's cats are cute.
***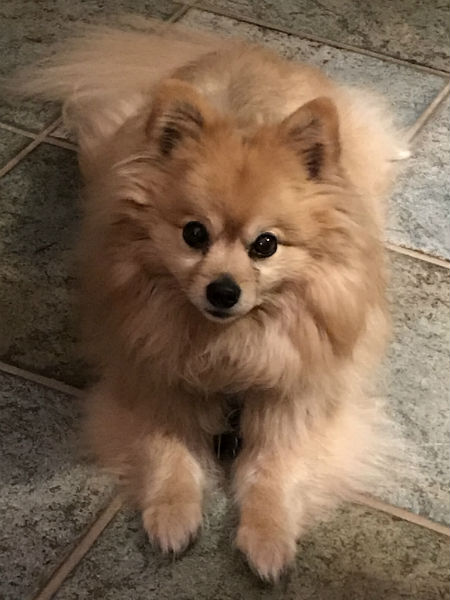 Ruler of the dog house. Just our 75% Pom and 25% Pekinese. - Don
A very cute dog you have there Don. I suspect she acts two - three times her size defending Casa Don. Thanks for the submission.
***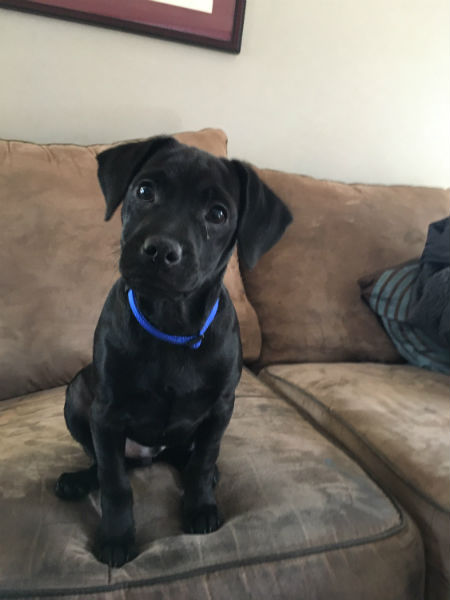 Greetings from a longtime moron and Lurker,

This is the new addition to my daughters family fondly named "Dresden Snuggles" ( 8 year old and 5 year old had naming rights)
Back story is their beloved Bagel dog of 12 years, Nestor, (Beagle/Basset hound mix) died this past August and after a few months of mourning decided they needed a new puppy since a house without a dog is an empty house. They went to a local Shelter to get a rescue dog, and were turned down. Why? They are married with a 5 year old and 8 year old, live in the country with six and a half acres of woods, and a stream, and have owned pets their entire lives. Unfortunately it seems since both parents have jobs. ( She a school teacher and he an IT professional) They therefore were deemed not fit to adopt a dog. My daughter thought a rescue dog might prefer dozing on their couch while waiting at home for them to living in a cage but the powers have spoken. Solution? Local farmer with a litter of pups (said to be miniature Labs but who knows?) And Dresden Snuggles has a new home with a family that loves him. Liberals ruin everything they touch! - No name provided.
How odd that a shelter would turn down a family such as your daughter's. You certainly sound like a proud Doggeh Grandpa. The name is unique and I bet the 2 legged grandkids snuggle up with it everyday. Thank you for sharing!
***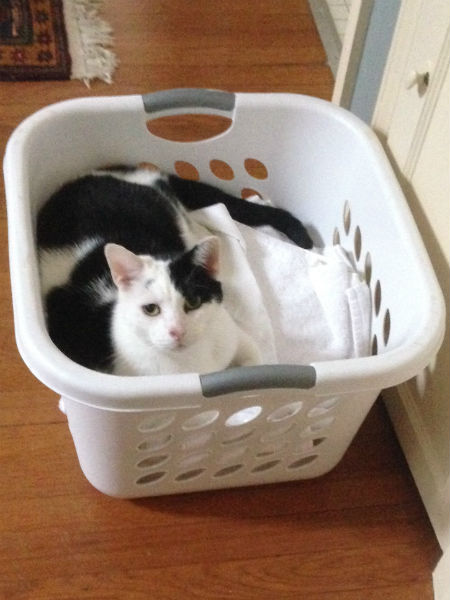 Long time Ace reader. Pet moron fan. Lurker...

I regret to report the passing of Pluto, age 13+. Shelter cat. Abused in previous life. Adopted after intense nagging by two young children. Drove us crazy at times, but we persevered with familial love and respect. Over time, Pluto grew to know that we appreciated him. He returned the sentiment and indeed, at the time of Pluto's death, December 29, he held title to a large expanse of our collective family heart.

Pluto's kitten-life must have sucked. He arrived at the shelter skinny, skittish, mistrustful of everyone and everything, and with a fractured hip-box that led to a non-functional tail. He just dragged that thing around for the rest of his days.

Soon after arrival at his new home, my wife returned from the local library with a stack of books on cat psychology; yes, there are such things. (Books about cat head-shrinking, and wives who go to the library in search of same.)

The key to Pluto was that his early owner must have been awful, and all but starved him. Pluto began his tenure in our house intensely nervous about food. He sat next to the empty feeding bowl in the kitchen, awaiting his next meal. He attacked the other cats when they came to chow down.

Newly knowledgeable on the topic of cat psychology, my wife began to place very small amounts of food into one bowl, which Pluto gobbled up like a prisoner at the end of the Bataan Death march. When the bowl was empty, she would give him a few more morsels. Eventually, Pluto figured out that there would be food... His anxiety decreased and he started to become a very nice kitty.

Indeed, nice does not describe things... Pluto became the beating heart of our house. He was curious, bold, intuitive and un-catly energetic. Thump-thump-thump... Often, that was the sound of our black & white cat, walking up and down stairs, or scampering to the sound of the proverbial guns. When the doorbell rang or mail dropped through the chute, he was there. When I'd leave the house at morning-dark:30 to head to the airport, he'd see me to the door. When I returned after travel, arriving at midnight:30, there was Pluto to greet me. And he always kept an eye on my wife, and checked up on the children.

Over 12 years, and through two houses, Pluto was part of the arc of our family life. A constant presence. Vigilant. Always watching, participating. He enjoyed our TV shows. Played Candy Crush with my wife, tapping his paws on the iPad. Helped me clean off my desk by walking across and knocking unnecessary things to the floor. Encouraged the kids through middle school, high school and college. Indeed, Pluto revered education, such that he insisted on being let outside most afternoons to watch the neighborhood children walk back from school. (See attached Word doc; we posted this outside for the passers-by who knew Pluto.)

Over the years, Pluto had various medical issues, but we powered through. He burned up several of his nine lives, and ran up medical bills that forced us to be deeply philosophical; along the lines of... "YGBFKM."

Then came Sunday morning, just after Christmas. We found Pluto laid out on the living room floor. He could barely move, and was clearly in distress. Vet diagnosed the equivalent of a kitty "heart attack." Cardiac something-or-another. And so Pluto crossed the bridge to the other side of the river, where he will surely be found resting in the shade of the trees.

We will miss him...

*****

PS -- Pluto was featured in a Pet Moron thread back in about December 2017. The photo above, with Pluto next to the computer monitor, was previously published. - Name withheld
Pluto certainly deserved to find a home such as yours. You guys certainly went the extra mile for this cat. So sorry to hear of his passing. Thanks for being such a supporter of the site.
***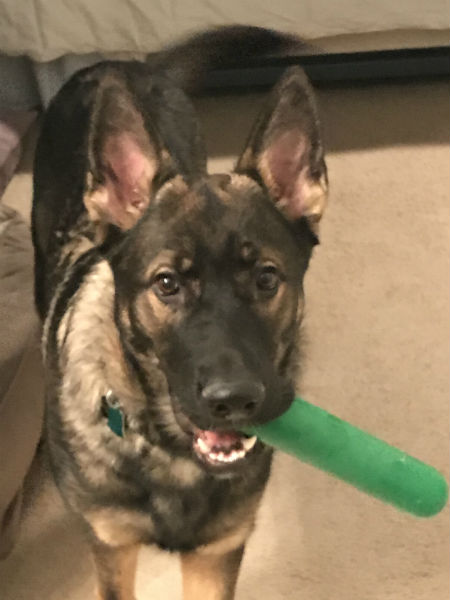 This is Maurice (Space Cowboy. Not Gangster of Love as he's neutered). He gave me a scare this week. I noticed that he was hiding and not asking for pets like normal. When I got him out, I could see he was breathing hard. We took him to the vets this morning. He had fluid in the chest cavity, 240cc. He is back home and on diuretics. Hope he's over this soon. - Teresa
Hope you're around today and you can tell us how Maurice is doing. Hope he is doing well. Love the name by the way. Thank you for sharing with us today.
***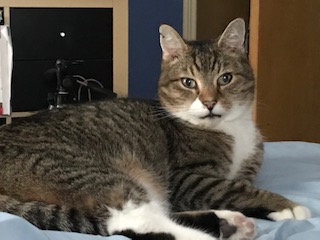 This is Henry aka Hank the Tank, a four year old stray from the local shelter, something happened to him in his previous life because he was very afraid, spent two days hiding in the ceiling in the basement, but slowly he's coming out for food and fun. Our youngest girl really wants to be his friend. He's gonna have a good life with us. - No name provided
Tank? He doesn't look so tankish to yours truly. It sounds like Hank has found a loving home. I have no idea why people treat animals so harshly. Glad you shared his story with us.
***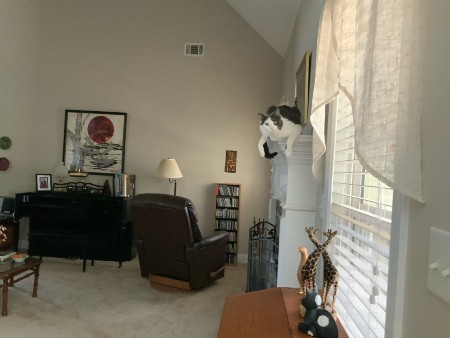 This is my foster kitten. She had been attacked by something and had a pretty severe head injury when rescued. It took her a few weeks to learn how to eat and walk (at first she could only walk backwards and then she could only walk in circles) but she's doing great now. Her only reminder of all she's been through in her short 2 months of life is a head tilt. She's super fluffy, but to treat her wounds, her head and neck were shaved, so even I admit she looks a bit odd. - (Leicester's Mom the lurker)
Wow. Who says that 'Ettes don't have a heart? What a remarkable thing you are doing. How in the world can you only foster? If I did what you were up to I would have a new addition to the family. Great job!!! Thank you for sharing.
***
Weasel Dog
Weasel has submitted this photo of his dog, Weasel Dog. He looks Yuugely successful.
***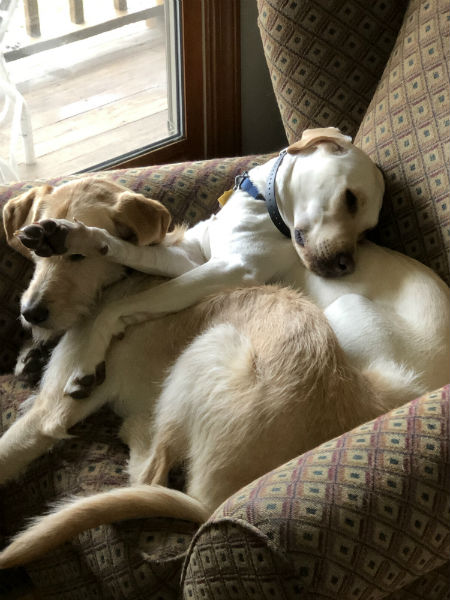 Hope you can show this. These are my daughter's two rescues, in their forever home.
These two are inseparable. Both can run like the wind, but the one on the left, Stella, has the highest, quickest vertical leap I have ever seen. I have observed her jump vertically to the top of the back of a stuffed chair. A talent not always appreciated, but amazing. Her buddy, Scarlet, is no slouch, either. - Lee
What an adorable photo of these two besties. From the sounds of it they keep your daughter on her toes, but with a few chuckles along the way. We appreciate your submission, thanks.
***
You folks are wonderful with your links and PetMoron stories. Thanks for making this thread so successful.
If you have something you wish to share you can reach out to us here at petmorons at gmail dot com.
Here's hoping you have a great week!!!

posted by Misanthropic Humanitarian at
03:00 PM
|
Access Comments