« Debate Highlights
|
Main
|
The Morning Report - 1/16/20 »
January 15, 2020
Wednesday Overnight Open Thread (1/15/20)
(H/T Mis. Hum.)
***
The Quotes Of The Day

Quote I

"We're looking at going from paying nothing to paying $500,000 a year. That's going to have a major impact." Dave Billips

Quote II

"If I'm lucky, I got 20 more years and then I drop dead. To me, this is a last hurrah. To have the opportunity to serve again is a thrill. I'm looking down the gun barrel at 60, and I know all the health problems that come after that." Monte L. Gould

Quote III


"Expanding Medicaid to cover gender affirming surgeries is cost effective, helps avoid long-term health consequences, and most importantly is the right thing to do. With continued attacks coming from Washington, this administration will always stand with our transgender community and their right to lead safe and healthy lives." Gov. J.B. Pritzker (D-Ill.)

Quote IV

"I ask people to think carefully about the impact of prioritising themselves at a high cost to not only other people who do rely on the NHS, but to their future selves who may rely on the NHS one day because they have an accident or emergency, or become really quite unwell, or can no longer afford to pay privately." Jessica Arnold
***

Oh this is so chuckle worthy The Swamp has leaking problems and it is hurting it. No not that Swamp. A different Swamp, not D.C. but ABC's 'The View'. Leaks for me not for thee.

"It's a big mess over there," an industry veteran told Fox News.

"Talent is concerned with leaks," one insider said.

"The show has a great team in front of and behind the camera who work really hard to put the show on the air on a daily basis," an ABC News source told Fox News. "Leaks undermine that hard work."
***
In the mood for more chuckles? Perhaps even a ***SNORT***? You know that wonderful problem free marijuana? Well it turns out there is a dirty secret about its growth.

Your average marijuana plant is a rather unimposing, forest green weed that blends well with nature. The dirty truth, however, is that the business of growing cannabis is anything but green. In fact, the growing of pot is so power-intensive that its ecological footprint is quickly becoming an environmental nightmare.

The $344 billion cannabis industry is one of the country's most energy-intensive in the world, frequently demanding an array of heating, ventilation and air-conditioning (HVAC) systems, fans and 24-hour indoor lighting rigs at multiple growing sites.

Just how much electricity does the entire US marijuana industry consume?

The numbers are mind-boggling.

They're also the bane of the cannabis industry, according to Joseph Maskell, founder and president of AAXLL, one cannabis company aiming to be a major disrupter of the short-lived status quo.

"The key in this emerging industry is to be asset-light," says Maskell.
***

The kinder gentler Misanthropic Humanitarian wouldn't say Rep. Ilhan (Omar) Nur is a dumb bitch. Nope, he wouldn't.

From a Nur tweet: "What an important victory for the people of Minnesota!
This is what happens when communities come together to oppose mining projects that will line the pockets of fossil fuel execs at the expense of our planet.
Of course she doesn't know the difference between fossil fuels and minerals.
***

Swatting is a vile and vicious act. The FBI arrests a Virginia man for large scale swatting of individuals and businesses.

The US government has criminally charged a Virginia man for helping to organize dozens of "swatting" attacks and bomb threats made against a variety of targets in the United States and Canada. The man allegedly belonged to a group that coordinated via IRC and Tor hidden services to target prominent gamers, journalists, and government officials.

The group's online chats were often racist, with comments suggesting antipathy toward Jews and black people. In one case, the group made a fake bomb threat to the Alfred Street Baptist Church, a predominantly African American church in Alexandria, Virginia.

Security reporter Brian Krebs was one of the first to report on the arrest of defendant John William Kirby Kelley. Krebs was the target of a swatting call he believes was organized by the group.
***

E-commerce has wiped out another set company's brick and mortar stores. Bose is closing down stores in North America, Europe, Japan and Australia.

Bose plans to close its entire retail store footprint in North America, Europe, Japan, and Australia. The company announced the decision earlier today and pointed to the fact that its headphones, speakers, and other products "are increasingly purchased through e-commerce" as the reasoning. Hundreds of employees will be laid off as a result.

Bose opened its first physical retail store in 1993 and currently has locations in many shopping centers and the remaining malls scattered across the US. The stores are used to showcase the company's product lineup, which has grown beyond Bose's signature noise-canceling headphones in recent years to include smart speakers and sunglasses that double as earbuds. There are often similar demo areas at retailers like Best Buy, though Bose has plenty of competition to worry about in that environment.

The Framingham, Massachusetts-based company is privately held and is not revealing exactly how many workers are being impacted by its decision to pull out of physical retail.
***

So many things are wrong with this story. Of course a government employee is at the center of it.

Tara Houska, an attorney and Indigenous rights activist, was going through TSA security at Minneapolis−Saint Paul International Airport when a Transportation Security Administration (TSA) told Houska she would need to have her braids patted down as a security precaution, reports Fox News.

"She pulled them behind my shoulders, laughed [and] said 'giddy up!' as she snapped my braids like reins," Houska said on Twitter. "My hair is part of my spirit. I am a Native woman. I am angry, humiliated. Your 'fun' hurt."
***
As the father of 3, I never considered bringing my Stihl chainsaw to the hospital.

When you picture a chainsaw, the typical uses that come to mind usually have to do with wood (and, you know, chopping it). So it might surprise you that the device's origin lands about as far away from a lumber yard as you can get: The creators of the chainsaw were two Scottish surgeons named John Aitken and James Jeffray. And they developed their gnarly and dangerous device to help them do their jobs—cutting human bone and flesh.
***

Do you own a smartphone? Do you use apps on a regular basis? Welcome to the world of surveillance capitalism.

The latest report to warn that surveillance capitalism is out of control — and "free" digital services can in fact be very costly to people's privacy and rights — comes courtesy of the Norwegian Consumer Council, which has published an analysis of how popular apps are sharing user data with the behavioral ad industry.

It suggests smartphone users have little hope of escaping ad tech's pervasive profiling machinery — short of not using a smartphone at all.

A majority of the apps that were tested for the report were found to transmit data to "unexpected third parties" — with users not being clearly informed about who was getting their information and what they were doing with it. Most of the apps also did not provide any meaningful options or on-board settings for users to prevent or reduce the sharing of data with third parties
***

If you are planning on keeping a new vehicle for any length of time. You may want to check out this list of vehicles which have demonstrated longevity. Not one American made car made the list.

Once again our friends at iSeeCars, have crunched some data to find out which cars are likely to be kept for 15 years or more. This year's list doesn't look terribly different than the one from last year and is basically dominated by only two brands.

Once again the Toyota Highlander tops the list, but gone is the Prius that had the number two spot in 2019. From there it's a fairly predictable list of other Toyotas, Hondas, and the Subaru Forester. Though it is a bit surprising to not see anything domestic like the Expedition or Suburban as those rigs have popped up on previous lists for higher mileage cars.
***

Falling into the I can't believe this shit category. Jerry Holliman, a decorated vet had his artificial legs repossessed.

Veteran says his prosthetic legs were taken, then returned, but he still can't use them ... and go home

COLLINS — A man walked into a nursing home for military veterans two days before Christmas, picked up Jerry Holliman's legs and left.

Holliman, 69, had hopes of moving back to his home in Hattiesburg and returning to an independent lifestyle with his new prosthetic legs.

Then they were repossessed.

The U.S. Department of Veterans Affairs wouldn't pay for his prosthetic legs, Holliman said, and Medicare wanted him on the hook for co-pays. As Holliman tried to navigate what felt like a maze of paperwork, it felt like his country was forgetting him.

"Medicare did not send me to Vietnam," Holliman said. "I was sent there by my country... with the understanding that if something bad happened to me, that it would be covered by the VA."
***

It is interesting to see how legal jurisprudence north of the border. Chair girl.

TORONTO -- The sentencing hearing for a 20-year-old woman who threw a chair off a downtown Toronto highrise balcony over a busy highway last year has been put over.

Marcella Zoia arrived at a Toronto courthouse on Tuesday morning dressed in all black expecting to learn her fate, but an argument presented by the Crown has delayed that.

Zoia pleaded guilty to mischief endangering life back in November 2019 in connection with the February incident that was caught on camera and shared widely online.

The video showed the woman launch a chair off the balcony over the traffic-heavy highway.

Jurisprudence across the big pond is laughable. 2 UK nursing home workers sentenced to 20 weeks for despicable actions.

Two care workers who mocked dementia sufferers and threw stones at them during a spate of sick pranks have been jailed for 20 weeks.

Student nurse Abana Arshad and care assistant Amy Greenhalgh, both 24, hurled gravel at victims as they begged them to stop and would laugh as they filmed their reactions on mobile phones.

Up to seven elderly residents with dementia or Alzheimers were secretly targeted by the pair while they worked a shift at a specialist EMI unit at the Laburnum Court care home in Salford, Greater Manchester.

Arshad and Greenhalgh, whose mother is a nurse, were eventually found out when one was seen loading her pockets with gravel from the driveway.
***

A few years ago Penn & Teller looked at recycling.

***
My testerone levels should be skyrocketing.

January 10, 2020 - For the many men diagnosed with testosterone deficiency, losing weight can help increase testosterone levels. But certain diets - specifically a low-fat diet - may be associated with a small but significant reduction in testosterone, suggests a study in The Journal of Urology®, Official Journal of the American Urological Association (AUA). The Journal is published in the Lippincott portfolio by Wolters Kluwer.

"We found that men who adhered to a fat restrictive diet had lower serum testosterone than men on a nonrestrictive diet," according to the report by Jake Fantus, MD, of the Section of Urology, Department of Surgery, University of Chicago Medicine and colleagues from the Department of Urology, Northwestern University Feinberg School of Medicine, and the Department of Surgery, NorthShore University Health System. "However," the researchers add, "the clinical significance of small differences in serum T across diets is unclear."
***
I am not an attorney, an attorney's spokesman nor an actor who portrays a lawyer. However, I don't think this is a valid legal pleading.
A Kansas man has asked an Iowa judge to let him engage in a sword fight with his ex-wife and her attorney so that he can "rend their souls" from their bodies.

David Ostrom, of Paola, Kansas, said in a Jan. 3 court filing that his former wife and her attorney had destroyed him legally.


The Ostroms have been embroiled in various disputes.

His filing says the U.S. has never explicitly banned trial by combat.
***
The ONT Musical Interlude
On this day: 15 Jan 1961
The Supremes signed a world wide recording contract with Motown Records. Originally founded as the Primettes, they became the most commercially successful of Motown's acts and are, to date, America's most successful vocal group with 12 No.1 singles on the Billboard Hot 100. via thisdayinmusic.com
&&&
Born on this day: 15 Jan 1941
Don Van Vliet, (Captain Beefheart), American musician, singer-songwriter and artist. Released the albums 'Safe As Milk', 'Trout Mask Replica', and 'Strictly Personal' with his Magic Band. His expressionist paintings and drawings have been exhibited in art galleries and museums across the world. Beefheart died on 17th Dec 2010 aged 69 from complications from multiple sclerosis. via thisdayinmusic.com
***

What a remarkable woman. Hats off and Tonight's Feel Good Story of The Day.

Linda Faye Herring started fostering children in the 1970s with her husband, Bob.

"My best friend was doing foster care for teenage girls and I thought, 'Well, that would be nice to do the same,' but I wanted little kids," Linda told CNN. "So, I talked to the Department of Human Services and agreed to take kids with medical needs."

Linda soon became known by everyone in Johnson County for never turning away a child, no matter their age, gender, or special needs.

"The Department of Human Services would call Linda in the middle of the night to take a child, and she would meet anywhere to get a child," the Board of Supervisors wrote in Linda's Resolution of Appreciation.
***

He was functioning quite highly until he became our Genius Award Winner.

Officers on the drunk driving detail in Stamford didn't have to go very far Friday night to make an arrest.

While typing up another drunk driving arrest around 11 p.m., downtown Capt. Diedrich Hohn heard a loud crash outside police headquarters on Bedford Street. Officer William Petrone confirmed the crash and several calls came in to 911 reporting a rollover in front of 832 Bedford St.

Justin Labaire, 44, the driver of a flipped-over Subaru Forester, was detained by Hohn and officer Marco Califano. Bedford Street had to be shut down for a time while crews worked to remove the car. Labaire told police he had been heading north when he struck a parked car, Hohn said.
***

Regular readers know we recently lost rickl to cancer. F*ck Cancer. Tami has been staying touch with rickl's sister. There is going to be a memorial service for him on Friday January 25th. This service is in the Philadelphia area. Tami sent me the following:
Got a reply from Rickl's sister about the date and time for the memorial service:

"I'm thinking about 12 noon on Friday the 24th, as we fly back to Dallas on the 25th. Honestly, Rick was never one for a lot of fuss or formality, nor was he very religious. So, here's my thoughts on what I'm planning to do....

A quiet service in our backyard. Although they are predicting 3 to 5 inches of snow, I'm hoping it's like Texas, where they can't predict the weather hours in advance, never mind a week in advance. We will share some memories of Rick, have some food, and since he enjoyed a good beer, have a toast with either a Philly classic, Yuengling beer, or a good hot cup of Black Rifle coffee. (We also found a stockpile of Black Rifle coffee, so I think that this toast would incorporate 2 of his favorite beverages!)
Afterwards, we will spread his ashes.

Please let me know how many people you think would come, as we are having his house cleaned out with a company on Tuesday or Wednesday, but I could rent a few chairs, or consider having lunch at a local restaurant (Richie's) after the memorial."

====

If you would like to attend, e-mail either me (moronettetami at gmail) or Mis Hum (petmorons at gmail) an e-mail and we will give you the address. (Please include your AOS nic in the e-mail)

Don't want to post the home address on a thread.
***

Tonight's ONT has been brought to you by Standards.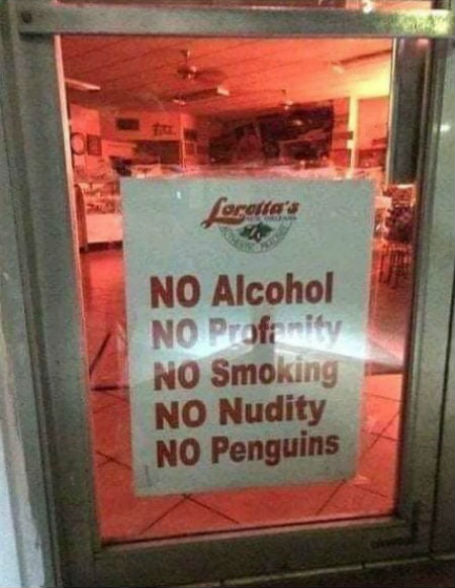 Notice: Posted with permission by the Ace Media Empire and AceCorp, LLC. For every season there is an ONT.

posted by Misanthropic Humanitarian at
10:00 PM
|
Access Comments