« Saturday Gardening And Puttering Thread [KT]
|
Main
|
Saturday Afternoon Chess Thread 01-11-2020 »
January 11, 2020
Ace of Spades Pet Thread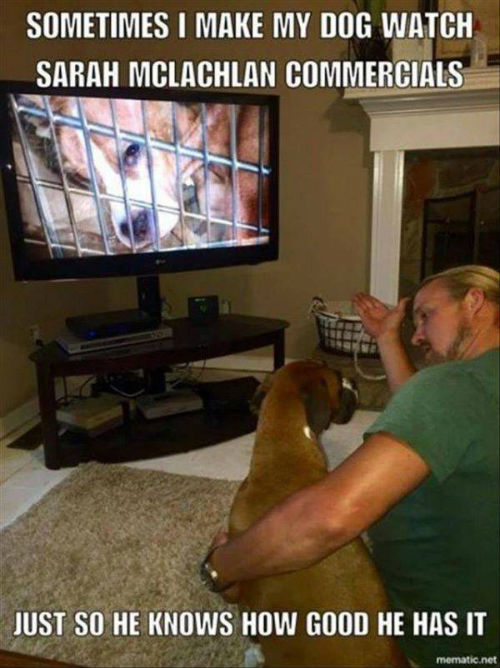 ***

Good afternoon and welcome to the almost world famous Ace of Spades Pet Thread. Take a break from what you are doing and enjoy the world of pets.
***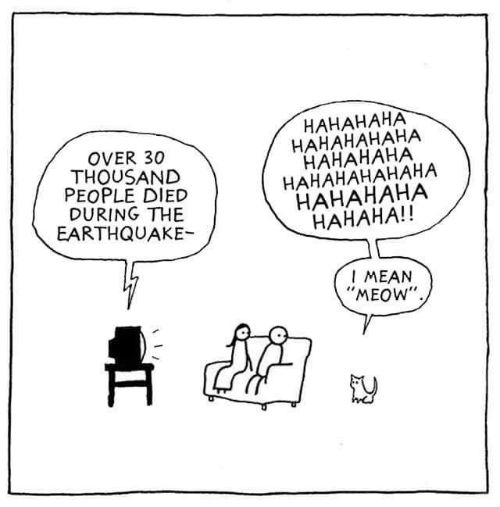 (H/T Legally Sufficient)
***
A Little of This. A Little of That.

This is chuckle worthy. See a dog protesting everyday things.
***

The following story comes from regular commenter Shibumi. If you see a stray cat with colored paws pick it up and take to the nearest shelter.

Cat with painted paws aren't just cooler than their unadorned counterparts. Nor have they recently strolled through a freshly painted zone.

According to Megan Sorbara from the Naples Cat Alliance, these adorable felines aren't just victims of fashion; they've also survived the trauma of being dangled as bait in a dog-fighting ring. Their paws are colored in various hues so spectators can easily place bets on the order in which these innocent animals will die.
***

How cats came to America. H/T Hank Curmudgeon
***

A Corgi refuses to leave the park.H/T Michael
***
Meet The PetMorons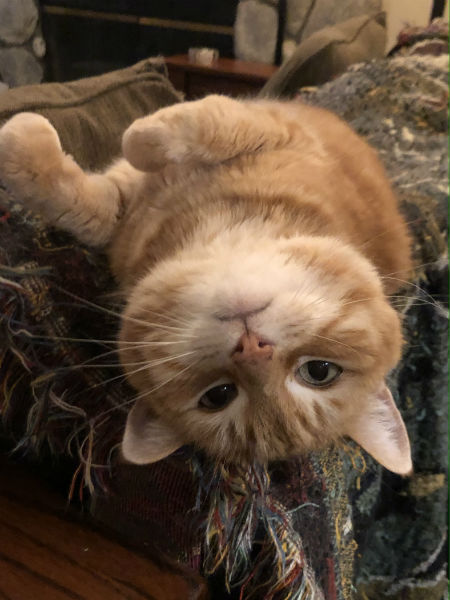 Annie is a rescue who has been with us for 15 years. She's cute and loves to tease you with her tail. All is well until you touch said tail. Bring bandaids. A great new year to all. Semper Fi, Bobbigbear.
She looks adorable and a character all rolled into one. A Happy New Year to you and Annie as well. Thanks for submitting her story and photo.
***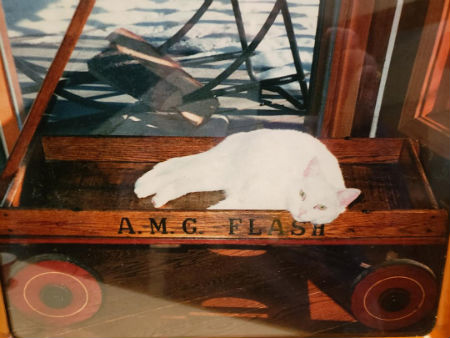 Hi MisHum,

They look so much alike. After seeing the "woman yelling at white cat" meme all over the internet for several weeks I finally could no longer resist pulling out a photo of my guy, MacArthur, to share. Sadly, he is no longer with us but he'll always be remembered in our family as one of the best cats ever. He was a young kitten strolling along a roadside in rural Indiana when I walked past with my Labrador Retriever. They sniffed each other and Mac then confidently followed us all the way back to the cabin. There was no question that he would come home with us after the weekend was over and he and the dog had a special forever bond. MacArthur was a pro at selecting photogenic locations for poses. Here's one of my favorites where oblivious to the snow outside he's sunning himself in a vintage A.M.C. Flash wagon.

I tune in to the pet thread almost every Saturday and very much appreciate the great job you do putting it together with both humor and tenderness. Thanks, corn and beans
Well thank you very much for your kind words. MacArthur certainly does resemble the dinner cat of that fun meme. Did he speak southern? J/K He was lost and then found. Nice story thanks for sharing.
***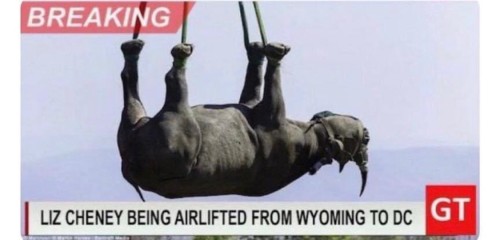 &&&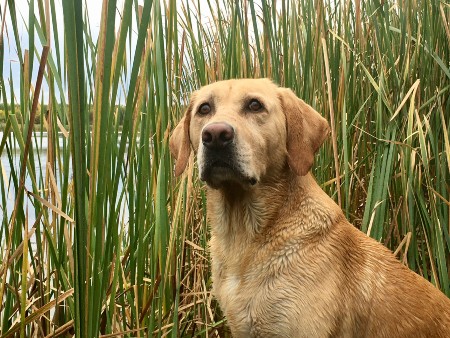 Friends lost this year. Bianca was 13 and prettiest dog I've ever had.
And Sabine was 12, best dog ever. Loyal. I miss them. - Robert
It sucks to lose a pet. It really sucks to lose 2 pets in a year's time. They certainly were beautiful creatures. I hope you can find another wonderful pet.
***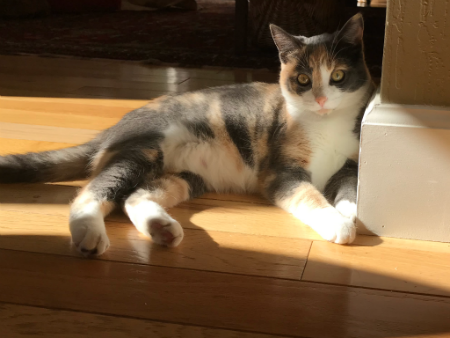 Violet, Cutest cat in the world. - Will

Well, she is cute. But claims like that certainly can start a "cat fight" here. Thanks for sharing though.
***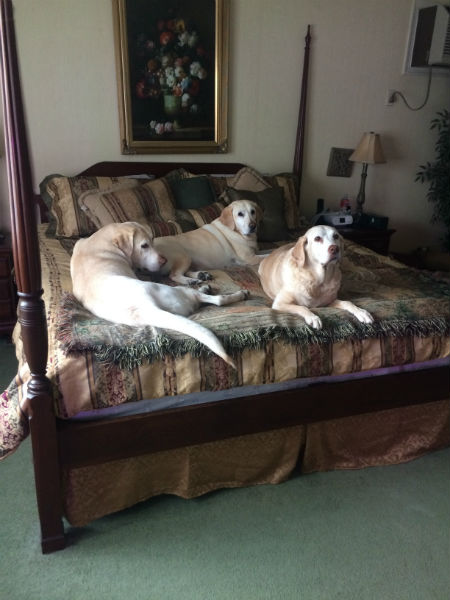 If someone asks me why I looked haggard and sleep-deprived, this is probably why. My wife and I share a king bed with these three. Meet Bella, Maggie and Katie – the reason for nightly sleeplessness, and for having to contort ourselves to accommodate three 75+ pounds bundles of yellow, furry, shedding love. - Dan
I withheld your last name and location Dan. Hope you don't mind. Yes, your lack of sleep is understandable after viewing those 3 spoiled puppies. Thanks for sharing.
***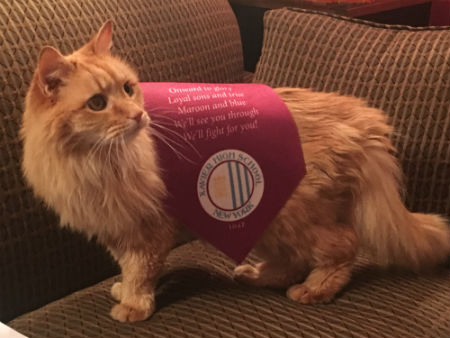 Jake- A good cat. I sent a photo a few years ago but hit send before I wrote anything. We had Jake for just over 20 years and he passed just before Christmas. He got to sleep under the tree a few more mornings. He loved shrimp and sushi grade tuna. We miss him. I love reading about all the pet morons. - Martha
First of all, our condolences on your loss. Pets die way too young even at age 20. Cool looking cat. I hope your'e around today to tell us what type of award he was wearing there. Thanks for your submission.
***

Greetings,

I hope everyone had a wonderful Christmas and here's to a blessed New year.

This is our newest editions, a bob-tailed named Stetson, we think he's about six months old and his "brother" Rascal. Yes, they don't look alike. We adopted both of them after finding them living under the pavilion of our church. Apparently, the mother of Rascal decided that the mother of Stetson was not taking care of him and she "adopted" him and took care of him. Rascal is also about six months old, not a huge fan of human contact but he's coming around, Stetson on the other hand is quite the affectionate type. He is hilarious to watch run because at the last part of running he hops like a rabbit every time. I am far from being a cat person, but they're bringing me around.v/r Mark (Sua Sponte)
Oh no, you're not a cat person. No rescuing feral kittens and giving them a home. Nope, not a cat person at all. ;) Good luck with making Rascal a more affectionate cat. Nice story with a happy ending. Thank you so much.
***
&&&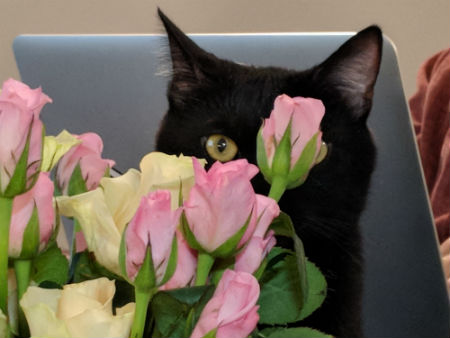 Hiya,
The orange hussy is Miss Irene Hobart who, as a kitten, sounded like the Tasmanian Devil of Looney Tunes fame. Hobart is the capitol of Tasmania. She suffered from serious ear polyps that caused the beastly sound. Surgery took care of them. The handsome one with the roses is Reverend Henry Dewayne Hambone, Jr., a/k/a Dewey or Snakes. My Dad grew up in Northwestern Maryland and the West Virginia cousins were of the snake handler persuasion and my father and uncles called their cousins 'snake eaters' under the assumption that once the snake handling was finished, snakes were what was for supper. I'd like to think that the kind of preacher Dewey would be would handle snakes with great finesse. Various iterations of the snake theme include "Snake's alive!" And "Snake 'n Bake!" -SNAB
Great camera work, you have captured some very interesting poses of your cats. Sounds like they have extra personality. Thanks for sharing today.
***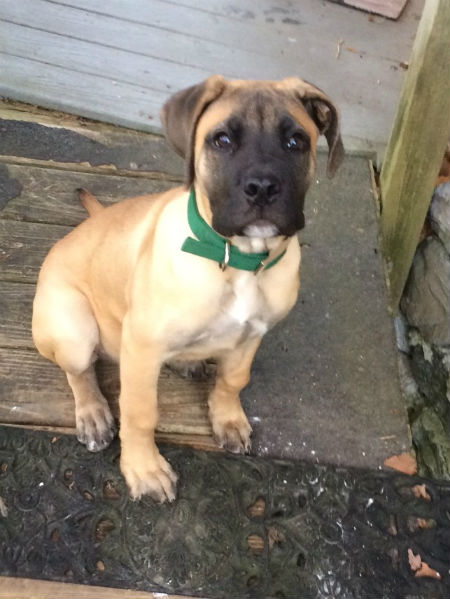 Hi, That Deplorable SOB Van Owen here.

A little after Labor Day I sent in a picture of my BIL's new Bull Mastiff pup Cheyenne. At the time she weighed barely a couple of pounds. Thought I'd send a before and after follow-up picture. The second one was taken on Christmas Eve -- she is now 40 pounds of bouncing, wiggling, all big feet puppy. I caught her in a rare solemn moment -- she knew I had treats in my pocket.

And who can refuse a face like that a treat? She is truly a joy to be around.
Sorry the photo is so late Van Owen. Somehow your email got stuck in my promotions folder. Better late than never. My has that puppy grown. Treat possession is a key for great photos. Thanks for sharing with us.
***
What a wonderful group of pets and their stories today. Thank you for sharing. To those who sent in links, we really appreciate that.
Do you have something you wish to share? Well if you do, please send to us here at petmorons at gmail dot com.
As this is the Pet Thread let's keep our comments to animals. Thank you.
Have a great week!!!

posted by Misanthropic Humanitarian at
03:00 PM
|
Access Comments