« Saturday Morning Coffee Break
|
Main
|
Saturday Gardening And Puttering Thread [KT] »
January 11, 2020
Reality Show Star Destroys Some Illusions [KT]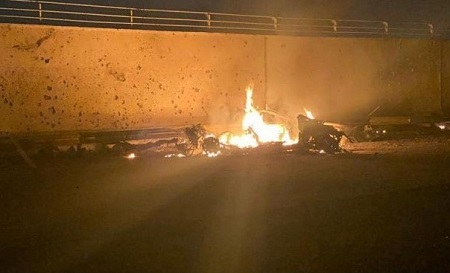 Reality replaces the reality show
There are people who mock real Americans for electing the star of a reality show as president. But many of those same people seem to hang on to really bizarre illusions in the face of reality. For those who have eyes to see, many illusions have been shattered by Donald Trump's presidency. Does anybody here feel the same way about the bureaucracy in Washington D.C. as they did before Trump took office?
Recently, more illusions about the nature of the long war have been destroyed. Doesn't mean the media can't make up some new ones:
If anything may be gleaned from the recent hyperbolic reporting about Iran, it is that our media betters, particularly those reporting on national security issues, are deeply and inexorably challenged at providing reasonable and thoughtful analysis due to a blinding animus towards President Trump.

Nothing evinces this phenomenon more succinctly than the recent days in which supposedly serious national security reporters waxed poetic about the likelihood of World War III, while sharing unverified reports about tens of killings of Americans from Iranian state media. . . .
The level of breathless misinformation and disinformation spread after Iranian Gen. Qassem Soleimani's killing by the individuals we rely on supposedly to report facts and offer analysis in a responsible and undramatized manner was stunning. But this isn't their first rodeo.

No, such grossly hyperbolic reporting for the sake of convincing people that Trump may have created an epically destructive policy quagmire has become the new calling card of the media. The media has shown that they cannot eviscerate Trump with factual, state-of-affairs reporting because those affairs are never quite dire enough for the media. Similarly, for the sake of avoiding flat-out lying entirely (although it is entertaining to watch the "mistakes" go in one direction), the media is forced to cabin their criticism in fantastic projections.

Trump almost started World War III. Trump almost catalyzed the entire destruction of the Kurds. Trump almost started war with North Korea. Trump almost started a full-blown war between the Palestinian-Arabs and the Israelis. Trump almost devastated the economy by slapping tariffs on Chinese goods. See how much heavy-lifting the word "almost" is doing? It's utterly bizarre, because these predictions never happen. . . .
Iran's Secret War
Sometimes Richard Fernandez has an interesting insight or two. World War III didn't happen, but something else did. Iran has been waging war by proxy for years, but their responsibility for most of this war has largely been ignored. We knew, but we didn't know. Now we know.
Soleimani killed thousands upon thousands, both Americans and others over the years. But secret war is never real until you put a face to it. Soleimani was the man, the Islamic Republic was the regime that no one was supposed to anger lest they turn their baleful glare on us instead of passing by to kill someone else.

That fact can't be hidden anymore, not even by the nuclear deal.

The end of the secret war phase has left Iran with the strategic problem of continuing a campaign it cannot afford to wage openly. But it also left Washington with a situation they can neither continue to deny nor fob off with nonbinding congressional resolutions. . .
How did this situation come to be?
Well, for one thing, the press has been allowing itself to be fooled for a long time. Donald Trump and the mythmakers:
For the past 40-odd years, two narratives have guided American Middle East policy. Both were invented by the Carter administration. One relates to Iran. One relates to Israel.

Both narratives reject reality as the basis for foreign policy decision-making in favor of delusion. Over the past two months, President Donald Trump has rejected and disavowed them both. His opponents are apoplectic.

As far as Iran is concerned, as journalist Lee Smith explained in Tablet online magazine this week, when Iranian "students" seized the US Embassy in Tehran in November 1979 and held 52 Americans hostage for 444 days, they placed the Carter administration in a dilemma: If President Jimmy Carter acknowledged that the "students" weren't students, but soldiers of Iran's dictator Ayatollah Khomeini, the US would be compelled to fight back. And Carter and his advisers didn't want to do that.

So rather than admit the truth, Carter accepted the absurd fiction spun by the regime that Khomeini was an innocent bystander who, try as he might, couldn't get a bunch of "students" in central Tehran to free the hostages. .
So too, as Smith noted, the Carter administration was propelled by guilt. The worldviews of many members of the administration had been shaped on radical university campuses in the 1960s. . . .

Khomeini and his "Death to America" shouting followers got the message. They understood that Washington had given them a green light to attack Americans in moderate and, as Smith put it, "plausibly deniable" doses. it. For the next 40 years, Iran maintained its aggression against America. And from Ronald Reagan to Barack Obama, every president since Carter accepted and kept faith with Carter's decision not to hold the Iranian regime responsible for the acts of aggression and war it carried out against America through proxies.
Stunning.
Illusions among our friends are also possible today. I have run across some people this week who believe that no one in Iran outside of the Iranian government could have supported the murderous General Soleimani.
Here's a rather balanced dose of reality from Small Dead Animals, an interview with an Iranian-Canadian who grew up in Tehran, an ex-Muslim who does not support Trump, but whose analysis of the attitudes of the Iranian people is interesting. He suggests that they really, really hate Sunnis and Arabs. One reason many of them supported Soleimani.
He also mentions the importation of boys from Afghanistan to fight and die in Soleimani's proxy wars. A human rights topic that is not discussed much.
He talks about the pride of even secular Iranians in the growing influence of their country in the region. And he reminds us that "Quds", the name of the force headed up by Soleimani, means "Jerusalem".
We do not suddenly have peace in the Middle East, despite the recent steps in the right direction.
Also included at the link: Trudeau insults Trump. Not in English, but in French.
Never mind. Some people are being forced to face reality. Hope this trend continues.
Music and Dance
This is the Thread before the Gardening Thread
Serving your mid-day open thread needs
Hope you have a good weekend.

posted by Open Blogger at
11:16 AM
|
Access Comments