« Saturday Evening Movie Thread 01-04-2019 [Hosted By: Moviegique]
|
Main
|
EMT 01/05/20 »
January 04, 2020
Saturday Overnight Open Thread (1/4/20)
***
The Saturday Night Joke
Diary of a snow shoveler

December 8 - 6:00 PM
It started to snow.
The first snow of the season and the wife and I took our cocktails and sat for hours by the window watching the huge soft flakes drift down from heaven.
It looked like a Grandma Moses Print.
So romantic we felt like newlyweds again.
I love snow!

December 9
We woke to a beautiful blanket of crystal white snow covering every inch of the landscape.
What a fantastic sight!
Can there be a lovelier place in the whole world?
Moving here was the best idea I've ever had!
Shoveled for the first time in years and felt like a boy again.
I did both our driveway and the sidewalks.
This afternoon the snowplow came along and covered up the sidewalks and closed in the driveway, so I got to shovel again.
What a perfect life!

December 12
The sun has melted all our lovely snow.
Such a disappointment!
My neighbor tells me not to worry- we'll definitely have a white Christmas.
No snow on Christmas would be awful!
Bob says we'll have so much snow by the end of winter, that I'll never want to see snow again
I don't think that's possible.
Bob is such a nice man, I'm glad he's our neighbor.

December 14
Snow, lovely snow! 8 inches last night.
The temperature dropped to -20.
The cold makes everything sparkle so.
The wind took my breath away, but I warmed up by shoveling the driveway and sidewalks.
This is the life!
The snowplow came back this afternoon and buried everything again.
I didn't realize I would have to do quite this much shoveling, but I'll certainly get back in shape this way.
I wish l wouldn't huff and puff so.

December 15
20 inches forecast.
Sold my van and bought a 4x4 Blazer.
Bought snow tires for the wife's car and 2 extra shovels.
Stocked the freezer.
The wife wants a wood stove in case the electricity goes out.
I think that's silly.
We aren't in Alaska, after all.

December 16
Ice storm this morning.
Fell on my ass on the ice in the driveway putting down salt.
Hurt like hell.
The wife laughed for an hour, which I think was very cruel.

December 17
Still way below freezing.
Roads are too icy to go anywhere.
Electricity was off for 5 hours.
I had to pile the blankets on to stay warm.
Nothing to do but stare at the wife and try not to irritate her.
Guess I should've bought a wood stove, but won't admit it to her.
God I hate it when she's right.
I can't believe I'm freezing to death in my own living room.

December 20
Electricity's back on, but had another 14 inches of the damn stuff last night.
More shoveling!
Took all day.
The damn snowplow came by twice.
Tried to find a neighbor kid to shovel, but they said they're too busy playing hockey.
I think they're lying.
Called the only hardware store around to see about buying a snow blower and they're out.
Might have another shipment in March.
I think they're lying.
Bob says I have to shovel or the city will have it done and bill me.
I think he's lying.

December 22
Bob was right about a white Christmas because 13 more inches of the white shit fell today, and it's so cold, it probably won't melt till August.
Took me 45 minutes to get all dressed up to go out to shovel and then I had to piss.
By the time I got undressed, pissed and dressed again. I was too tired to shovel.
Tried to hire Bob who has a plow on his truck for the rest of the winter, but he says he's too busy. I think the asshole is lying.

December 23
Only 2 inches of snow today
And it warmed up to 0.
The wife wanted me to decorate the front of the house this morning.
What is she, nuts?!!
Why didn't she tell me to do that a month ago?
She says she did but I think she's lying.

December 24
6 inches - Snow packed so hard by snowplow, l broke the shovel.
Thought I was having a heart attack.
If I ever catch the son of a bitch who drives that snow plow, I'll drag him through the snow by his balls and beat him to death with my broken shovel.
I know he hides around the corner and waits for me to finish shoveling and then he comes down the street at a 100 miles an hour and throws snow all over where I've just been!
Tonight the wife wanted me to sing Christmas carols with her and open our presents, but I was too busy watching for the damn snowplow.

December 25
Merry freaking Christmas!
20 more inches of the damn slop tonight -Snowed in.
The idea of shoveling makes my blood boil.
God, I hate the snow!
Then the snowplow driver came by asking for a donation and I hit him over the head with my shovel.
The wife says I have a bad attitude.
I think she's an idiot.
If I have to watch "It's A Wonderful Life" one more time, I'm going to stuff her into the microwave.

December 26
Still snowed in.
Why the hell did I ever move here?
It was all HER idea.
She's really getting on my nerves.

December 27
Temperature dropped to -30 and the pipes froze; plumber came after 14 hours of waiting for him, he only charged me $1,400 to replace all my pipes.

December 28
Warmed up to above -20.
Still snowed in.
The BITCH is driving me crazy!!!

December 29
10 more inches.
Bob says I have to shovel the roof or it could cave in.
That's the silliest thing I ever heard. How dumb does he think I am?

December 30
Roof caved in.
I beat up the snow plow driver, and now he is suing me for a million dollars, not only the beating I gave him, but also for trying to shove the broken snow shovel up his ass.
The wife went home to her mother.
Nine more inches predicted.

December 31
I set fire to what's left of the house.
No more shoveling.

January 8
Feel so good.
I just love those little white pills they keep giving me.
Why am I tied to the bed?

***

Flying car or goofy helicopter?

You should have known..........NSFW-Language

***

What were the odds? Never mind it's math and it's Saturday night.

Every local newspaper announces the first baby born in the new year, but the story is even bigger in Carmel, Indiana. Dawn Gilliam and Jason Tello weren't expecting their twins to arrive for another seven weeks, but children have a way of stepping on your holiday plans. The twins were born on different days, in different years, and even in a different decade.

Joslyn Grace Guilen Tello was born at 11:37 p.m. on December 31, 2019 at Ascension St. Vincent Carmel and her twin brother, Jaxon DeWayne Mills Tello, was born at 12:07 a.m. on January 1, 2020.
***

The Saturday ONT normally doesn't have The Quotes of The Day. However this quote is just too go to pass on tonight.
"She's knuckling down, learning the lingo and practicing martial arts to give off the impression she's tough and to ward off potential bullies," an anonymous source
***

Although 2019 is in the rear view mirror, let us take a look at some of the most bizarre stories.

Crimes, unfortunately, happen every day across America, but there are some you read about that leave you scratching your head. Ranging from dancing with lions to police pursuits involving toy trucks, here are seven of the weirdest and most bizarre crime stories of the year.

Man in reindeer slippers attempts to steal woman's wheelchair
A man in Arizona wearing reindeer slippers managed to 'dash' away from this scene – but law enforcement caught up to him anyway.
Shower. Bar of soap, joke requires assembly.
***

Japanese robot dogs for friendship.

The dogs, known as Aibos, are companion robots made by Sony -- robots that don't necessarily do much apart from providing company and comfort. From a report:
Every Aibo -- Japanese for "companion" -- is manufactured identically, besides a choice between silver and white or a brown, black, and white version. They all have rounded snouts that include a camera for facial recognition capability, large, oval eyes to reveal their expressions, and a body that can turn on 22 different axis points to give them a range of motion. The owner decides the gender when they set them up, which determines the pitch of its bark and how it moves. They're cute. They know when you're smiling. And through machine learning and recognizing people with its camera, Aibos also shift their personality over time based on their interactions with people they spend time with. Soon, they become much more than a store-bought toy.
***

We have heard about the Mexican Cartels and their extensive hold on illegal drugs. Flying under the radar is their involvement in the avocado and lime crops.
THE VIOLENT SAGA OF MEXICAN CARTELS AT WAR TO CONTROL LIMES AND AVOCADOS
Narcotraffickers are transitioning into a new business space: high-end produce. They're cornering the market — and as prices rise, bodies pile up

The son of the lime grower begged his father to quit his war against the Mexican cartels. He pleaded with him to disband his all-volunteer paramilitary army of avocado farmers and fellow lime growers. "Get out of this," the son warned. "They're going to kill you." To assist his pleas, the son called upon the Lord to save his father. He placed a rosary around his father's neck.

But his father wouldn't listen. There was too much at stake. Too many of the rural locals now counted on him to protect them, to protect their town and to protect their farms. They'd also answered his father's call-to-arms. So he couldn't put down his shotgun. "Forgive me. I'm not going to stop, no matter what happens," the father, 60-year-old Hipólito Mora Chávez, told the son, Manuel.

Of course, the unimaginable happened.

On December 16, 2014 — almost two years after Mora launched his armed uprising — Mora was talking with his men at a checkpoint at a road barricade. One of the first things they'd done when Mora declared war on the cartels was to barricade the roads in and out of their town. That day there had been newly intercepted chatter on the radio about a possible raid. They heard the order given over the airwaves: "Bring all of your weapons right now. We're going to kill this son of a bitch."
***

Meet someone who can literally say, I'd give my right arm for...........

Many people have two arms. Far fewer of them can say that they have one of their arms on a shelf by their sink. This 37-year-old guy is one of the few who can proudly show his amputated arm. Thanks to a helpful taxidermist and a hungry colony of beetles, he was able to turn his amputated limb into a unique conversation piece.

20 years ago, then 17-year-old Mark Holmgrem borrowed his brother's motorbike. This decision would change his life forever. He drove so fast and crashed on the motorbike, which tore the nerves in his shoulder, which left his right arm numb and unmovable.
***
My kids all gave great presents to me this past week at our Christmas celebration. However, if this had been given to me that would have cemented who my favorite is.
***

Science on a Saturday ONT? Sure why not!!!

***
Things you may not have known..........Pink Floyd's "Have A Cigar" disco cover.
***
The ONT Musical Interlude
On this day: 4 Jan 1986
Irish singer, songwriter and bassist Phil Lynott of Thin Lizzy died of heart failure and pneumonia after being in a coma for eight days following a drug overdose. With Thin Lizzy he had the 1973 hit 'Whiskey in the Jar', (their version of the traditional Irish song) and hits with 'The Boys Are Back in Town', 'Jailbreak' and 'Waiting for an Alibi'. The groups 1978 album 'Live and Dangerous' spent 62 weeks on the UK chart. Lynott fronted several bands as a lead vocalist, including Skid Row alongside Gary Moore. A life-size bronze statue of Phil Lynott was unveiled on Harry Street in Dublin Ireland in 2005. via thisdayinmusic.com
***

This dope uses dope and is tonight's Genius Award Winner.

A Louisiana woman is behind bars on a felony drug possession charge after police discovered her methamphetamine stash in a small plastic container that was helpfully labeled "Dope."

Cops responded Saturday night to a West Monroe residence after an unidentified complainant reported finding "suspected narcotics" inside the apartment, which is home to Candyce Neel, 41.

According to a probable cause affidavit, through "further investigation," an officer found the "Dope" container with "suspected methamphetamine inside."

Neel, cops say, left the apartment "prior to deputies speaking with her." However, she was later arrested after being found hiding behind the residence. After being read her rights, Neel reportedly "admitted ownership of the suspected narcotics."
***

Tonight's ONT has been brought to you by the Dark Side.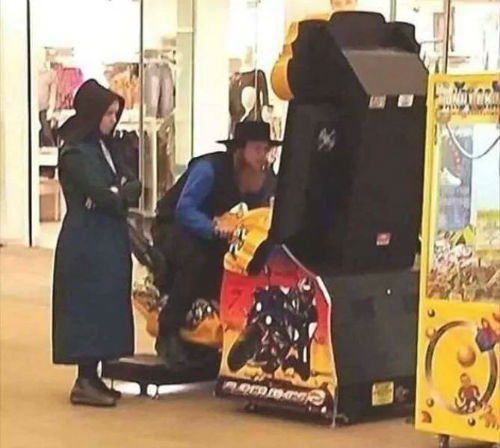 Notice: Posted with permission by the Ace Media Empire and its redheaded stepchild, AceCorp, LLC.


posted by Misanthropic Humanitarian at
10:00 PM
|
Access Comments