« The Intended Consequences Of Enforcing Immigration Law: More Jobs For Americans
|
Main
|
Gun Thread: Low Battery Edition [Weasel] »
December 29, 2019
Food Thread: Of Incomplete Drinks And Other Abominations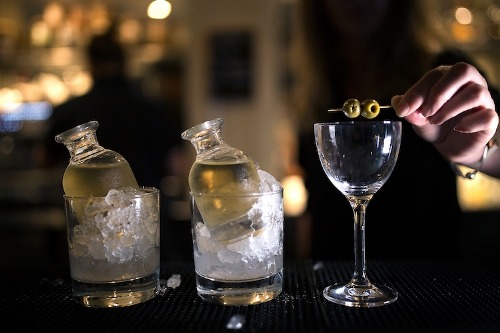 I had a drink in Sefton's neighborhood a few days ago, at an old-time bar that collapsed -- literally -- more than 10 years ago. It was a bit of a dive, smack in the middle of a residential area, and my guess is that the neighbors were not in any rush to see it rebuilt. But somebody with deep pockets managed to get it going again, and did a fine job of turning it into what it once was...a speakeasy. But it ain't no dive! At least judging by the price of the cocktails. Ouch.
But it's NYC, and that's sort of okay, and expected. But what I didn't expect was the lack of adornment. My drink was in a glass. A nice glass. But without garnish or anything that would signal its contents. And that is a mistake.
Part of the pleasures of drinking in bars is the skewer of three fat olives in one's Martini (Gin! Vodka is for savages), or a good Maraschino cherry in the Old Fashioned or a thin slice of lime on the lip of the margarita, or a sprig of Rosemary or mint or whatever seems to make sense.
And before you pillory me for the obvious point that garnishes rarely add to the flavor of the drink, I mostly agree, but they signal that the bartender is paying attention and cares about things like presentation. For instance, choice of glassware is sort of a big deal for me. A Martini in a low-ball glass tastes good, but there is something missing. And an Old Fashioned just seems weird in a stemmed cocktail glass. And that Maraschino cherry (if it's a good one) at the bottom of my Old Fashioned is a joy to behold and an even bigger joy to eat!
Yeah, yeah...first-world problems.
Drinking is part ritual; holding the glass is like holding a talisman, and I prefer my magical objects on the fancy side!
So, dear Chumley's bartenders, spent a bit of time and complete the process of entertaining your customers. It's what makes drinking in bars different than drinking at home, and justifies the cost of those drinks.
******
One of the advantages of the "Sous Vide" process is the ease with which one can make large quantities of food for future consumption. For instance, this weekend I made about four pounds of chicken breasts (because they were on sale) with a few different flavors. That is really convenient, because I can freeze them for a rainy day, keep them in the refrigerator for a week or so for quick meals, and they aren't the same so they are slightly less boring.
What? Oh, please! Chicken breasts are the tabula rasa of the food world.
So what do you folks make in advance, in quantity, to have in a pinch? Like several pounds of pulled pork? Yup! It's in the freezer, waiting for a snowstorm so I can snowblow the driveway, content in the knowledge that I will eat well when I finish. Or soup or Mac & Cheese or stew or....

******
This isn't the last word on how to cook a roast, especially since he trims the bones. That is just wrong. There is little better than munching on a prime rib bone, and his argument that it limits the amount of crust on the roast, while true, is not focused on the importance of satisfying our primitive urge to gnaw on the bones of our kills.
The Science Of Cooking Prime Rib, Tenderloin, And Other Beef Roasts
But it is solid information, and you won't go wrong if you follow it.

******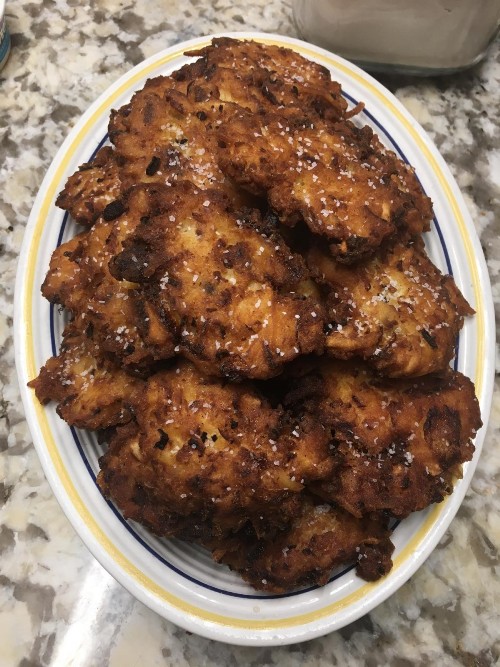 Latkes! Yum! And lest you think it is easy to make...it ain't. Most of them turn out soggy and greasy and limp, so when you enjoy a crisp latkes, be aware that it is a deceptively difficult dish to make.
[Hat Tip: ibguy]

******
Dear Big Labor, your obsession with a higher and higher minimum wage will pay short-term dividends to your high-wage constituents, but will rapidly destroy entry-level jobs in many, many industries.
Your fast-food drive-thru will soon be easier and faster
And how long before this technology and others like it will shift up to those jobs your union members hold? I wouldn't bet against automated...anything.
******
From lurker Tyler comes a really simple recipe for a crowd pleaser. Everyone loves artichoke dips because they are lovely and fatty and rich and gloppy and hot. Just ignore that silly "optional" next to the swiss cheese. That's just ridiculous.
Artichoke Dip

Ingredients
• 10 oz chopped frozen spinach, thawed and drained
• Can of artichokes chopped
• 1 pkg dry veggie soup mix
• 3 green onions, chopped
• 1 c. Mayo
• 1 c. Water chestnuts, chopped
• 1.5 c sour cream
• 1 c. Cubed Swiss cheese (optional)

Preparation Steps
1. Mix all together
2. Bake for 20 minutes at 325 degrees
The water chestnuts are a new twist for me, but I guess they add a bit of crunch, so what the hell!
******
This comes from "Jerry," who suggests that I give Campari a chance, just as so many of us have given hops-heavy IPAs a chance.. But these two drinks are at least in some semblance of balance, unlike some of the Campari-heavy recipes I have seen.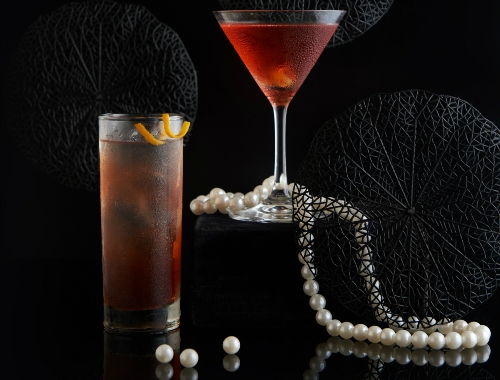 The Boulevardier and the Old Pal
The article is interesting too!

******
What a good idea! Lamb is often a strong-flavored meat, so it will stand up to the rich and peppery au poivre sauce.
Lamb Chops au Poivre
But even if you don't like lamb, try this recipe with beef or pork or, hell, maybe even chicken! As for the creme fraiche? Use sour cream or heavy cream as a replacement if you don't have any in your refrigerator or don't feel like spending $5 on a small container of what is essentially a mix of cream cheese and sour cream. And I will also remind everyone that Cognac is just expensive brandy. Don't cook with the good stuff! Buy a bottle of the cheapo Gallo or Korbel or other California brandy...whatever is the least expensive stuff in the store.
******
Speaking of drink garnishes, this is a doozy. I posted this a long time ago, back when the Small Screen Network was around with great drinks videos. Alas, they are no more, but the recipe still works.
Grand Salted Caramel Old Fashioned
I'm going to make this on New Year's Eve, just to stick it in the eye of that Chumley's bartender who couldn't be bothered.
And speaking of NYE...I haven't gone out in years. It's amateur night, so the inexperienced drinkers get way too sloshed and do stupid things, the bars and restaurants jack up their prices and force prix fixe meals on us, and the forced levity and merriment is, quite frankly, unpleasant.
So I'll be making something fun (crab cakes?), opening a good bottle of something and spending a quiet night at Chez Dildo, far from the throngs.
I recommend you all do something similar.

******
Food and cooking tips, Castelvetrano olives with a sprinkle of chili flakes, young wild pigs, crisp bacon (although I am moving toward less crisp), thick and fluffy pita, and good tomatoes that aren't square, pale pink and covered with Mestizo E.coli:
cbd dot aoshq at gmail dot com
. Any advocacy of French Toast with syrup will result in disciplinary action up to and including being
nuked from orbit.
And yes, shaking a Manhattan is blasphemy...it's in the Bible!
&topic=world_news">

posted by CBD at
04:00 PM
|
Access Comments