« Active Shooter Situation in Jersey City;
Cops Describe Shooting as an "Ambush;"
Terrorism Suspected
|
Main
|
AG Barr Blasts Media and Deep Staters -- and Criticizes Horowitz -- in Interview »
December 10, 2019
Poll: Say Hello to Your New Frontrunning Democrat Presidential Candidate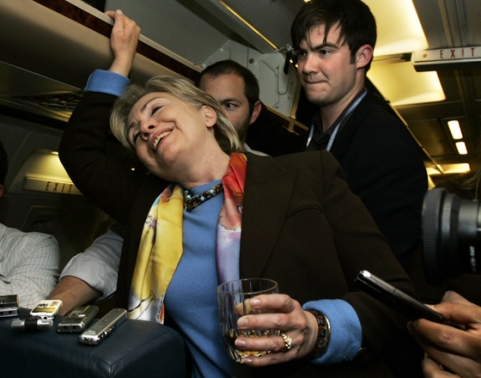 Recent survey was done by Harvard's Center for American Political Studies

Poll gave Clinton 21 per cent support followed by Joe Biden with 20 per cent

Bernie Sanders gets 12 percent while Senator Elizabeth Warren is at 9 per cent

On November 29, Clinton told BBC's Graham Norton she wouldn't rule out a run


Hillary Clinton would be leading the race for the Democratic nomination for president if she declared her candidacy, according to a new poll.

The online survey by Harris Poll which was released by Harvard University's Center for American Political Studies shows the former secretary of state in first place with 21 per cent of the vote.

Joe Biden, the current frontrunner, would receive 20 per cent while Senator Bernie Sanders is at 12 per cent.
Meanwhile -- well, two days ago but whatev's -- yet another Bernie Sanders staffer is guilty of open, unashamed antisemitism, and is forced to leave the campaign.
A newly hired community organizer for the Bernie Sanders presidential campaign has left just days after taking the job – reportedly because some of his past tweets allegedly contained anti-Semitic and homophobic statements, as well as derogatory remarks about women and Asians.

Several of the tweets also reportedly included crude sexual references.
He was fond of the phrase "Jew Money."

posted by Ace of Spades at
03:06 PM
|
Access Comments