« Food Thread: The Bigger The Better! Make Something Huge For Christmas Or New Year's Eve...
|
Main
|
Sunday Overnight Open Thread (12/8/19) »
December 08, 2019
Gun Thread: After Thanksgiving and Before Christmas Edition [Weasel]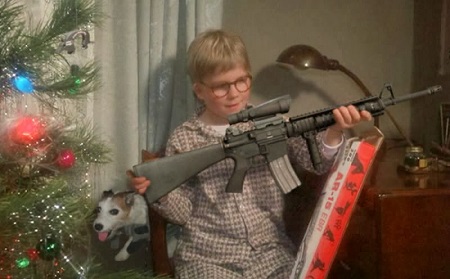 note asymmetrical hand size
Can you believe Thanksgiving is already in the rear-view mirror and Christmas is coming up fast? I don't know about you all but this year has been flying by for me. While you're out shopping for others, how about getting yourself a little something, too? Or even a big something! Here's a question, what one shooting related item would you like to find under the tree on Christmas morning? I'm talking about the one thing you've always wanted but have never managed, for one reason or another, to get for yourself?
Let's take a look below and see what our moron pals have been up to, shall we?

Well here's a nice stocking stuffer sent in by a lurker.
I saw last Sunday's post about the dry fire laser. I highly recommend the below product, DryFireMag, which eliminates the need the rack the slide for trigger reset. Just insert like a regular magazine and go to town. I use it with the MantisX system and have seen incredible results.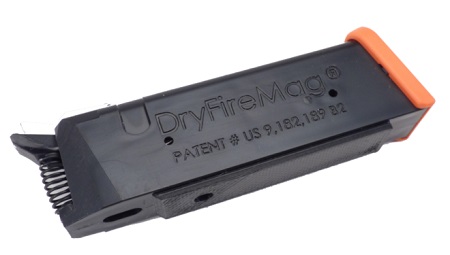 That's a nifty little gizmo, and at $99 not a bad deal. What do you all think? Anyone else have one? Thanks for the product endorsement, lurker, and feel free to jump in and comment anytime!
******
Our pal Scuba_Dude is definitely putting his new NYC firearms license to use by taking every opportunity to get to the range!
Here are some pics of a day at the range. My target is on the right and my nephews is on the left. I had the target at around 7 - 9 yards. Gun used was my Sig P226 RX using only the iron sights. Ammo was Blazer 115 grain FMJ. 90 rounds used.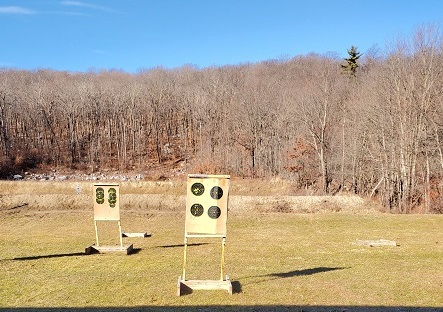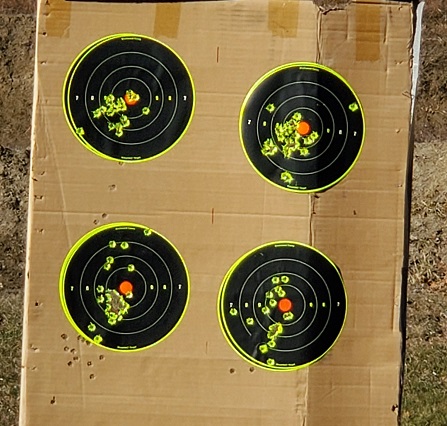 I think those are probably Birchwood Casey six-inch Shoot-N-C stick on targets, and I have to say that at 20+ feet Scuba_Dude is doing just fine from a self-defense prospective. Nice shooting!
Scuba_Dude also went on to mention that he has registered for a couple of pistol courses at the Sig Sauer Academy in Epping, NH, in the late spring of next year and has graciously agreed to grant the Gun Thread an exclusive report afterwards. Thanks Scuba_Dude, can't wait to hear all about it!
******
Next we have a follow-up report from our pal WTM in Texas. Last week WTM shared photos from a visit to the The Bryan Museum in Galveston, TX, and this week he has a report from The Texas Ranger Hall of Fame and Museum in Waco, TX.
I have also been to the Texas Rangers Museum in Waco, TX., and here is a tiny fraction of what they have on display. The museum has many hundreds of Ranger firearms on display, ranging from the lever action rifles and SA revolvers of the Rangers' early days through the weapons used in the 1960's. I didn't get photos of those, unfortunately, but they must have two hundred lever action rifles alone in one display. There is a large section devoted to law enforcement in the 1930's, and therein is a very nice display on Bonnie and Clyde. My maternal grandparents knew Bonnie and Clyde, and my grandfather was probably the one who customized Clyde's sedan so as to allow use of a BAR through the rear window.

BTW, all automatic weapons seen here and in the museum are fully functional, except that their firing pins have been removed.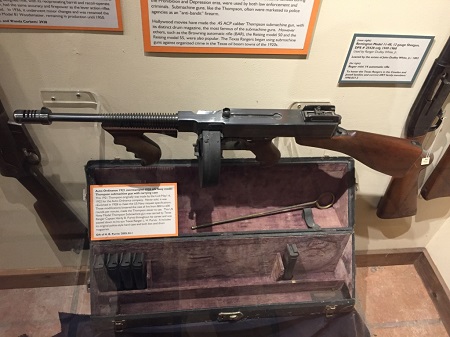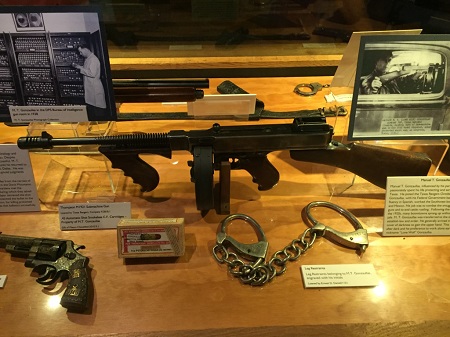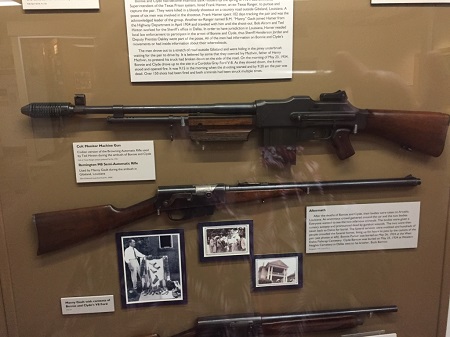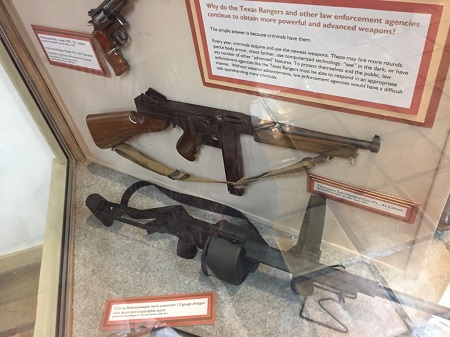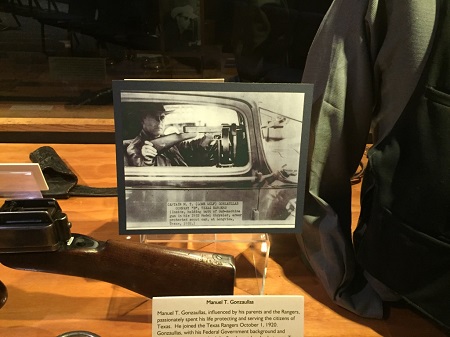 So how cool is it that WTM's grandparents knew Bonnie and Clyde? Thanks WTM!
******
Next up we have a great range report from our pal Iron Mike Golf
Tomorrow is opening day of whitetail gun season here in Ohio and a family tradition is for the menfolk to go over to my B-I-L's on Sat after Thanksgiving and confirm zero. Wyatt (Grandson the Elder) has been pestering me to go deer hunting this year. He turned 9 in Oct. I got him a 22 (a Rascal), but my back has been in poor shape and had't taken him for any shooting yet. After Thanksgiving dinner, my B-I-L said he was getting ready to sell the Mossberg 500 Youth model in 20 ga his son used while growing up (he's in college now. B-I-L got him a full sized 12 ga semi and the proceeds from the 20 ga are retroactively applied to the new piece). While the others took turns shooting, Wyatt was learning and dry firing the Mossberg. It's too much gun for him to shoulder or even shoot sitting. B-I-L's target berm is down slope, so prone was out, too. I ended up using my range bag atop an archery target so Wyatt could shoot sitting behind that as a rest. He only took 2 shots (not used to the recoil yet) and the attached photo shows his results at 50 yards. Those are his first from any firearm. Yeah, I am proud.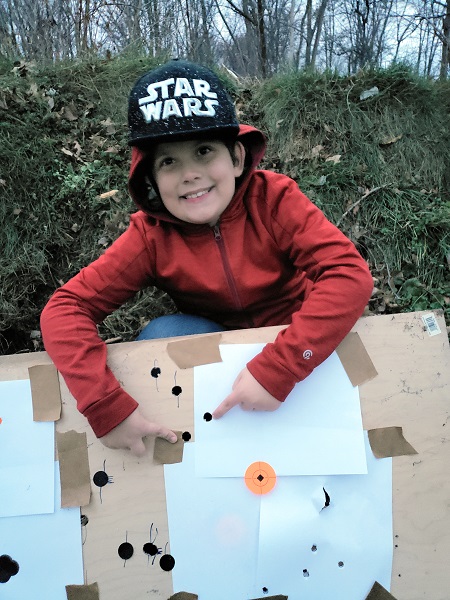 Great shooting, Wyatt! OK, I don't know about you all, but I think introducing a youngster to shooting for the first time is just about the best thing you can do. Do you have any young people, whether related or not, that you can take to the range? Thanks for sharing this outstanding story, Iron Mike Golf!
******
I'm pretty handy, but have never attempted anything like this! Our pal DBCooper has created a very cool shop, as the photos below will show. DBCooper explains:
Got to thinking that a lot of the Horde have mentioned not having a shop or many have run out of room for things. I took a 20 foot Shipping container and with simple techniques and skills and stuff from Home Depot built an extra shop. 4 inch foam insulation then hard faced, wiring and power strips installed, overhead 4 foot lights, cheap linoleum floor. Has water, a sink, phone and a 110 RV A/C and heater. Runs on a 20 amp 110. I built a 1000 lb inner armored wall with a Sea Door so it has a double locking entrance and is plenty secure. The photos were taken before the unfortunate canoe accident and now it's filled with rakes and weedeaters and shovels and my push mower. Wish now I had made a 40 footer for all my garden tools but I don't have a ton of money in it and it's my favorite place to hang out.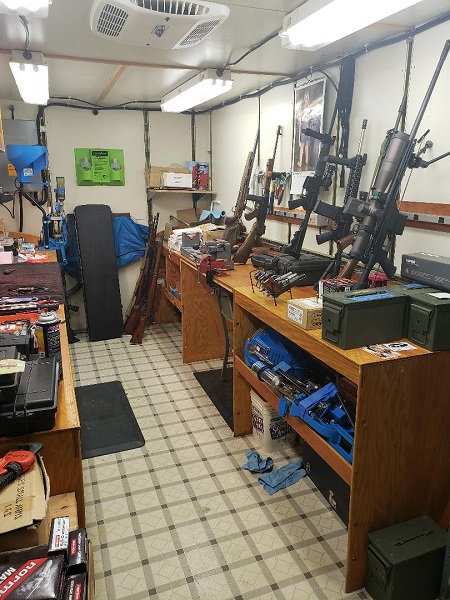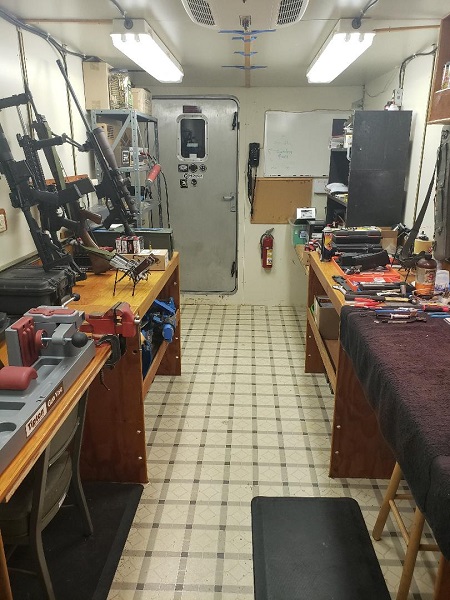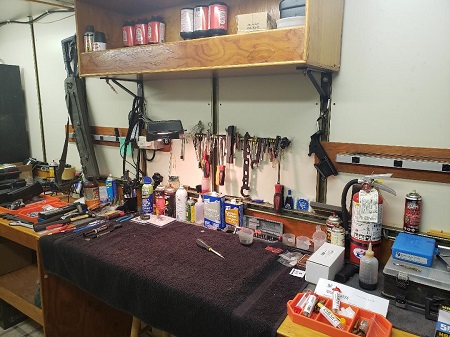 Ho-Lee-Shit! What a great job! I'm pretty impressed with how this turned out, and it makes me wonder if there would be a market for storage container conversions. Very nicely done, DBCooper!!
******
Link-O-Rama
Naturally, everything seems to be on sale at this time of year. Now is the time to do some shopping. Whether it's a gun you've been wanting, or an accessory you have needed, now is the time to save some money. I'm going to keep saying this until every last one of you pays attention, you almost certainly do not have enough ammo.

Brownells
MidSouth Shooters Supply
Sinclair International
AmmoSeek - online ammo search tool
GunBot - online ammo search tool
Palmetto State Armory
SG Ammo
Georgia Arms
AmmoMan
***Mail Bag***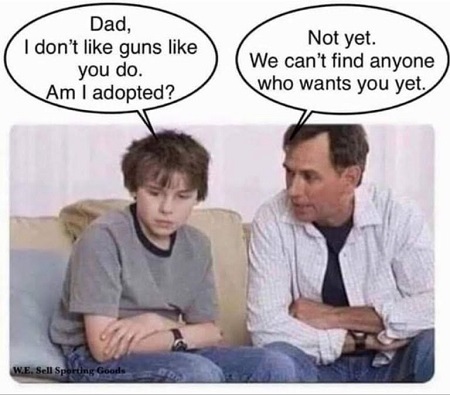 h/t JT
******
Please note the new and improved gmail account morongunthread at gmail dot com. An informal Gun Thread archive can be found HERE. If you have a question you would like to ask Gun Thread Staff offline, just send us a note and we'll do our best to answer. If you care to share the story of your favorite firearm, send a picture with your nic and tell us what you sadly lost in the tragic canoe accident. If you would like to remain completely anonymous, just say so. Lurkers are always welcome!
That's it for this week - have you been to the range?



posted by Open Blogger at
07:00 PM
|
Access Comments