« Hope For Casualties! The Newest Internecine Struggle On The Left Is Popcorn And Pudding Worthy!
|
Main
|
Gun Thread: After Thanksgiving and Before Christmas Edition [Weasel] »
December 08, 2019
Food Thread: The Bigger The Better! Make Something Huge For Christmas Or New Year's Eve...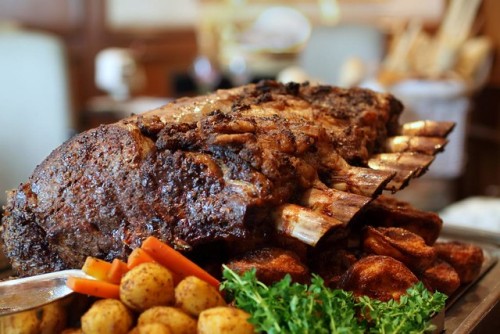 There's nothing quite like a large hunk of flesh, still attached to the bones, and complete with the fat that the beast was kind enough to deposit in and on its carcass.
Who doesn't like a monstrous slice of prime rib, or a wonderful rich and fatty slice from a lovingly roasted lamb leg, or even -- dare I say it -- a double-cut chop from a luscious pork roast?
I guess, for the purposes of politeness and inclusiveness, I should include large birds, but please don't throw TURKEY! at me. Roast a goose or even a duck, but not (shudder) turkey again!
I think the prerequisite is size...there is something festive and wonderful about the idea and the sight and the aroma of something big. When the host has to get help to carry the damned thing into the dining room, you know that you are in the right place!
******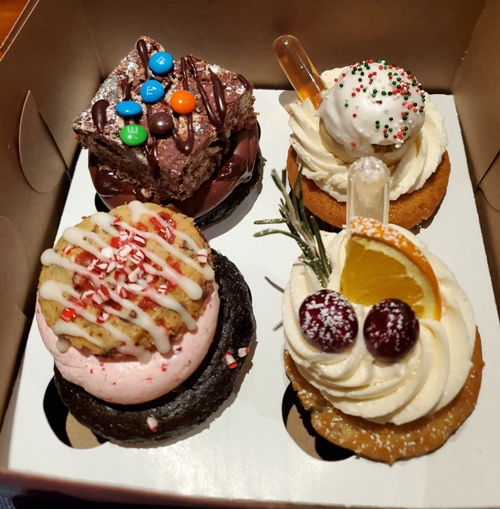 We had some friends over for dinner recently, and they brought cupcakes for dessert! "What?" Cupcakes? How very pedestrian*! But these weren't ordinary cupcakes. Two of them had small plastic vials of liquor embedded in them (it's sort of tough to see in the photo), and the idea was to squeeze the vial, thus injecting the liquor into the cupcake. Sounds...um...stupid? But it was brilliant! it worked fabulously well, I think in part because the liquor was not full-strength stuff, but rather what I am guessing was a mix of liquor and perhaps wine or even water. The guts of the cupcake was flavored but not overwhelmed.
Oh...the cupcakes themselves were great too.
* Not really. Anything is appreciated and most welcome. Seriously.

******
Well, there is nothing about this dish I don't love.
Cheesy Grits Casserole
And it is a reflection of the joys of Southern cooking, which is some of the finest cooking being done in America. It is about unabashed pleasure, without any of the crap ..the guilt and virtue-signalling and pomposity...that is flung so liberally (SWIDT?) in other parts of the country.
******
Yes, I would eat one of these.
What a good idea!
Apple Pie Cookies
I wonder where I can get pie dough? Hmmm...Oh, I know one place I can't get it: Bluebell's kitchen. She promised to drop by before Thanksgiving to make me some of her famous pie doughs, but she never showed. Typical Red Sox fan.
By the way, these seem to be the kind of cookie that is best fresh and warm. I'll bet they are spectacular a few minutes out of the oven. It's just the sort of thing that I would eat a few seconds too early and burn the crap out of my mouth.
So who is coming over to Chez Dildo to make them? I am, as I have admitted in the past, a retard when it comes to pie doughs, so if I ever attempt this recipe it will come out weirdly shaped and lopsided. But hopefully still delicious.
******
Oh my! Some of these must be fake, because they are just so stupendously , outrageously, unbelievably ugly and non-functional that I can't believe anyone actually took them seriously.
I just spoke with an old friend who just bought a house. It has a 1970s kitchen, complete with a mural of a monkey on the wall. So maybe I am wrong...maybe these are all serious!
The World's Worst Kitchen Designs
[Hat Tip: Misanthropic Humanitarian]

******
I have posted this recipe before, but it is a crowd pleaser, and one that, while it is a tedious process, can be done in advance.
Caramelized Onion Toasts


1 stick (4oz) of unsalted butter

3 big Vidalia or yellow onions, sliced

4 anchovy halves, chopped

3 teaspoons chopped fresh thyme leaves

Kosher salt and freshly ground black pepper

1 baguette

Extra-virgin olive oil

Shaved Parmigiano-Reggiano
Heat ½ stick of butter in a large skillet over medium heat. Add the onions, chopped anchovies, thyme, salt and pepper and cook until the onions are golden brown, about 20-30 minutes, but it could take longer. Be careful not to burn the onions. If necessary, turn the heat down. The onions will eventually caramelize at the lower temperature; it will just take longer.
Preheat the oven to 400 degrees F.
Meanwhile, holding the knife parallel to the cutting board, shave off the rounded top and bottom of the baguette with a serrated knife so that it lies flat. Don't cut too much; just enough so that the baguette doesn't roll around. Then cut the baguette in half lengthwise and then each long slice into 3 equal pieces to make 6 slices of bread so that it fits easily on the baking sheet. Melt the remaining butter and brush both sides of the bread.
When the onions are cooked, put the bread slices on a baking sheet and spread with the onions. Drizzle with olive oil, but not too much; there is plenty of fat in this dish!. Place in the oven and bake until the bread is crispy, about 10-15 minutes. Sprinkle with Parmigiano-Reggiano shavings. Cut into pieces on the diagonal and serve hot.


******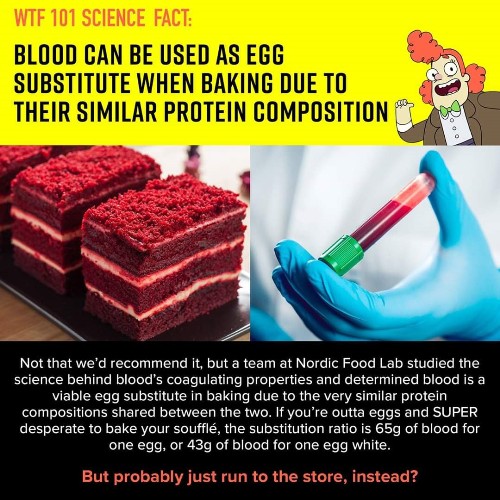 [Hat Tip: ibguy]
******
Food and cooking tips, Castelvetrano olives with a sprinkle of chili flakes, young wild pigs, crisp bacon (although I am moving toward less crisp), thick and fluffy pita, and good tomatoes that aren't square, pale pink and covered with Mestizo E.coli:
cbd dot aoshq at gmail dot com
. Any advocacy of French Toast with syrup will result in disciplinary action up to and including being
nuked from orbit.
And yes, shaking a Manhattan is blasphemy...it's in the Bible!
&topic=world_news">

posted by CBD at
04:00 PM
|
Access Comments