« Like Sands Through The Hourglass, So Are The ONTs Of Our Lives
|
Main
|
Mid-Morning Art Thread »
November 22, 2019
The Morning Report - 11/22/19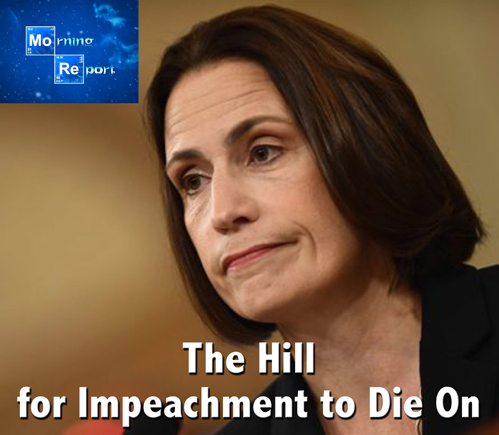 Good morning kids. The weekend is here and after the Gordon Sondland fiasco on Wednesday, Fiona Hill's testimony was a complete waste of time, if not also revelatory of inconvenient facts and truths about the former administration's neck-deep ties to Ukraine as well as the original Russia collusion hoax to take out Trump. But before we get to that, for weeks we have been hearing Nancy Palsi's dentures clatter out unmitigated horseshit about how somber and prayerful and regrettable the impeachment process is. Meanwhile, her henchman, including the execrable Daniel Goldman, the prosecutor and MSNBC analyst who is Schiff-for-Brains' lead prosecutor, among other staffers were spotted in a packed DC pub playing beer pong, scarfing down sliders, laughing it up and having a merry old time. Hypocritical and disgusting in the extreme, yes. But are they so self-deluded as to not see the unmitigated disaster these hearings have been to their cause, or is it we, who live in the real world, who don't see a deck stacked against us? I'd be lying if I told you that that notion was not in the back of my mind and sometimes gradually inching forward. But I digress.
Getting back to yesterday's proceedings, Fiona Hill, who has worked as an intelligence analyst for Dubya, Obama and Trump until she resigned last July, took to the stand ostensibly to either accuse the President of quid pro quo, bribery, extortion or whatever, but in the event like every other witness before her actually revealed what we know already; to wit, that Trump is innocent and the real corruption lies squarely at the feet of the previous administration and the cancerous ticks embedded in our intel and law enforcement bureaucracy. She burped up the bromide that attempting to blame Ukraine for interfering in the 2016 election was Russian "disinformatsiya," as well as, get this, the Russians played Christopher Steele. Christopher Steele, at the behest of Hillary Clinton crafted a voluminous pack of lies aided and abetted by this Fusion GPS oppo-research outfit with the help of the Russians, fully aware that it was total bullshit to be used to obtain the FISA warrants for spying on Trump. It should also be noted that Hill worked for the Brookings Institution and was shown the dossier by Strobe Talbot. Yes, that Strobe Talbot; the one who was Bill Clinton's BFF in college and later served in his administration. Get the picture?
Limbaugh, who was en fuego yesterday and really has been since the beginning of this entire fiasco and well worth listening to and archiving his show transcripts on all of this commented:
...And then she further rocked the hearings. She rebuked Pencil Neck in his very first question, because really what they tried to get back to today was Russian interference. They can't let go of it. They can't drop it. They are convinced and trying to convince people the Mueller report says things it doesn't say, and so Schiff was attempting to get her to play off on the fact that Ukraine had nothing to do with election interference or meddling in 2016.

The Russians did it, and the fact that so many people think Ukraine had something to do with it is a Russian plan. This woman portrays the Russians as nearly invincible in being able to conceive and execute plans to disrupt all life in America. So Schiff wants to bear down. He wants to bore in. He thinks that this woman is going to unload on Trump. He thinks she's gonna unload. She is so anti-Russian, she is so pro-Russian meddling, that Schiff believes that she is going to say that the Russians meddled to help Donald Trump.

And then the anvil fell on Wile E. Coyote again. Fiona Hill emphasized that Russia spreads its bet. It did not attempt to help or hurt any one candidate. Russia's efforts were to destabilize the American citizens' belief in the validity of their elections. She made it a point of saying the Russians were not trying to help Trump and harm Hillary, or not trying to help Hillary and harm Trump, that they didn't care who won or lost...

... She's doing damage control. She knows they can't make the case that Trump is a Russian agent. She knows they can't make the case that Trump is a traitor. So the best she can do is to say the Russians weren't trying to help anyone. She's running cover for the Democrats. She's running cover for Hillary by claiming that the Russians didn't care who won, that their only objective was to destabilize America on behalf of whoever won.

Of course, we're all sitting here thinking that there's nothing we can do to stop the Russians. This is what bothers me about all of this is the Russians are portrayed as invincible and unstoppable - and whatever they seek to do, they succeed. The Democrat Party has done more to destabilize American elections than Vladimir Putin could have ever dreamed of doing. And then this Fiona Hill woman comes out today here and says that the Russians are engaged now in doing the same thing in 2020.

They can't let it go, and in the process, they are trying to convince as many Americans as possible that the upcoming election is already invalid. It's already hopelessly tarnished and corrupt. It is outrageous what these people are doing...
It's all a complete crock of shit. We know it, a growing majority of Americans know it and the Democrats know it. Either that or they've drunk the Kool-Aid they've been serving their base for the past three years. Facts be damned, they're going to bring impeachment up for a vote in the House because that's always been the plan. You can debate if it's really what they want to or not and drill down to a granular level on tactics and all that, but the point is moot. And the President is dead right. Bring it on, because when it gets to the Senate, Schiff-for-Brains no longer gets to do his Roland Freisler impersonation. If the Senate Intelligence Committee were smart (and the jury is out on that) or at the very least committed to protecting this President and indeed the American people and republic itself, they will have Jim Jordan, Devin Nunes, Elise Stefanik and the House team who have done a tremendous job come over to the upper chamber and lead the defense, which will be in fact a defense by prosecution. Doubt that happens, but still.

Anyway, links from around the world, across the nation and up your street. Have a better one and remain blessed.
NOTE: The opinions expressed in some links may or may not reflect my own. I include them because of their relevance to the discussion of a particular issue.
ALSO: The Morning Report is cross-posted at CutJibNewsletter.com if you want to continue the conversation all day.
Follow us on Twitter: @CutJibNews


posted by at
07:19 AM
|
Access Comments