« Sunday Overnight Open Thread (11/17/19)
|
Main
|
Mid-Morning Art Thread »
November 18, 2019
The Morning Report - 11/18/19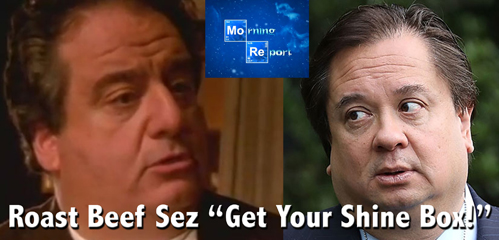 Good morning kids. Start of a brand new week and the same old Schiff. Friday's hearing involving the much-ballyhooed testimony of ex-Ukraine Ambassador Marie Yovanovitch sure was blockbuster; she essentially put the final nail into the coffin of whatever case was being attempted to hang President Trump. When finally asked salient questions instead of probing her feelings, she stated unequivocally she never met Trump, had no first-hand knowledge of the actual phone conversation between him and Ukie prexy Zelensky, could not name one high crime or misdemeanor involving the latter and even admitted that it was the Obama administration that had withheld the vital military aid which might have prevented Russia from invading and annexing the Crimea. You know, Russia. The country that supposedly colluded with Trump or used him as a puppet to steal the 2016 election from Hillary? The woman who as Secretary of State engineered the sale of 20% of America's strategic uranium stockpiles to Russia? But, let's not let these minor details get in the way of a good story.
The other aspect of Friday's national embarrassment was the rude and shabby treatment that Adam Schiff-for-Brains meted out to fellow committee member Elise Stefanik. One reason was that Stefanik's backbench status in the lower chamber belies her smarts but the other and frankly more disgusting reason was the political calculus that having a woman grill Yovanovitch takes away the look-at-the-evil-misogynist-Republicans-making-a-woman-cry meme that the Dems always use as a ploy to misdirect the public via creating a sympathetic witness. That failed, especially when Stefanik finally was able to interrogate her. The reaction from the Dems was not only to give Yovanovitch, whose actions in her official capacity were tantamount to insubordination and worse when the administration wanted to legally and legitimately question Ukrainian officials about the Bidens and Burisma, a standing ovation but some fool PhotoShopped Stefanik flipping the bird to her as she exited the hearing. And, of course the media pounced.
Look, in every real sense, the Democrats have nothing, never had anything and will never get anything even remotely resembling a legitimate high crime of misdemeanor on this President that warrants impeachment. But, they will persist because a) they're completely out of their minds (with the possible exception of that Democrat Congressman Jeff Van Drew who sees this as a looming disaster) with hatred, b) they're candidates and platform for 2020 is terrifying and repulsive even to those marginally interested in politics and c) the Deep State globalists in and outside government will not abide by having their grand strategy to control the destiny of this nation and its people taken from them.
To that point, even Nancy Palsi's botox-addled mind moves her pie hole to utter words that are quite revelatory. President Trump must disprove the charges against him. So much for due process but if she and her cohorts are hell bent for leather on this, the words of John Wayne in The Green Berets may come back to haunt her: "Out here, due process is a bullet." For those keeping score, the first shots were already fired by James Hodgkinson, for which Dick Durbin has yet to answer for vis a vis his close association with the would-be mass assassin. At this stage we are a nation divided and because of the Left's position that America as founded and everything it stands for is either inherently evil or illegitimate, there is no common ground with which to even attempt some sort of rapprochement. G-d help us.

Anyway, links from around the world, across the nation and up your street. Have a better one and remain blessed.
NOTE: The opinions expressed in some links may or may not reflect my own. I include them because of their relevance to the discussion of a particular issue.
ALSO: The Morning Report is cross-posted at CutJibNewsletter.com if you want to continue the conversation all day.
Follow us on Twitter: @CutJibNews


posted by at
07:44 AM
|
Access Comments