« Tuesday Overnight Open Thread (11/12/19)
|
Main
|
Mid-Morning Art Thread »
November 13, 2019
The Morning Report - 11/13/19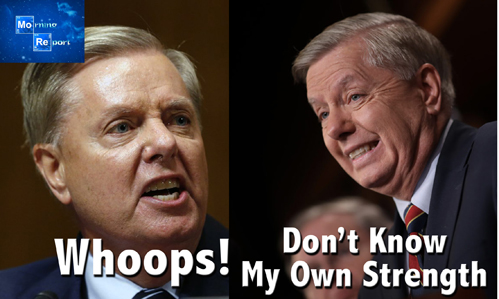 Good morning kids. Midweek and today marks the start of testimony in the Democrat sham-peachment farce as campaign strategy to take out President Trump, one way or another. The only thing really new to report is that Schiff-for-Brains and his cohorts have come up with a new charge, this time bribery, to fling like a bucket of hot Los Angeles derelict diarrhea at the President. First it was collusion, then it was extortion, then it was coercion and now this latest charge. Again, this is their presidential campaign since they have nothing else to run on. Apparently ripping up religious liberty, free speech, baby-killing, gun-grabbing, open borders, confiscatory taxation, nationalization of healthcare and private industry as a whole, Jew-hatred, brainwashing of our children, transgenderism, and the complete dismantling of our culture, history and heritage among other thngs evidently is not that popular in most of the country. Who knew? But I digress.
Back to this "bribery" nonsense, here's Jackie Speier, someone who deserves a bucket of steaming liquefied turds dumped on her head, since that's what mostly emanates from the flapping orifice above her chin:
..."I have been speaking out about the potentiality of it being bribery for some time. The elements of bribery are there. You have a president using his official office using taxpayer money to demand from a foreign government that they bribed to do an investigation and dig up dirt on the president's opponent on the upcoming election.

She added, "The corrupt intent is there, as well in many ways. Probably the most obvious is that they put the transcript or the summary of that phone call on July 25th into a special server so that they could cover it up. Not to mention the fact that there are many other evidence of corrupt intent in that the president has lied. He said that it was a verbatim transcript when, in fact, it was a summary. There is evidence now that things were kept out of that summary. We have the corpus, and the corpus is the summary of the telephone call, which the president corroborated himself by releasing it."
Beyond being an insult to have to listen to this dame spout complete falsehoods about the nature of the call and the timeline of events that completely disprove her allegations, I find it more than just a bit ironic that she and the other people - at least that's what they are on paper - who are both leading the attempted overthrow of America hail from California, specifically Los Angeles and San Francisco which are both rapidly descending into literal sewers that are somewhere between the worst favela in Rio and Bartertown. Meh, at least in Bartertown you have a place that functions, and is rather livable by comparison.
UPDATE: Commenter Moron Robbie would like to ask Ms. Speier, what about the $150 billion in cash delivered on pallets under cover of darkness from Obama to the mullahs in Iran? What would you call that, vinegar-tits?
The other big question mark is, aside from stalwarts like Jim Jordan, Mark Meadows Matt Gaetz and others in the House who are fighting this tooth and nail, what the hell is going on in the upper chamber where we are in control? I mean, they are all worried about the sanctity of "process" and "tradition" while power-mad fools are trying to overthrow the damn country.
I, for one, have grown weary of Sen. Lindsey Graham (R-SC), appearing on every other talk show bloviating about spygate, Ukrainegate, collusiongate, and all the wrongs committed against the Trump presidency and then doing nothing to fight back other than getting his face in front of the camera. Lindsey, do your job or get off the pot -- call some hearings, as you promised, and go for the Democrats' jugular. Show that passion you showed during the confirmation hearings for Supreme Court Justice Brett Kavanaugh when you went on an epic rant against that bevy of Democratic presidential wannabes who were raising the politics of personal destruction as they shredded the presumption of innocence all Americas are supposed to enjoy...

... Lindsey Graham lied to the American people. He talks now about how he is waiting for the Horowitz report and for U.S. Attorney John Durham to complete his investigation. The Senate is its own boss, Sen. Graham, and does not report to the Department of Justice. The deep-state coup continues past the collusion delusion and into the Ukraine fable of Rep. Adam Schiff, and all Graham is doing is trying to break Susan Rice's talk show record...
Amen.

Anyway, links from around the world, across the nation and up your street. Have a better one and remain blessed.
NOTE: The opinions expressed in some links may or may not reflect my own. I include them because of their relevance to the discussion of a particular issue.
ALSO: The Morning Report is cross-posted at CutJibNewsletter.com if you want to continue the conversation all day.
Follow us on Twitter: @CutJibNews


posted by at
07:12 AM
|
Access Comments