« Wednesday Overnight Open Thread (11/6/19)
|
Main
|
Mid-Morning Art Thread »
November 07, 2019
The Morning Report - 11/7/19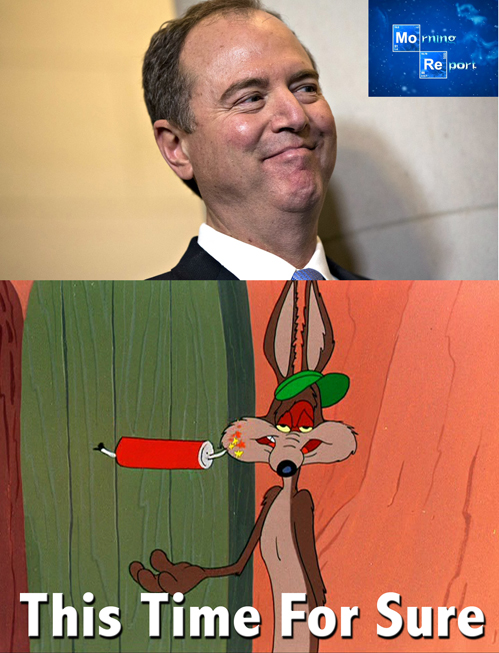 Good morning kids. Thursday and the big story is yesterday's announcement that the Dems are going to start the first public "impeachment" hearings next week. The rules, like the rest of this sham of a mockery of two shams of a fraud, give Adam Schiff-for-Brains total control to manipulate the process any way he wants in order to cause maximum damage to President Trump while maintaining the fraud of a mockery of two frauds of a sham of that he is guilty of crimes requiring his removal from office.
Translated, Wile E. Coyote has lit the fuse on the 20 sticks of TNT he's using as bait underneath the 1,000-ton boulder he just rigged with a dental floss tripwire. First and most importantly, let me reiterate that impeachment is not a criminal process; it's a purely political process, its most important requirement being a very clear and large support for it among the population. Not only is there none, but the sentiment against is growing larger with each passing day and each fiasco exposed. And yet, the Democrat-Left-Media Complex persists because impeachment is what they promised their base, what the Deep State Globalist elite have been attempting almost since Trump announced his candidacy over four years ago, and the only thing they have to run on for 2020. The multi-trillion dollar freedom- and economy-killing disasters that they do on occasion dare to trumpet are only marginally less popular than impeachment and chronic projectile colitis.
Despite the nervous nellies in the Senate, the exceptions being Rand Paul of late and the Jekyll & Hyde Grahaminator/Grahamnesty (depending on the issue or day of the week), the Republicans in the House are 100% behind the President, as evidenced by last week's disgusting vote to proceed with this kangaroo court show trial. Most crucially in the lower chamber, we have some stellar folks like Jim Jordan, Devin Nunes, Mark Meadows and Matt Gaetz, among others, who understand the nature of who they are dealing with and prepared to act accordingly. When the hearings were announced, Devin Nunes wasted no time in getting in front of the media to state that the first witness the GOP was going to call was none other than Schiff-for-Brains himself. Perfect!
Considering what is at stake and what depths the Democrats have sunk and have yet to sink to, things are most definitely going to get ugly early. It is tragic in the extreme what the Left is putting this nation through all to preserve its grip on power and punish the American people for rejecting them. So be it. But whether its Chip Roy getting into it with Schiff-for-Brains or Matt Gaetz storming the latter's secret star chamber or Donald Trump Junior expressing comparatively tame expletives to describe what is being done to his father and all of us by extension, this is what fighting back looks like. It's not pretty, but it sure as hell is necessary. If the hearings devolve into a South Korean parliament or Russian Duma type donnybrook, let it be on the Democrats' collective head - figuratively and literally.

Anyway, links from around the world, across the nation and up your street. Have a better one and remain blessed.
NOTE: The opinions expressed in some links may or may not reflect my own. I include them because of their relevance to the discussion of a particular issue.
ALSO: The Morning Report is cross-posted at CutJibNewsletter.com if you want to continue the conversation all day.
Follow us on Twitter: @CutJibNews


posted by at
07:17 AM
|
Access Comments