« Military Drills With Allies Are A Very Good Thing That Prevent Bad Things From Happening During Wars
|
Main
|
Gun Thread: A Lurker Gets His Gun! [Weasel] »
November 03, 2019
Food Thread: The Old Ways Are The Best Ways: Meat + Fat + Fire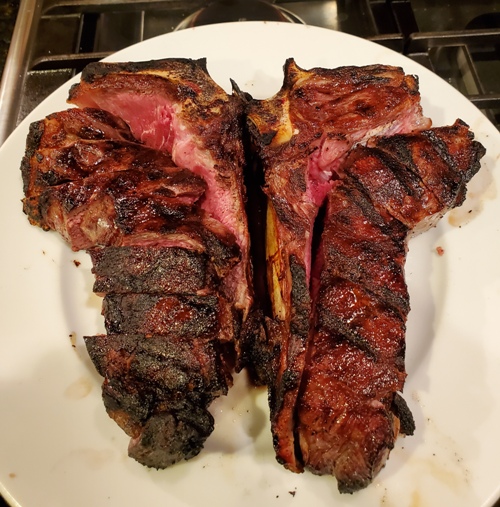 My thoughts have turned to steak recently, mostly because damn! I like steak, but also the recent evisceration by the NYT food critic of perhaps the most famous steakhouse in America...Peter Luger. No, I won't link to it, because it is a typical hit piece by the NYT, which revels in taking down icons of gastronomy in NYC. The review itself had some nuggets of truth, but nothing that hasn't been evident for years and years. The reviewer is perhaps most exercised that this New York icon has lots of tourists, so he can't share it in peace with his hipster douchebag buddies.
Good or bad, Peter Luger, like most (maybe all high-end) steakhouses, cooks their steaks under roaring hot broilers. Not over coals or a gas grill like I do. And that's the distinction with a difference. My grill gets plenty hot. It might not reach commercial broiler temperatures, but it has the advantage of burning and vaporizing the fat and juice dripping down into the flames, and I think that adds to the flavor.
I will happily eat a good steakhouse porterhouse, so if you are paying, I am in! But I, and many of you can cook a great steak at home for a fraction of the price of a high-end meal. Peter Luger gets $230 for a porterhouse for four people. I can make a great steak dinner for four people, complete with good wine and leftovers for that.
I think that cooking the steak over coals or a grill is a better technique, but it is also a bit more work. And to coin a phrase, "time is money." So that may be the real reason why these restaurants use broilers...
I know that some of you, in particular a certain Croc-wearing, gingham-apron-rocking music aficionado likes to broil his steaks. Anyone else willing to step up and defend the honor of the broiler?
******
From commenter "krusty" comes a link to an amusing winery in Lodi (a relatively unheralded but good-quality area).
Michael David's new Politically Correct red continues to shake things up in Lodi's wine industry
I like irreverent labels...the worst thing in the wine industry is that far too many of them take themselves far too seriously. Lighten up! It's a beverage that goes with burgers and hot dogs as well as Chateaubriand and Dover sole.
And "krusty" has met these folks and vouches for them!

******
From regular commenter and cook extrordinaire artisanal'ette...
I'm making this crazy Italian Spaghetti Sauce recipe (that you wouldn't approve of!) from an old CIA The American Family Cookbook that I have. I wanted to try something different with for a ragu type sauce with some mixed ground meats and italian sausage I had on hand. Something with more perfume and depth of complex flavors. Here's the list of ingredients. I could not find this online, it's old.

1/2 c olive oil
1 1/2 cups chopped onion
4 cloves of garlic, finely chopped
1 lb ground beef
1/2 lb ground veal
1/2 lb sweet italian sausage (I had mild), cut into small pieces
1 28 oz can of italian tomatoes
2 6 oz cans of tomato paste
1 can of condensed tomato soup (I did not have this on hand and substituted some of my Mott's Veggie Cocktail)
1 cup water
1 1/2 cups dry red wine (I had Pinot Noir on hand)
1 1/2 tsp Worcestershire sauce
1 tsp salt
1 tsp sugar
1/2 tsp celery salt
1/2 tsp crushed red pepper
dash chili powder
dash ground cinnamon
dash fennel seed
dash oregano
3 bay leaves
4 whole allspice, crushed (I subbed about 1/3 tsp of ground)
1 green pepper, chopped (I only had a half of green, so I used that plus a small red bell I had - I did have a yellow and an orange one too, but I wanted to save those)
1/2 lb sliced mushrooms
1/2 cup chopped pimiento-stuffed olives
1 jar (4 oz) pimientos, drained and chopped (I had a 5-oz, so used it all)

This is just one insane list. I emptied out my cupboards! It does smell very good. But it is the old fashioned version that you do not like that cooks for 4 hours. You put the mushrooms, olives and pimientos in at the last 30 minutes point.

You saute the olives and garlic in all of that oil, then add the meats to brown well, then dump the rest in sans the mushrooms, olives, pimientos and simmer for 3 1/2 hours then put rest of ingredients in for 30 minutes more.

This is just nuts! How many ingredients? how many hours? I like fresh tasting tomato sauces that are much simpler.
I will however entertain the notion that this may be...okay.
So...when's dinner?

******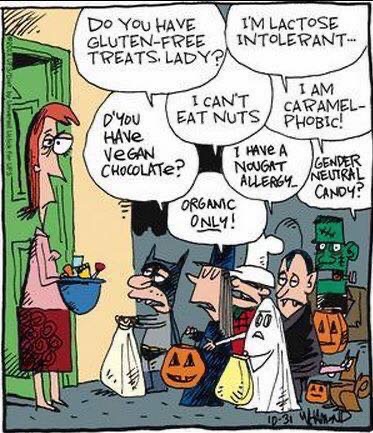 ******
Lurker "KM" swears by this chart for
Sous Vide,
so it's going into the reference file. But even better than the chart is what he wrote.
Some things are a bit underdone for my taste (pork) but it's a great starting point.
That's really important. "My taste." That is the only thing that matters, and if KM likes his pork more well done than I, good for him! He's cooking for his table, not yours or mine!
Sous Vide Time and Temperature Guide
My suggestion to anyone who is starting their Sous Vide, journey is to keep good notes on everything you cook. Yeah...it's a pain sometimes, but the pay-off is big...perfectly cooked food.

******
I am genuinely puzzled by this. I think it sounds awful, yet unless dear old Emma pulled this one out of her ass without testing it, at least one or two people in the test kitchen or at Chez Emma tried it and said, "Gee, that's good!"
Porter's deep-roasted coffee flavors complement the rich, creamy cheese sauce, while its mild, smoky notes play off the bacon (even more so if you use a smoked porter)
I'm sorry, but that sounds right on the border of repellent and disgusting.
******
Food and cooking tips, Castelvetrano olives with a sprinkle of chili flakes, young wild pigs, crisp bacon (although I am moving toward less crisp), thick and fluffy pita, and good tomatoes that aren't square, pale pink and covered with Mestizo E.coli:
cbd dot aoshq at gmail dot com
. Any advocacy of French Toast with syrup will result in disciplinary action up to and including being
nuked from orbit.
And yes, shaking a Manhattan is blasphemy...it's in the Bible!
&topic=world_news">

posted by CBD at
04:00 PM
|
Access Comments