« Food Thread: The Old Ways Are The Best Ways: Meat + Fat + Fire
|
Main
|
Sunday Overnight Open Thread (11/3/19) »
November 03, 2019
Gun Thread: A Lurker Gets His Gun! [Weasel]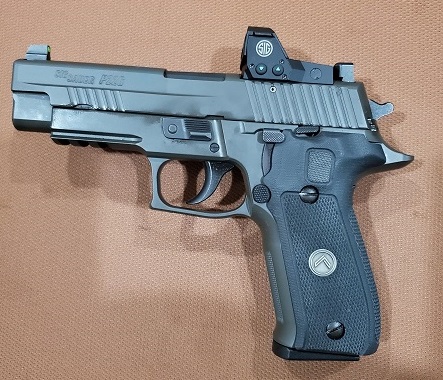 Sig Sauer P226 RX Legion in 9mm
In New York City, no less!! So we've all heard about how impossible it is to own a gun in the city, right? I mean, I've read it my own self right here on this very internet! Well apparently, it can be done. The attendant laws are all bullshit, of course, but if you live in New York city it is possible to own a handgun legally. Let's find out more about the ridiculous process below, shall we?

So conventional wisdom and internet gospel notwithstanding, our pal Scuba_Dude jumped through all the right hoops and was issued a New York City Premises license. What the holy Hell is a "Premises" license you ask?
From the NYC Police Website:

PREMISES LICENSE: This is a restricted type of license. It is issued for your residence or business. The Licensee may possess a handgun ONLY on the premises of the address indicated on the front of the license. Licensees may also transport their handguns and ammunition in separate locked containers, directly to and from an authorized range or hunting location. For hunting, an endorsement from NYPD License Division is required, in addition to a New York State hunting license. Handguns must be unloaded while being transported.
Are the NYC rules retarded, onerous and an infringement of 2nd Amendment rights? No question about it. Does our pal Scuba_Dude have a nice, legal, shiny new Sig P226? You bet he does! So climb up on your ol' pal Weasel's knee and let's find out how Scuba_Dude did the impossible!
***
The story begins some 25 years ago, with Scuba_Dude picking up shooting as an adult and going to a range with friends for weapons familiarization while contemplating becoming a NYC Policeman. Although a career as a cop never materialized, he didn't forget the fun he'd had shooting years earlier.
I'll let Scuba_Dude take it from here:
Fast forward to 2017. My nephew gets the gun bug, acquires many nice revolvers, semi-autos, rifles, AR15s and shotguns, and one day asks me if I would like to go to the range he had joined. I said yes and I never looked back.

My first day at the range we started with handguns. Prior to arriving my nephew showed me each gun we would be using, how it operated and more importantly the Safety Rules for handling the firearms. He is a good teacher, one of the range officers complimented him after seeing how I was shooting that first day and learning it was my nephew who taught me.

So the first thing he did was take his Ruger 1911 in .45 and put a single round in the magazine, handed the gun to me to rack the slide and load the round into the chamber. He pointed to a target metal target 25 yards away and told me to aim at the top disk and fire. I hit the target! He and the range officer complimented me and my nephew put another round in the magazine, gave me the gun and said do it again. I hit the target again, but it went downhill after that. I do not know how many rounds we fired that day but I shot his semi-automatics and revolvers then we went to the 100 yard range and shot his .308 Savage and also his AR15 in .223. We ended the day going to the shotgun range shooting skeet. To say I was hooked was an understatement.

For the next couple months we go to the range another dozen times until I decided it would be cheaper for me to join the range instead of paying the $25 guest charge every time I went. And in 2018 I decided I did not want to have to borrow my nephew's guns, and decided to apply for my NYC rifle/shotgun permit.
OK, so far, so good! Scuba_Dude has been re-introduced to weapons and the shooting sports by a family member who is safety conscious, has a bunch of guns, belongs to a range, and likes to shoot! What's not to like? There's really only one thing for him to do at this point, short of moving out of NYC, and that's for him to buy a gun of his own!
So I applied for what I thought was my NYC rifle/shotgun permit. I went online to the website and proceeded to fill out the information they required on the application, as well as other forms, such as:

Affidavit of Co-Habitant: meaning if I lived with someone they would have to attest that they knew I was applying and may actually get a gun license. They made me do it over as "I LIVE ALONE" was not good enough. So I had to fill it out: I "Self" hereby blah blah blah, and I also had to get it notarized.

Acknowledgement of Person agreeing to safeguard firearms: in case I am incapacitated or dead this person is responsible for contacting the NYPD License division who would give him/her directions to safeguard and surrender my firearms. They also had to be a NY State resident.

Other general documentation was required for both the applicant and the person named to safeguard the weapons; including that establishing identity, residence and citizenship, among other things.
Well damn - this is starting to sound a lot like work. No wonder it's considered impossible, but our intrepid Scuba_Dude stayed the course!
Then came the day I got an email saying I needed to go down to 1 Police Plaza to pay my non refundable application fee and get finger printed. Once there, I found out all this time the information and documents I was providing were for a NYC Handgun Premise permit, not the rifle/shotgun permit. It turns out there was a drop down menu that I missed that listed the different permits and it had defaulted to handgun! I thought I was toast at that point as I had very low expectations of getting a handgun permit in NYC but I went ahead and paid the $340 non-refundable fee and the $80 fingerprint fee and showed them all the original documents. Then I went home and promptly filled out my rifle/shotgun application.
Well what do you know, our pal Scuba_Dude wasn't even trying to get a handgun license! He was applying for a rifle/shotgun license, instead. I'm not sure I'd have coughed up with a whopping $420 smackeroos in non-refundable fees without some assurance I was going to be approved! Also, the fees are total bullshit. Absolute and complete bullshit. The whole process so far is bullshit but the fees are extra bullshit.
But wait! There's more!!
So a month or two go by and I am assigned an Investigator who tells me I need to provide the following documents for this phase of the application; a lifetime drivers license extract and two notarized character reference letters. I eventually asked one of my colleagues and an acquaintance who retired from the police force and I think his letter sealed the deal. I uploaded the documents with days to spare before the window for the application closed as it was coming upon a year since I began the application process. This was my fault, as I was very lazy in getting the documents they wanted, and I could have this done a good 5-6 months earlier.

Once that was done an in person interview was set up with the police officer who was investigating my application at 1 Police Plaza. I showed up for the interview and I was surprised that we mainly talked about Paris, France and dogs. I filled out a questionnaire for them and that was it. She said I would find out by the end of the week if I would get my handgun premise permit.
Will Scuba_Dude get the permit, or will his application be denied? Tune in to next week's Gun Thread for the exciting conclusion!
I keed! I keed!!
Needless to say I got it!!! I was very surprised and I really thought they would deny my application. I went down to 1 Police Plaza to pick up my handgun license and was also given my Purchase Authorization Request Form that enabled me to purchase a gun within 30 days. I ordered the handgun from a store out on Long Island, picked it up on the 15th, and brought it back to 1 Police Plaza the next day for "inspection" where upon they put the details of my firearm on my license.

So that is it, a few short words on what I had to do to get a license from New York City!
First, I have to hand it to Scuba_Dude. Nicely done! I'm not sure I'd have even tried in the first place, much less stayed with the process to completion. Also, you need to stop lurking, come out of the shadows and comment, brother! I am sure we all want to hear about how your shooting is progressing with the new Sig! Congratulations, and thank you for sharing your story!!
Did you all know these permits were available in NYC? Does anyone else have one? I'm pretty sure I can guess everyone's opinion of the licensing process, but does anyone live in a jurisdiction with anything close to this much regulation?
A special Gun Thread Thank You to Scuba_Dude for sharing his story! I'm looking forward to hearing about the Sig on the range!
*******
Link-O-Rama
Outdoor Life: Best Shotguns Under $500 - updated
Forgotten Weapons Book Review: Winchester Model 1895
Shooting Times: Winchester Wildcat Review
Technology.org Article: Unusual Looking Revolvers - h/t Skip
NRA Shooting Sports USA: 2019 Extreme Long Range Championship
NRA Review: Federal 224 Valkyrie Ammunition
NRA Mag and Applied Ballistics: Aerodynamic Drag Modeling: The G1 and G7 Coefficients
***Mail Bag***
Once again our Pal Neon Madman brings the history lesson!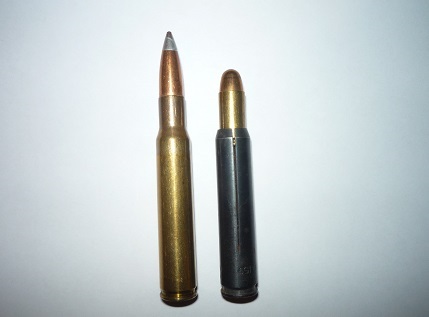 Marble's Adapter (r)
This is something a little different. The main item in the picture is a Marble's #159 cartridge adapter, sometimes called an auxiliary cartridge. It allows a .32 ACP pistol cartridge to be fired in a rifle chambered for .30-06. This works because the .32 ACP bullet actually measures .308 (or very close), which is the same as the .30-06 bullet diameter. What, you are thinking that something as technical as ammunition would have a very rigid and well-defined naming system? Hahahahahahahaha.........

Anyway, there was a whole line of these adapters, a dozen or so different versions to match specific handgun cartridges to specific rifle chamberings. Marble Arms of Gladstone, Michigan was the main manufacturer, but there have been others over the years. This example, with mounted .32 ACP cartridge, is shown next to a .30-06 cartridge. Cartridge, Caliber .30, API, M14 for comparison.
I sort of vaguely think I might possibly have heard of these before. Or something like it. Or maybe I'm just dreaming things up. Whatever the case, thank you Neon Madman!!
******
Please note the new and improved gmail account morongunthread at gmail dot com. An informal Gun Thread archive can be found HERE. If you have a question you would like to ask Gun Thread Staff offline, just send us a note and we'll do our best to answer. If you care to share the story of your favorite firearm, send a picture with your nic and tell us what you sadly lost in the tragic canoe accident. If you would like to remain completely anonymous, just say so. Lurkers are always welcome!
That's it for this week - have you been to the range?



posted by Open Blogger at
07:00 PM
|
Access Comments