« Gun Thread: A Lurker Gets His Gun! [Weasel]
|
Main
|
The Morning Report - 11/4/19 »
November 03, 2019
Sunday Overnight Open Thread (11/3/19)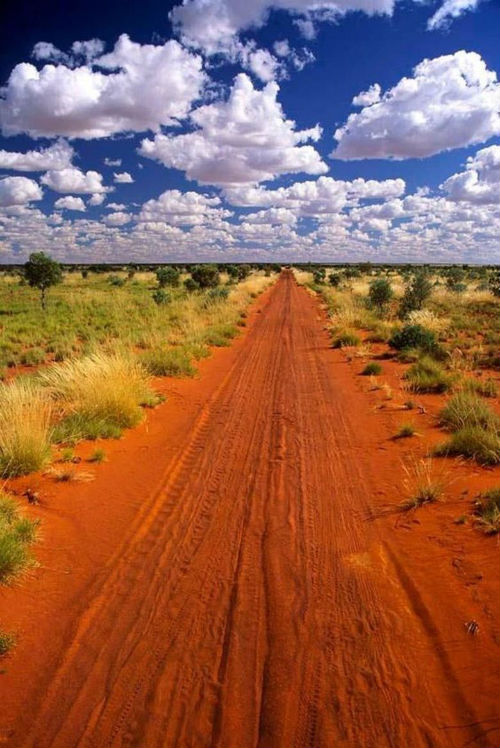 ***
THE QUOTES OF THE DAY

Quote I

"Under no circumstances in this country should the government be able to blow up your house and render a family homeless. This family was thrown out into the street without any recourse." Leo Lech

Quote II

"I think it's pretty sad for the electric company that they didn't have someone that could go ahead and look into this a little bit further before they lost $800,000. That's a lot of money,"Lakeland resident Ron Hipple.

Quote III

"History will judge us for what we do today to help guarantee that future generations can enjoy the same liveable planet that we have so clearly taken for granted." Leonardo DiCaprio
***
Limerick Of The Week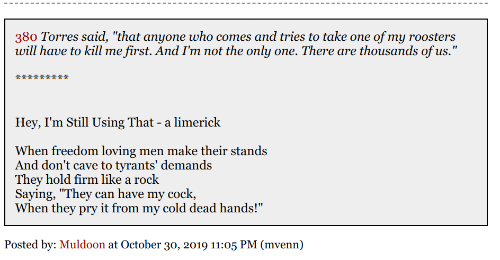 ***
***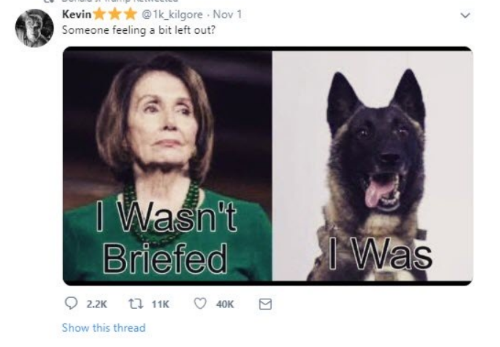 ***
Amazon is spending significantly delivering packages. 'Amazon is spending more on delivering items to customers than ever before, and that doesn't look like it'll be changing any time soon.'

The company stated in its earnings report earlier this month that it spent a massive $9.6 billion on global shipping costs in the third quarter of 2019. That's roughly $0.5 billion more than the e-commerce giant spent on shipping costs during 2018's holiday quarter, a period of heavy spending when it's shipping more packages than any other time of the year. But this wasn't because consumers suddenly demanded more sunscreen or back-to-school supplies: Amazon said earlier this year it would work to speed up two-day shipping to one-day shipping for its Prime members, and expand the number of items eligible for one-day shipping. The company estimates it will spend an additional $1.5 billion on shipping as it finishes up 2019, upping its global shipping costs for the holiday quarter to roughly $11 billion.
***

Mayor Pete has issues connecting with older African-Americans.
***
Of course he's breaking the rules. Rep. Alcee Hastings (D-FL) continues to be a dirty POS.

One of the cocky Democrats responsible for writing the party's widely-criticized, "unfair" impeachment rules that were voted on this week is reportedly a habitual rule breaker who's been caught employing his own girlfriend in his congressional office.

That Democrat is House Rules Committee vice-chair Alcee Hastings of Florida, who this week joined his fellow equally cocky Democrats in stonewalling efforts by Republicans to install just a modicum of fairness in their otherwise unfair and unjust impeachment rules.
If it weren't for double standards the Dems would have no standards.
***

I better be careful if I visit the State of Connecticut. You can be arrested for ridiculing someone.

Sec. 53-37. Ridicule on account of creed, religion, color, denomination, nationality or race. Any person who, by his advertisement, ridicules or holds up to contempt any person or class of persons, on account of the creed, religion, color, denomination, nationality or race of such person or class of persons, shall be guilty of a class D misdemeanor.

F*cking retards. I believe this blog is seen in Connecticut, charge me.
***
Be Careful For What You Wish For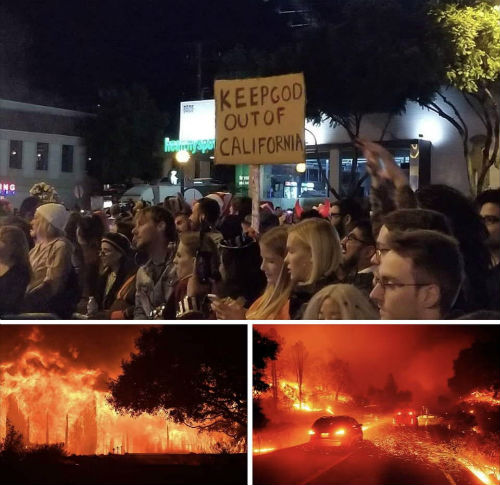 H/T American Digest
***
Snow birds. They just aren't leaving because of the weather. The State of New York is maiming the geese that laid the golden eggs.

453,000 New Yorkers left the state last year.
And these fools think it's funny.
You get the idiot leftist leaders you vote for.
***

All the talk has been autonomous cars. Flying under the radar, self landing plane.

But just as briefed, the airplane "decrabbed" from the 10-knot left crosswind and soon plunked us down just left of center on Runway 18 at New Century AirCenter in Olathe, Kansas, and then quickly tracked us back to the centerline. A few seconds later we rolled to a stop. I looked left at Eric Sargent, Garmin flight test pilot, who smiled broadly from the left seat of the Piper M600. "What do you think?" he asked.

"Stunned," I said. "That's pretty amazing."

And such was my introduction to Garmin's new autoland system, a first in general aviation.

The system is the newest addition to a family of automated flight technologies that Garmin has dubbed Autonomí. After the introduction over the past few years of the two other parts of Autonomí; Emergency Descent Mode (EDM) and Electronic Stability and Protection (ESP), autoland is the next logical step.

Combined with autoland, the three form what is basically a digital parachute for the pilot and passengers. If a pilot becomes incapacitated or disoriented, the systems take over either automatically or when activated by the pilot or a passenger, and first stabilize the airplane and if necessary land it.
***

Paul Joseph Watson covers the left's tired old play book.

***

It is always up to someone else to sacrifice for the "Environment". The Not In My Backyard Syndrome is alive and well in Germany.

Despite their surging popularity in Germany and elsewhere in Europe, the Greens did badly in last Sunday's election in the German state of Thuringia, and the nationalists from the Alternative for Germany Party (AfD) did very well. An important reason is that the Greens support wind energy and the AfD militates against wind turbines. The giant windmills have grown so unpopular in neighboring communities that their construction in Germany has all but ground to a halt.

There are nearly 30,000 wind turbines in Germany, more than anywhere else in Europe. Only China and the U.S., both much bigger countries, have more. Germany gets 23.5% of its energy from wind this year; it's the biggest source of renewable energy for the country. But in the first half of 2019, only 35 wind turbines were added — an 82% drop compared with the first six months of 2018. Last year was bad, too: Just 743 turbines were added, compared with 1,792 in 2017.

This is happening because it's getting harder to get permission to erect the turbine towers. Local regulations are getting stricter. Bavaria decided back in 2014 that the distance between a wind turbine and the nearest housing must be 10 times the height of the mast, which, given the density of dwellings, makes it hard to find a spot anywhere. Wind energy development is practically stalled in the state now. Brandenburg, the state surrounding Berlin, passed a law this year demanding that wind-farm operators pay 10,000 euros ($11,100) per turbine each year to communities within 3 kilometers of the windmills.

Perhaps Greta should visit them and do some 'splaining.
***
The following falls into the No shit Sherlock category.

Indianapolis — Most people across the country will see their clocks roll back an hour this weekend as nearly eight months of daylight saving time come to an end. It is part of a twice-a-year ritual that most want to stop.


Seven in 10 Americans prefer not to switch back and forth to mark daylight saving time, a new poll shows. But there's no agreement on which time clocks ought to follow.

According to the new poll by The Associated Press-NORC Center for Public Affairs Research, 4 in 10 Americans would like to see their clocks stay on standard time year-round, while about 3 in 10 prefer to stay on daylight saving time. About another 3 in 10 prefer what is the status quo in most of the United States, switching back and forth between daylight saving time in the summer and standard time in the winter.
***

It has been confirmed, women like the crazy. H/T redc1c4

ST. CATHARINES, Ontario - Men who display psychopathic traits were found to be more desirable to women, according to a recent study by a pair of researchers in Canada.

The study, published last month in Evolutionary Psychological Science, found that men with these traits tend to create favorable impressions on women — even after controlling for physical attractiveness.
***

Pretty light sentence. Let's see how he assimilates with real tough guys. Antifa scum Gage Halupowski sentenced to 6 years in prison.

A 24-year-old man who hit another man over the head with a baton in June during dueling downtown Portland demonstrations was sentenced Friday to nearly six years in prison.

Gage Halupowski pleaded guilty to second-degree assault in connection with the June 29 attack on Adam Kelly outside The Nines Hotel along Southwest Morrison Street. Halupowski was identified as one of several masked, black-clothed demonstrators seen on video hitting and pepper-spraying Kelly after he appeared to come to the aid of another man who'd been attacked during the protests, authorities said.

Kelly, a right-wing protestor at the demonstrations, wrote on Facebook at the time that the blows to his head led to him suffering a concussion and needing 25 staples to close the wounds.

Multnomah County Deputy District Attorney Melissa Marrero said Halupowski hitting Kelly in the back of the head with an expandable baton was "completely unexplainable, completely avoidable and didn't need to happen."
***
THE ONT MUSICAL INTERLUDE
H/T Long time listener Hrothgar
&&&
***
As the Bible states, "The love of money is the root of all evil." Genius Award Winner who is lucky to be alive.

Jamie Balagia, a veteran Austin lawyer who made a name for himself defending people charged with drunken driving, was convicted Tuesday of federal corruption charges in connection with his scheme to shake down international drug traffickers.

Balagia, 62, was found guilty of conspiracy to commit money laundering, obstruction of justice, conspiracy to commit wire fraud, and attempting to violate the Kingpin Act for accepting money from men whom the feds designated as significant drug traffickers without official government permission.

The jury deliberated for about a day and a half following the two-week trial in the Eastern District of Texas in Sherman before U.S. District Judge Amos Mazzant. Jurors agreed with prosecutors that Balagia and his cohorts scammed Colombian drug traffickers out of about $1.5 million by claiming to use their connections to pay off U.S. officials to get their cases dropped.

Balagia faces up to 30 years in prison. He was taken into custody after the verdict was read. A sentencing date was not immediately available.
***

A possible break through in the fight against Huntington's Disease. Tonight's Feel Good Story of The Day.

Huntington's disease is caused by a dominant mutation, meaning that anyone who inherits it will develop the disease. Symptoms typically start when people are in their 30s, and those include dementia and the loss of motor control. Despite having identified the gene decades ago, we've struggled to find a way to use that knowledge to make patients' lives better. The protein that is produced by the damaged gene is so similar to the normal version that targeting it has proven nearly impossible.

But now, scientists in China have devised a way to specifically get rid of the damaged protein. They've identified molecules that can link the damaged form of the protein to a system that cells use to target proteins for digestion and recycling. Tests in mice and flies seem to indicate that this is enough to reverse many of the problems caused by the Huntington's mutation.
***
Weekly commenter stats for week of 11-3-2019

Top 10 commenters:
1 [473 comments] 'Insomniac' [66.33 posts/day]
2 [423 comments] 'Christopher R Taylor'
3 [419 comments] 'Commissar Hrothgar'
4 [417 comments] 'Anon a mouse'
5 [393 comments] 'TheJamesMadison, Facehugger'
6 [372 comments] 'Mike Hammer, etc., etc.'
7 [364 comments] 'Skip'
8 [359 comments] 'Tom Servo'
9 [351 comments] 'garrett'
10 [343 comments] 'Jane D'oh'
Top 10 sockpuppeteers:
1 [65 names] 'Count de Monet' [9.11 unique names/day]
2 [64 names] 'Miklos, ESOL teacher of the English'
3 [45 names] 'mindful webworker - Okie by birth and choice'
4 [29 names] 'Huck Follywood'
5 [29 names] 'wth'
6 [27 names] 'boulder t'hobo'
7 [27 names] 'Meade Lux Lewis'
8 [27 names] 'Cicero Kaboom! Kid.'
9 [26 names] 'Mike Hammer, etc., etc.'
10 [25 names] 'Duncanthrax'
***

Tonight's ONT has been brought to you by Unemployment.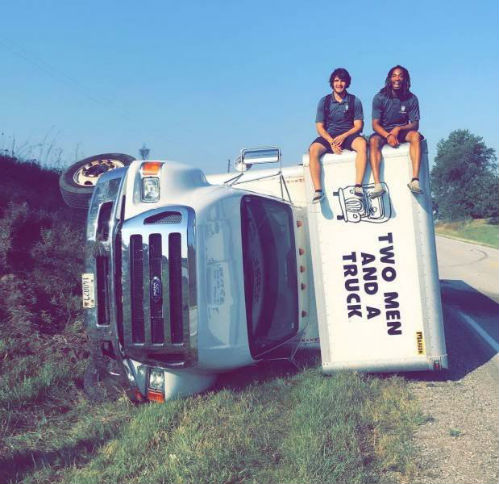 Notice: Posted with permission by the Ace Media Empire and AceCorp, LLC., as the ONT is a wholly owned subsidiary of these fine organizations. Proud sponsor of the best dental plan in the blogosphere.


posted by Misanthropic Humanitarian at
09:55 PM
|
Access Comments