« Saturday Afternoon Chess Thread 10-26-2019
|
Main
|
Saturday Overnight Open Thread (10/26/19) »
October 26, 2019
The Occasional Fishing and Hunting Thread [Bandersnatch]
Welcome Piscators and Piscatrixes – and now Nimrods and Nimrettes -- to the current installment of the occasional fishing and hunting and other wholesome outdoorsness thread.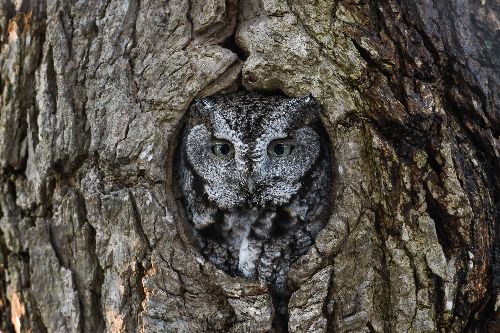 And link to full size...

I'm again pirating content from friend and wildlife photographer Doug Burgess because it's free content. Even though this is a fishing and hunting thread you may not shoot the owl, they're protected.
Photography is the the only kind of hunting where catch and release is practical.
It has become Autumn. That's nice because I like sweaters and flannel and I'm pretty much over the concept of 90 degrees, but it's started up chatter among my Cape Cod friends. "The fat lady is warming up". Ack! No, wait, I haven't fished enough.
In some parts of the ocean (the good part) some fish (the good fish) like striped bass are migratory. They'll chow down for the migration which makes Fall fun if you find them chowing, but then they're off to North Carolina for the winter. In spring they'll run up to the Cheaspeake and the Hudson to spawn, and then they'll come back to play with the grownups. But the season is actually finite and the fish go away.
What do your fish do in the Winter? Do they get iced in and do you put those portable man caves over holes in the ice? I've never ice fished. Most of the fresh water fish I know mostly hunker down in deep spots and sulk. They can't go anywhere like ocean fish.
As we broaden this thread into a hunting thread the change of seasons is good news, because it's becoming hunting season for something almost everywhere. I can tell that it's not hunting season yet because a six-point buck calmly grazed in the corner of my parking lot this week and stared at me blankly. You know those critters will change behavior when venison becomes legal.
Are you gearing up for hunting season? I'd welcome a lot more hunting content since I haven't generated much of my own. What do you go for? Is it a family tradition or did you learn on your own? May I tag along? We'll start the Brag Pics with hunting.
Grimaldi is proud of his daughter! And with this the Moronlette brag pics have the first hunting contribution: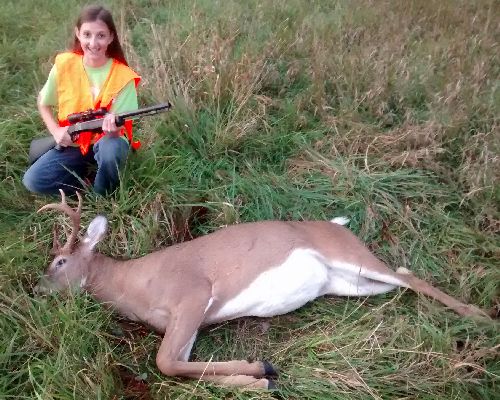 It's youth and handicapped deer hunting season this week, and Google photos happened to remind me of a photo I took back in 2015. Daughter's first deer at age 11 with my little CVA Wolf muzzleloader.

Sadly, she's a natural actor, so while she wasn't QUITE as excited as the photo may lead you to believe, she has gone out hunting with me in subsequent years and bagged another 3-4 deer, so she must have had SOME fun. That, and the promise of a chocolate milkshake.
Chocolate milkshakes are good. Now I want a chocolate milkshake.
From Average Guy we get this beauty: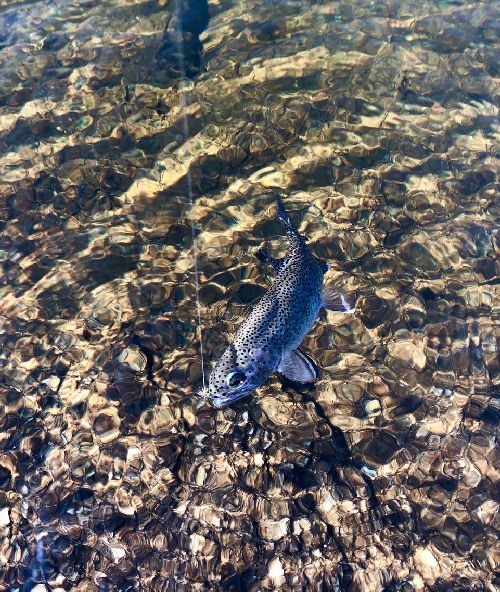 This is a little (~8") rainbow I caught in a small lake while backpacking in the Emigrant Wilderness in late August.

Thanks for hosting the fishin' thread. I don't get to post much to it, but I enjoy reading it.
A lurker what lurks shares a memory and a desire to keep lurking: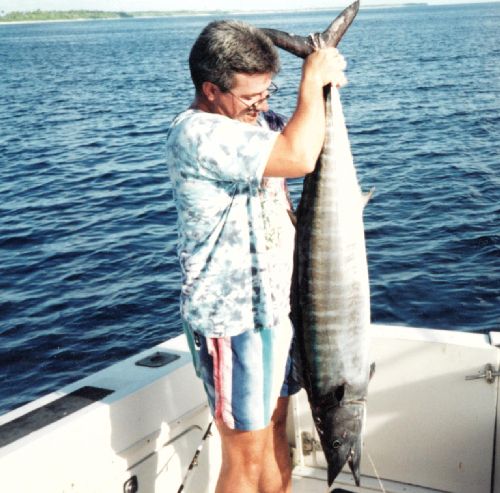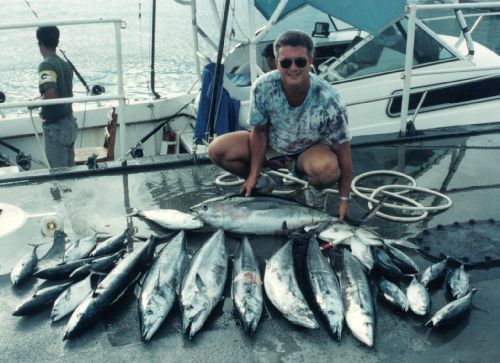 I was stationed in Diego Garcia in the mid 90's. Thats the island in the background. Not much to do there but fish and drink. 62lbs and 62 inches long. Won a free fishing trip for catching the longest fish of the month.

The second picture is from a different trip and shows the variety of fish you could catch in Diego. In the picture are skipjack tuna, yellowfin tuna, barracuda and wahoo. I'm a lurker and wish to remain as anonymous as having my face on the internet will allow.
Greg, who writes from a Smart Military Address, has this: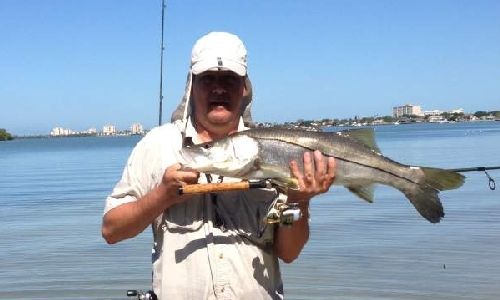 Bit of a lurker, but couldn't resist a call for fish pics. Caught this on the North side of the Sunshine Skyway, St Pete Fl. Too bad it was out of season, so I had to release. Snook are very good eating, and fight like crazy when caught.
I wasn't sure about this one because it's sent in from a news story, but the story includes a link to Texas Fisherman Reels in Semi-Automatic Rifle on Lake, which should serve as today's reminder to practice good canoe discipline.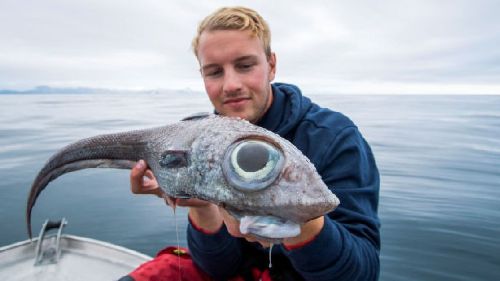 Rusty adds

The best part is that he eats the fish!
That reminds me to include a brag fish of my own.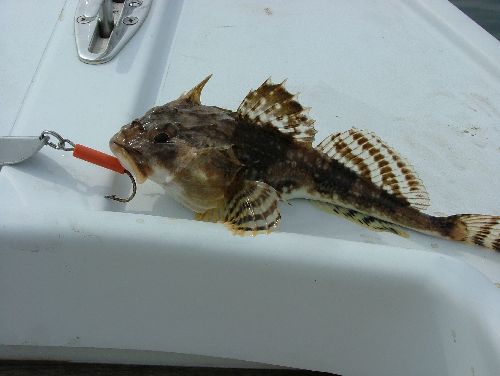 That is a sea robin. No it isn't, it's a sea raven. Shut up, that's a horned sculpin. We still need a Linnaean Binomials thread.
And, uh, who dis?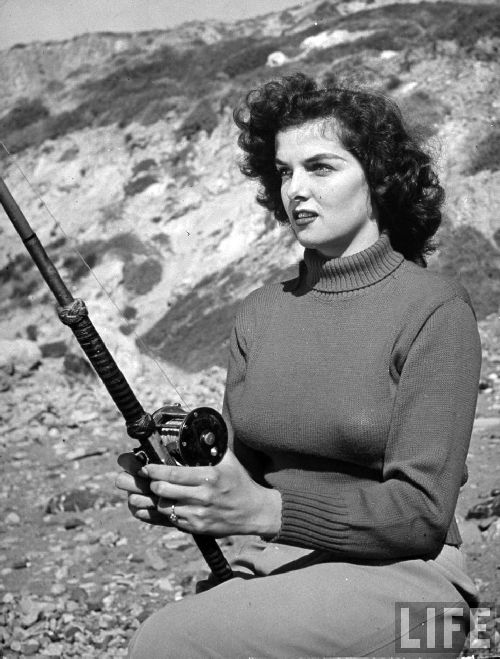 And with that we move on to the raison d'etre of this here HQ, the comments section. Brickbats, praise, and fish brag pics are welcome at aoshqfish at sign gmail thing.

posted by CBD at
07:30 PM
|
Access Comments