« Saturday Afternoon Chess Thread 10-19-2019
|
Main
|
Saturday Overnight Open Thread (10/19/19) »
October 19, 2019
Satuday Evening Movie Thread 10-19-2019 [Hosted by: TheJamesMadison]
Hello all, TJM, here. So, Mary Poppin's Practically Perfect Piercing (MP4) reached out to me with an idea for a post. It was about one of his favorite silent films, Haxan, a movie I hadn't yet seen. So, I encouraged him to write it himself, which he has done! I really liked what he wrote, so I'm giving him the floor tonight.
MP4 knows more about the silent era than I do. I know much of the highlights of the era, but MP4 has spent time digging into the nooks and crannies of the time and place and has accumulated such a wonderful compendium of knowledge on the time and place. He's even gone so far as to write some fiction set in the era, mostly around the silent vamp Theda Bara, star of the lost silent epic Cleopatra and her makeup man Toby.
Also, you should buy his books.
Häxan (Witchcraft Through the Ages)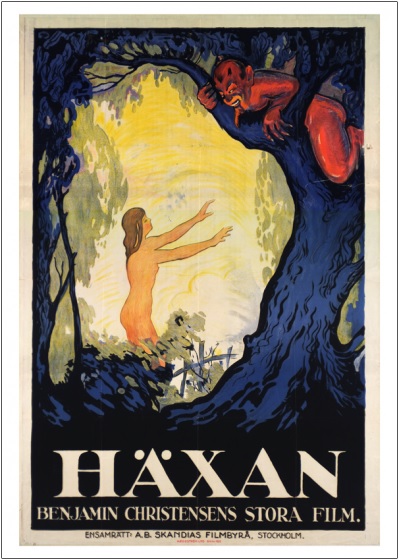 Good evening, 'rons and 'ronettes. Thanks to TheJamesMadison, Moviegique, OregonMuse and Ace for letting me pester you all with some words about silent movies; or, rather, one in particular: Häxan, called by writer Jack Stevenson "the world's strangest film" (though that, like Plan 9 from Outer Space being the "worst movie ever made" is debatable; I think Tales from the Quadead Zone is a hell of a lot stranger).
Horror has been a movie staple almost from the beginning; the Edison studio put out a truncated Frankenstein in 1910, whose biggest special effect consisted of the monster rising out of a bubbling cauldron. And, depending on how you want to define "documentary," you could make the argument that Fred Ott's Sneeze – Edison's 1894 short of a studio employee doing just that – constitutes a documentary, since it's showing the viewer a real event. But the combination of the two, though now common in "found footage" crap-fests such as The Blair Witch Project and the Paranormal Activity franchise, had been for many years a rarity, and in fact, I can only think of
Häxan prior to the 1970's.
Häxan (in English, The Witch) was the brainchild of Danish director Benjamin Christensen. His two earlier films, Blind Justice and The Mysterious X, had attracted American notice and the Vitagraph studio in New York offered to make him a supervising producer, but by that time Christensen had the notion to make a trilogy about the history of superstition. Häxan was part one of this never-completed project.
Christensen's viewpoint was that there was no such thing as "real" witchcraft, but only an hysteria such as that affecting modern-day psychiatric patients. Not a particularly objectionable statement in itself, but he went further than that – just as the witches of the Middle Ages were tortured and forced to confess their worship of Satan, he argued, "compassionate" treatment of the mentally ill, with its cold showers, electroshock treatments and confinement to "cure" patients were no better than the thumbscrew and rack of the Inquisition.
Häxan begins with a present-day lecture. Christensen takes us through ancient views of the universe, making the point that witchcraft, sorcery and belief in demons has been with mankind from the beginning. But, he asks, who and what are witches? What do they do?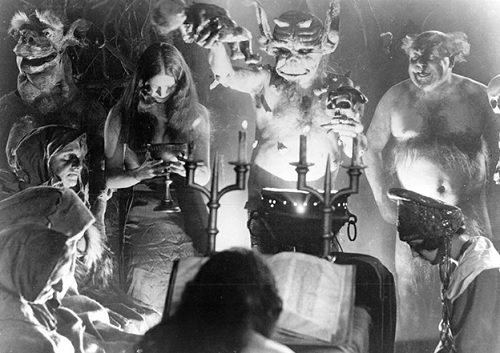 The movie then travels back in time to the year 1488. An ominous title card reads "I will now illustrate a trial for witchcraft from beginning to end taking place at the time when the Pope sent traveling Inquisition priests out to Germany." We are introduced to the family of a scribe who is dying from some unknown disease. Frantic for a scapegoat, the sick man's sister-in-law (Karen Winther) runs to the Inquisition to accuse a poor elderly weaver, Maria (Maren Pedersen) of being a witch. Maria is kidnapped and tortured by the holy judges, though Christensen never shows her actually on the rack or in the thumbscrew. He does, however, show the instruments of torture to us and, in an effort to help us understand how an innocent person could admit to congress with the Evil One, notes "One of my actresses insisted on trying out the thumbscrew. . .I will not reveal the terrible confessions I forced from the young lady in less than a minute."
Maria the weaver is doomed. We know that. But in her agony, she has confessed to the judges (in a scene that intercuts with views of witches gathering for the Sabbat and engaging in child sacrifice and demonic sex) that the scribe's wife and sister, too, are witches, and an eager Inquisition snatches them up for torture and burning.

But Christensen isn't done yet. The vindictive sister-in-law is herself swept up as a sorceress and jailed. Häxan is not a horror film as such; no deaths are shown and there is only a brief shot of a child being thrown into a boiling pot, but the scene where the sister-in-law is promised freedom if she will only confess her witchery still packs a gut punch 97 years later.

"1488" is really the centerpiece of Häxan. Christensen then moves on briefly to the story of Sister Cecilia (a spooky Clara Pontoppidan), brooding on the persistent presence of the Devil (a role taken by the beefy director himself), who "forces" her to impale the sacred Host on a knife, to spit on a picture of the Christ Child and whose hysteria eventually overcomes the entire convent, throwing them into fits of shrieking and dancing. Watching these scenes, it's almost inevitable that we would consider the nuns sexually frustrated, but I don't believe that was Christensen's view; I think (and repeat viewings convince me) that he attributed their "hysteria" to a morbid preoccupation with sin. Not sex, but religion is responsible for suffering.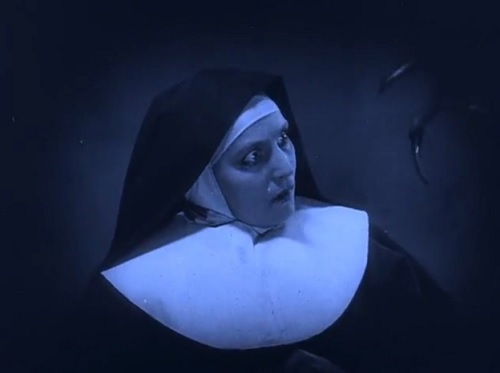 Finally, Häxan moves to the present day, in a sequence that in both 1922 and today is considered the weakest part of the movie. We see a woman (Tora Teje) who portrays, in various scenes, a sleepwalker, an arsonist and a kleptomaniac. All three of the women are said to suffer from "nervous exhaustion" and because of that, see things in their sleep or are forced "against their will" to perform acts that they would never do when they were awake. This, says Christensen, is the true source of the witch craze: a combination of shattered nerves, suspicion, morbid obsession and an instinctive dislike of the crippled, the aged or the just plain different. In the Middle Ages, the Church persecuted the witch; in our time, the "witch" is persecuted by the law.
Häxan was, on the whole, poorly received by the critics, who damned it for its portrayal of nudity and "perverted cruelty." Christensen himself admitted that "after The Witch, I was out in the cold for two years." He did eventually find a position at Germany's UFA, but left for America when MGM offered him a director's chair. His tenure there was difficult, and after four films with Warner Brothers, he soured on Hollywood and moved back to Denmark. His last film, 1942's The Lady with Light Gloves, was "an unmitigated disaster" and he never made another movie. The remainder of his life was spent in seclusion, owning and running a small cinema house until his death in 1959.
Häxan, though, lived on. It was revived in 1941, but then dropped out of sight until 1967, when the Danish Film Museum screened it during a retrospective of Christensen's work. The next year, English filmmaker Antony Balch cut its 104 minute running time to 76 minutes, re-titling it Witchcraft Through the Ages, adding not only a grating "jazz" score but enlisting counterculture icon William S. Burroughs to provide what has been described as an "arch" and "dully spoken" narration, though Burroughs does little more than read Christensen's original title cards. This is the version most familiar to the modern age, and I recall seeing it myself as a young child on some strange public access channel.
In 2001, Criterion released Häxan on DVD as a double bill with Witchcraft. It's now also available in a remastered 2K Blu-ray restoration, with Witchcraft, outtakes, commentary and Christiansen's own introduction to the 1941 re-release.
If you've never seen a silent, Häxan is probably not the place to start (that's a topic for another day). But if you're looking for something a little different for your Hallowe'en viewing, it's a good choice.

A Thank You
TJM here again. I just want to thank MP4 for doing this. His insight into the history and meaning of a silent classic like this is wonderful to read. Also, the rest of you should really buy his books.

Movies of Today
Opening in Theaters:
Maleficient: Mistress of Evil
Zombieland: Double Tap
Next in my Netflix Queue:
The Walk
Movies I Saw This Fortnight:
Joker (Netflix Rating 3/5 | Quality Rating 2.5/4) Full Review "I wanted to like this film more, but it's first half is just too messy with too much obfuscating the actual story at hand. The second half goes a good way making up for it, but not quite enough." [Theater]
El Camino: A Breaking Bad Movie (Netflix Rating 4/5 | Quality Rating 3/4) Full Review "Watched as the final three episodes of Breaking Bad probably makes it flow a bit better, viewing it as the last three episodes of a television series, rather than as a stand alone movie." [Netflix Instant]
Exorcist II: The Heretic (Netflix Rating 1/5 | Quality Rating 0.5/4) Full Review "Everyone else has known that this movie was insane nonsense for more than 40 years, and you just found out. Time to tell the world!" ["Library"]
Crisis (Netflix Rating 2/5 | Quality Rating 1/4) Full Review "Ingmar Bergman's first movie has a handful of charms, but it's ultimately an unfocused bit of over-assured storytelling that never comes together." [Personal Collection]
Fear and Desire (Netflix Rating 2/5 | Quality Rating 1/4) Full Review "This is the work of an immature, unfocused, and pretentious bore. This Stan Kubrick guy has no future in the movies. He should just go back to New York and become a dentist or something." [Amazon Prime]
Paths of Glory (Netflix Rating 5/5 | Quality Rating 4/4) Full Review "It's a temporary reprieve for them before they are sent back to the meat grinder where they will once again become subject to the whims of the French military command. It's perhaps their final moment of humanity." [Personal Collection]
Dr. Strangelove or: How I Learned to Stop Worrying and Love the Bomb (Netflix Rating 5/5 | Quality Rating 4/4) Full Review "This movie is a classic for good reason." [Personal Collection]
Eyes Wide Shut (Netflix Rating 5/5 | Quality Rating 4/4) Full Review "It's a descent into dream logic and another world while also touching on themes that are extraordinarily grounded. I think it's an underrated work from one of the greatest of filmmakers." [Personal Collection]

Contact
Email any suggestions or questions to thejamesmadison.aos at symbol gmail dot com.
Follow me on Twitter.
I've also archived all the old posts here, by request.
I'll add new posts a week after they originally post at the HQ.


posted by OregonMuse at
08:11 PM
|
Access Comments