« Womp Womp: Document Shows That Ukraine Had Already Re-opened Probe Into Hunter Biden's Firm Months Before the Trump Phone Call
Plus: Ukrainian Prosecutor On Tape Saying He "Helped" Hillary Clinton's Campaign
|
Main
|
Allegation: Harvey Weinstein Blackmailed NBC Into Killing the Story On Him By Threatening to Reveal the Story of... Matt Lauer
And He Brought In Hillary Clinton, Too »
October 09, 2019
Defense Employee Arrested for Leaking National Security Secrets to Reporter;
Twitter Profile Strongly Suggests a Liberal NeverTrumper and Member of #TheResistance
Thanks to commenters and some anonymous tipsters for this post.
The Department of Justice on Wednesday announced the arrest of a Defense Intelligence Agency official for allegedly leaking classified information to journalists, including one with whom he was apparently in a relationship. Law enforcement officials arrested 30-year-old Henry Kyle Frese of Virginia and charged him with two counts of willful transmission of national defense information. If convicted, he faces a maximum of 20 years in prison.

According to charging documents filed with a federal court in Virginia, the information that Frese allegedly leaked involved a foreign country's weapons system. The Justice Department would not identify the journalists, the outlets they worked for or the country that the leaked documents concerned.

The filings detail the FBI's surveillance of Frese and how they captured phone calls and direct messages on Twitter between him and the two journalists, who apparently both covered national security.
One of the reporters he leaked to is Amanda Macias.
She did not attempt to hide her relationship to Frese. She mentioned him constantly on Twitter. They've been tweeting at each other since at least 2014.
And returned the favor-- retweeting many of her stories. Including the one he likely leaked to her about.
Which is this story -- leaking to her details he knew from US intelligence about China's deployment of a missile system in the Spratly Islands.
This fits the details about leaking information about another nation's weapons systems.
Here he is retweeting his galpal's scoop: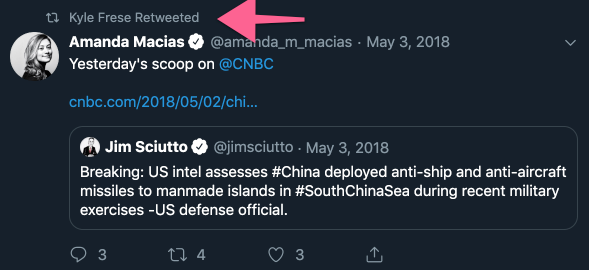 He retweets her a lot. I won't bother you with the more mundane retweets.
I know you're all wondering, so: No, she's not particularly cute. You see her occasionally in this video about her.
Here's the power bottom couple in Germany: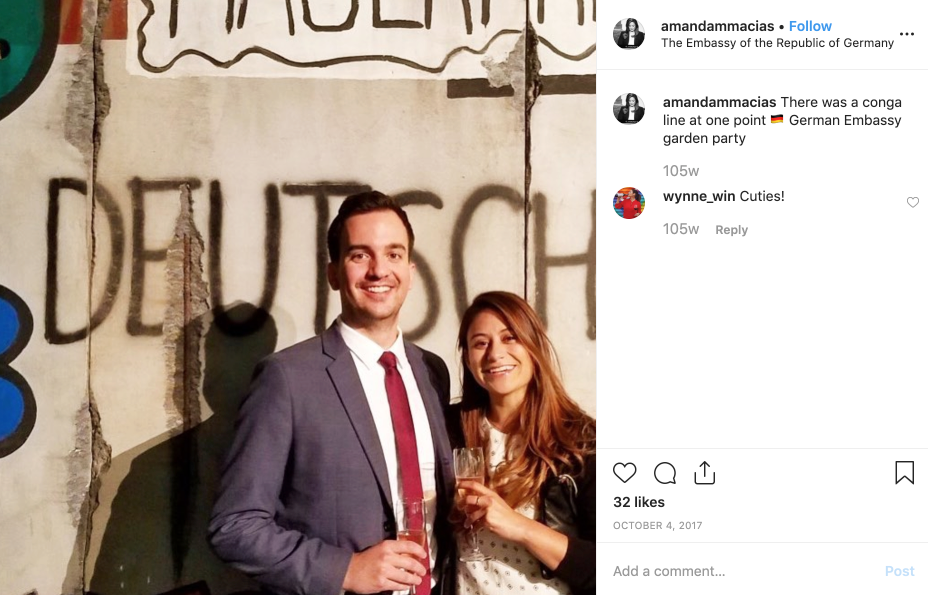 Assuming that @HKFrese is his timeline -- and it does seem that this is his timeline (thanks to a commenter for this); the faces look similar -- Reese is a member of the NeverTrunp resistance.
Because of course he is. They're the real patriots.

He's very protective of the anti-Trump Fake Whistleblower, for example. He retweeted these tweets attacking the NYT for revealing any details about the Fake Whistleblower:

And tweeted these messages in support of the Fake Whistleblower himself:

Here he is, angry at Mattis for not attacking Trump in his book:
Here he is taking an interest in CBS' Comey biopic. He loves the choice of Jeff Daniels. who played super-liberal "Will McAvoy" in that ridiculous super-liberal Aaron Sorkin HBO show:
Submitted for your approval: No one watched that show except for hardcore liberals.
Attacking The Federalist is a favorite pastime of Very Online NeverTrumpers and liberals:
"But her emails," a popular meme among NPCs for denigrating the Clinton email scandal. Plus, he again shows what a big fan be is of RussiaHoax 2.0, pushing the "Trump put phone calls to foreign leaders in a special codeword-clearance system just because #TheResistance kept leaking them" non-scandal:
Another favorite pastime of NPC liberals and NeverTrumpers is to call Seb Gorka a white supremacist or Nazi. And here's our NPC boy, right on cue: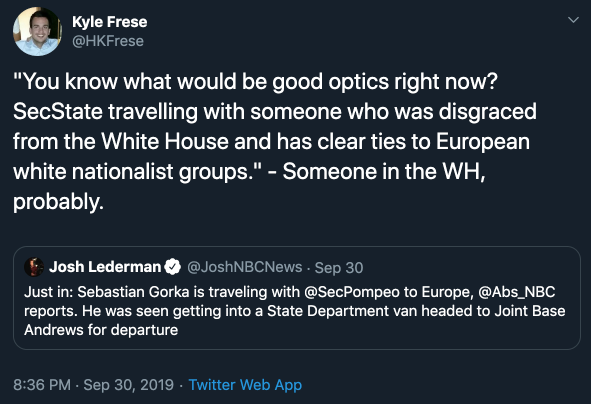 You can see the first few pages of his timeline here.

posted by Ace of Spades at
03:01 PM
|
Access Comments