« Sunday Morning Book Thread 09-29-2019
|
Main
|
Politics Isn't Binary...Maybe Some Rational Disagreement Is A Good Thing! »
September 29, 2019
The Right To Keep And Bear Arms Is More Than That....It Is A Responsibility To Our Society And Culture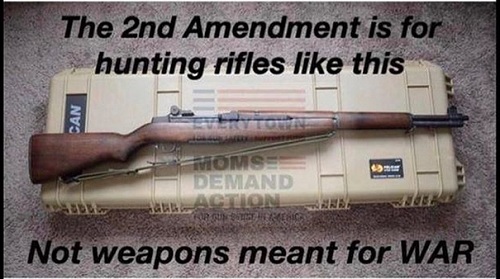 [I don't know if this is real, but it IS funny]

The embarrassing stupidity and mendaciousness of American gun grabbers reaches its peak when they jabber about how we don't need weapons of war to go deer hunting. Well, that's true! But what does that have to do with our natural and God-given right to self defense? If America outlawed hunting, I would be irritated by the overreach and idiocy, but it would be difficult to argue against the ban on constitutional or perhaps natural rights grounds.
The Right--and Duty--to Be At All Times Armed.

During the Viking Age, there was a man called Þorgnýr the Lawspeaker. The Lawspeaker's office made him spokesmen for Swedes who owned their own farms—while not 'citizens' in our sense, they were a class of ordinary free people whose interests sometimes differed from those of their kings and lords. One such king, for reasons of pride, tried to draw Þorgnýr's people into an unwanted war. This resulted in an outcry, and the king held a public meeting to persuade the people to go along. Þorgnýr spoke at this meeting, and reminded the King that seven previous kings had been drowned in a nearby well when they proved resistant to the advice of the people, and should reconsider his war.

And so he did.
Because it is pretty damned obvious that our 2nd Amendment rights have very little to do with putting venison in the carrot chili and a lot to do with protecting our status as free men. It is time to see those rights not just as available to those who believe in their exercise, but as an obligation of a free people.
Yes, that is a pipe-dream, but if the time comes, I wonder how many Americans will regret their passivity in the face of tyranny?

posted by CBD at
12:15 PM
|
Access Comments