« The Morning Rant
|
Main
|
Walls Are Closing In: Trump At 53% Approval, Highest in Five Months »
September 25, 2019
Ukraine Transcript Is an Empty Dud, But The Same Leftists and NeverTrumpers (But I Repeat Myself) Who Relentlessly Flogged Russia Hoax 1 Are Saying "Don't Trust Your Eyes, There's So Much More Here That You Can't See"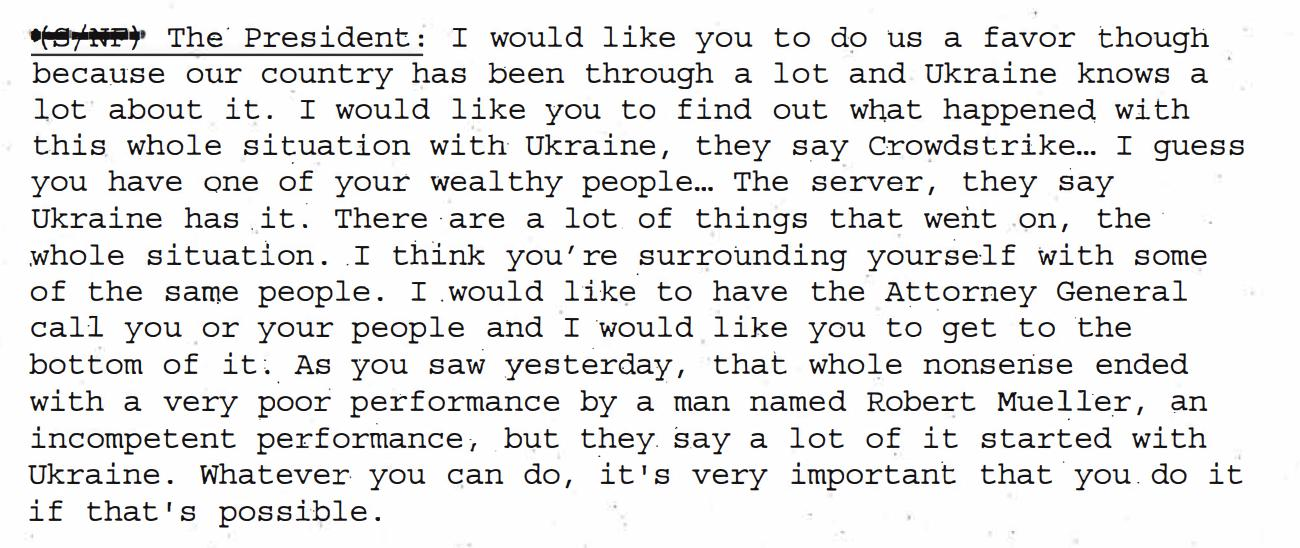 From the Epoch Times:
President Donald Trump did not exert pressure or offer any repayment when he asked Ukrainian leader Volodymyr Zelensky to probe the dealings of former vice president Joe Biden and his son, Hunter Biden, according to a transcript (pdf) of a call between the two leaders released by the White House on Sept. 25.

During the call, Zelensky was the first to bring up Rudy Giuliani, the Trump attorney who had looked into the Ukrainian business dealings of Hunter Biden. In response, Trump noted that Giuliani is a "respected man" and told Zelensky that he would like to have Giuliani call him. Trump then refers to videotaped comments in which Joe Biden describes how he forced the termination of a top Ukrainian prosecutor by withholding loans. The prosecutor was allegedly investigating Burisma, the gas company where Hunter Biden served on the board of directors.

"The other thing, there's a lot of talk about Biden's son, that Biden stopped the prosecution and a lot of people want to find out about that so whatever you can do with the Attorney General would be great," Trump said.

"Biden went around bragging that he stopped the prosecution so if you can look into it... It sounds horrible to me."
That's it. That's what all the hysteria is about: A president talked to a foreign leader about a problem/shared interest. Like all presidents do.
But Trump isn't a president in the eyes of the left and the NeverTrump rump (but I repeat myself), so things other presidents are allowed to do without question are impeachable offenses if he does them.
It's "sickening" to ask about the origins of the Russia Hoax endlessly pushed by NeverTrump fey urban liberals, says a NeverTrump fey urban liberal:
One analyst says this of the NeverTrump rump:
Russia hoax made them look stupid.

Ukraine hoax exposes them as complicit.
Meanwhile, the "whistleblower complaint" the left and NeverTrump rump (but I repeat myself) have been saying is where the real action is will be a dud as well:

posted by Ace of Spades at
12:25 PM
|
Access Comments