« The Morning Rant
|
Main
|
Trump Doubles Down on Israel, Trashes Media in Press Conference »
August 21, 2019
Democrat Front Group The Bulwark Claims That Pence Said "You Didn't Build That" (Spoiler: He Didn't)
This group is obviously being funded mostly by Democrat money. They're now just another Democrat front group. They're not even pretending to be otherwise.
But shouldn't they, you know, pretend a little better?

I'm sure they have no ethical qualms about lying. They're just too lazy to bother.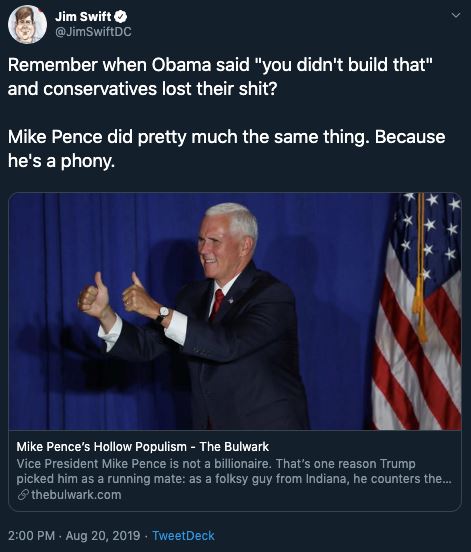 Here's what Pence said, which, according to Jim "My Next Meal Depends on Pleasing My Leftwing Masters" Swift, is just like saying "You didn't build that:"
We're going to keep fighting for American jobs and American opportunities and American manufacturing, not just for this great industrial heartland, but for all the hardworking men and women of this country.

And I want to promise all of you that it's those men and women that are never far from our minds. I mean, I'm talking about the people who make things and grow things; who spend their days building more than a Facebook page; who read the local paper, not the New York Times; who wear uniforms at home and abroad. (Applause.) I'm talking about people that put faith, and family, and freedom first. They love this country and they know what a blessing it is to be a citizen of the United States of America.
If you're wondering how this is anything like "You didn't build that," join the club. Jim Swift doesn't explain. I guess his Democrat paymasters aren't paying him enough to explain, just to assert.
Even this sad cuck gets it:
This is David Brock level stuff and yes I'm wondering if David Brock has brought this group of fellow traveler turncoats into his funding network.

posted by Ace of Spades at
11:59 AM
|
Access Comments