« Saturday Gardening Thread: Special Visitors [KT]
|
Main
|
Saturday Afternoon Chess Thread 08-24-2019 »
August 24, 2019
Ace of Spades Pet Thread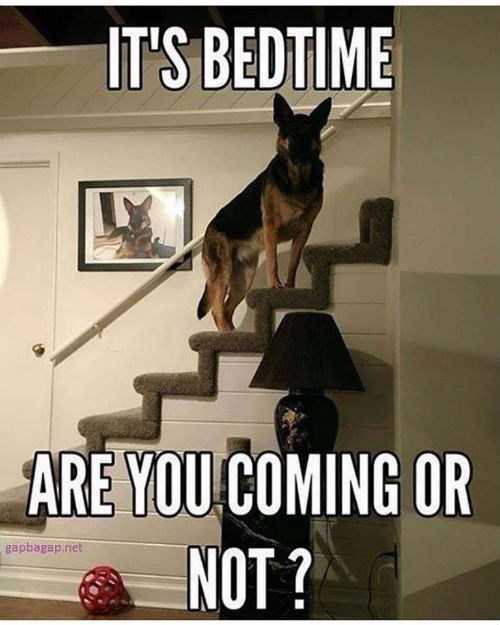 (H/T Cookie Girl)
***
Good afternoon Horde. Welcome to the almost world famous Ace of Spades Pet Thread. Let's take some time off from politics and current events and enjoy the world of pets.
***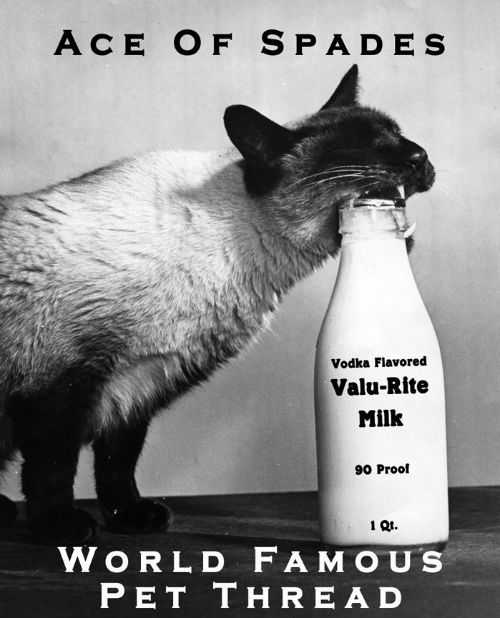 (H/T Hank Curmudgeon)
***
A Little of This. A Little of That.
10 things your dog would tell you if he could...

1. My life is likely to last 10 to 15 years. Any separation from you will be painful: remember that before you get me.

2. Give me time to understand what you want of me.

3. Place your trust in me - it is crucial to my well being.

4. Do not be angry at me for long, and do not lock me up as punishment.

5. You have your work, your entertainment,and your friends. I only have you.

6. Talk to me sometimes. Even if I don't understands your words, I understand your voice when it is speaking to me.

7. Be aware that how ever you treat me, I will never forget.

8. Remember before you hit me that I have teeth that could easily hurt you, but I choose not to bite you because I love you.

9. Before you scold me for being uncooperative, obstinate, or lazy, ask yourself if something might be bothering me. Perhaps I might not be getting the right food, or I have been out too long, or my heart is getting too old and weak.

10. Take care of me when I get old; you too will grow old. Go with me on difficult journeys. Never say: "I cannot bear to watch" or "Let it happen in my absence." Everything is easier for me if you are there, even my death.
***
A sweet story from a lurker.
.. really more of a story about someone's future pets, I hope!
I was out visiting my big sister as she started her first round of chemotherapy. Since the first several hours of the first round was paperwork and lab tests, I decided to get some work done that morning and head to the chemo facility for her drip in the afternoon. But not even an hour into the paperwork I got an urgent text from her directing me to deliver to a friend of hers in the neighborhood several pieces of kitty apparatus: a crate, a blanket, a food bowl, a litter box ... and a medium-sized animal trap. Turns out that I was about to be introduced to this local band of below-the-radar cat rescuers and foster-ers that Sis and her buds had been running for years and that was now a well-oiled machine.
Apparently, a feral cat had had kittens in an abandoned minivan right across the street from one of the rescuers, and the plan was to trap the mama, extricate the kittens, and then re-unite them in a safe place where the kittens could eventually grow up in a good home and mama could eventually be spayed. So I delivered the hardware, and then was introduced - behind a minivan window - to the mama and the litter of kittens, who were a few days old at the time, now about two weeks old.
The kittens are thriving under the care of an experienced cat foster-er, but so far mama cat has not wanted anything to do with the kittens. The foster mom is trying to re-introduce mama to kitties gradually and safely.
The kittens are absolutely adorable. (The mama is a tabby, so the kittens have all kinds of colors in their fur.) Sadly, my other half informs me - emphatically - that no, we can't take on an additional six kittens. So any Pet Morons in western PA/eastern OH/panhandle WV who can adopt - I think they'll soon be available.
The whole thing got written up by one of the rescuers in her cat-rescuer blog,
here:
My real-life name is **** and I've lurked at Ace for years under the screen name crisis du jour
Dunno if any of this is helpful for the blog, but it was very cool to be introduced to this sub-culture of dedicated pet rescuers.
Best

With so much information provided, I deleted our lurker's real name. First of all, best wishes for your sister in her fight against cancer. F*ck cancer!
Thanks for sharing a neat story here on the Pet Thread.
***
Meet The PetMorons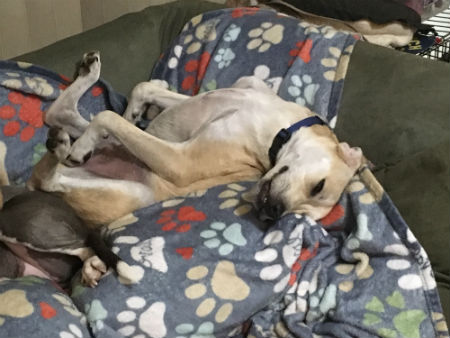 This is Bryce one year after we adopted him from a family who was fostering his whole family. That family was us. We're suckers. Not sure if he feels quite at home here yet. You decide. -Rihar
Bryce appears to be a terribly mistreated dog. The Pet Thread is going to send out the local authorities. J/K, he looks at home and appears to be spoiled. Good job!!
***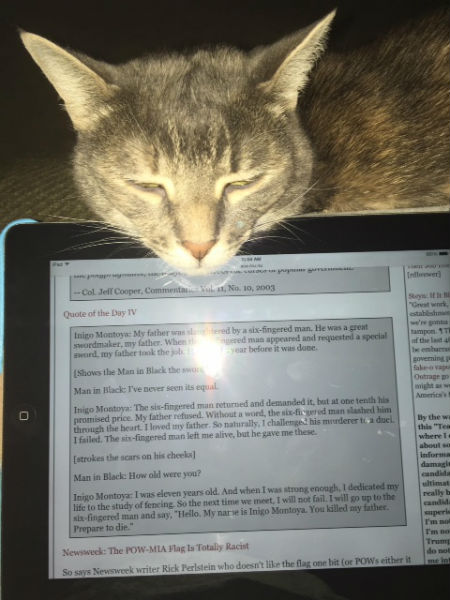 Long time lurker! This is a photo of Babs reading Ace of Spades with me a few years ago. She was abandoned by her mother at 5 weeks old on the roof of a 2 story building I used to work at. Our Rottweilers accepted and raised her, and now she's the queen bee. Lol! They have passed, and since then she's raised 2 Dobermans. She struts around the house with no worries of big dogs because she's large and in charge (all 12 lbs of her). Haha!

If you want to use this for the pet morons post, then I'm Dixie.
Hi Dixie. Any kitteh who reads The ONT has to be featured here at the AoS. Thanks for sharing Babs' story with us.
***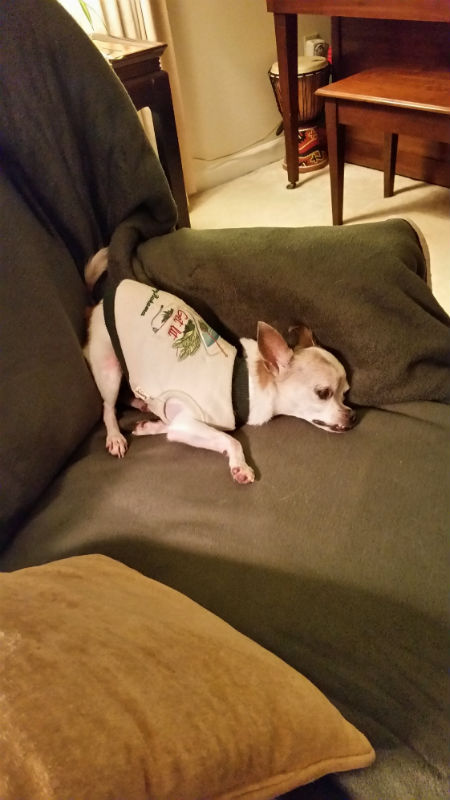 &&&
Hello, I've been a lurker for several years now and love AoS HQ and the variety of topics it covers. So when I'm sitting on my back porch relaxing on the weekends one of my first go-to reads is the AoS Pet Thread. I hope these two pics are good enough to make it in your "Meet the Pet Morons" section. The first is of Chicabella Wormtail. She was my first dog ever as I've always had cats. She came to me at 6 years old as a rescue and it was love at first sight. Unfortunately, Chica started going blind at 8 from an autoimmune disease, and then developed heart problems later on. I lost her at 16 years old last August, and it about killed me. After a couple of months I couldn't stand it any more, and began searching for another rescue. After "interviewing" several dogs (I had no idea they were so picky), I came upon these two at a shelter in the North Georgia mountains, and it was love again at first sight. I really hit the jackpot with Flynn (the larger male) and Sadie Mae (smaller female) - they run and play and greet me every night with overflowing happiness and joy. Thanks, Bird from Lilburn

Thanks for coming out of the lurker shadows and sharing with us today. First dogs can be awfully special. Not that the next 2 or 15 aren't. But there is something about the 1st one. It looks like you have a nice pair of pals at the moment.
***
Our 2 puppies, Charlie (red collar) and Bailey (blue collar) are getting big fast. Food-centric training works great, even with our big girl, Geddy. We've researched raising litter mates and see lots of work ahead. Separate sleeping quarters, separate training, feeding and lots of one-on-one time. Allowing then to play but not fight. I'd not do it again but spouse loves small things so why not take TWO! WHEW! -S.Lynn, Idaho
You folks are definitely braver than your humble Cob. Been there, done that and I would never do it again. However, it sounds as if you are raising them correctly. Gorgeous dogs.
***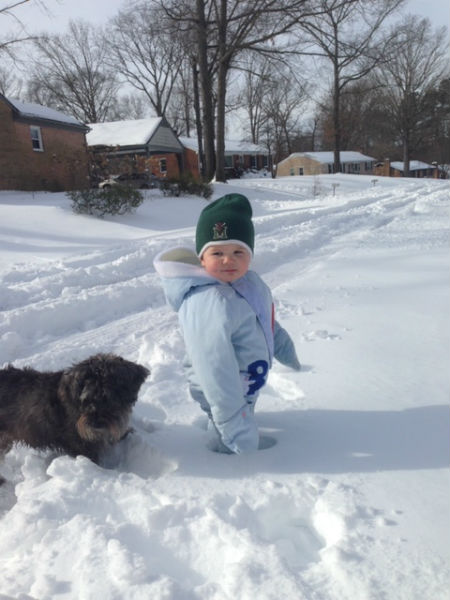 This is our schnauzer Sully. He was always with us from 2005 until 2017. Every time we painted a room he ended up with paint on him because he had to see what was going on and he slept under the crib of all three of our kids. We were never afraid to leave our kids in the yard alone because no one could show up unannounced. We are thinking of getting a new dog but we are having trouble thinking of replacing him. Thanks to all the people posting pictures it's been great.-No Name Provided

Don't be afraid to get another dog. You never replace them. You're just adding a new wonderful family member. Schnauzers are great dogs with kids, just ask my 3 of my nephews.
***
&&&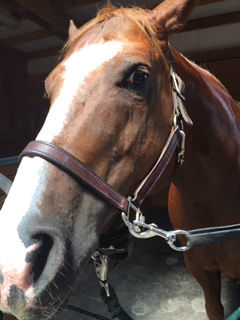 Good morning. I am a long time lurker, Aceof SpadesHQ is my first read of the day, over my morning coffee. The doggie is Seamus, a golden retriever who we got as a pup. He will be seven in November. He loves to nap on the couch or the bed or the floor, or anywhere. He is our third golden, I couldn't recommend a better breed. The horse is Skipped the Gold, better known as Linus. He is a 24 year old quarter horse. In his younger days he was quite a star in the local hunter/jumperworld. Mrs has a bag full of his ribbons. He now spends his days at a local barn and flirts with the girls that are boarded there also. He is no pasture pet, he gets ridden on a regular basis and is a very well trained horse. Love the Sunday pet thread. Dougfir25

The staff of AoSHQ thank you for your daily patronage. Once again another fan of the Golden Retriever. I've never met a person who had a negative thing to say about the breed. Quite the horse you have there, we don't see many here at the Pet Thread. Thanks for submitting both of them today.
***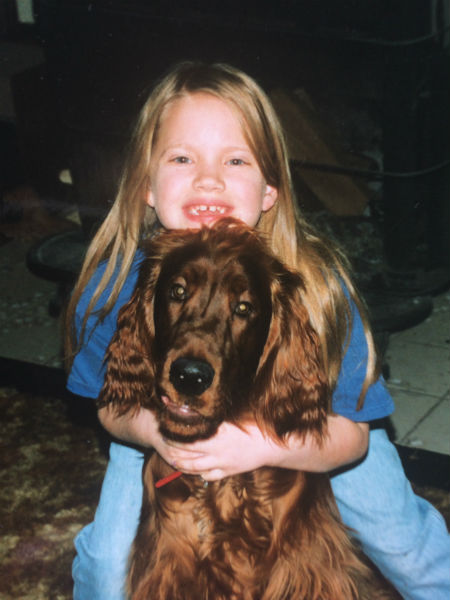 Our youngest daughter Sparky with our Irish Setter Charlie. Time has flown. Charlie is no longer with us. And this little girl is all grown up. - Mis. Hum.
***

A great group of stories today about our pet friends. Thank you all for sharing their stories and photos with us.
If you have something pet related you wish to share, please submit to petmorons at gmail dot com.
Have a great week!!!!


posted by Misanthropic Humanitarian at
03:10 PM
|
Access Comments