« And Now For Something Completely Different: What Was The Most Embarrassing Thing You Have Ever Said...Out Loud?
|
Main
|
Gun Thread: Turn in Your Homework! [Weasel] »
August 11, 2019
Food Thread: A Little Honey, A Little Smoke, A Little Vinegar, And All's Right In The World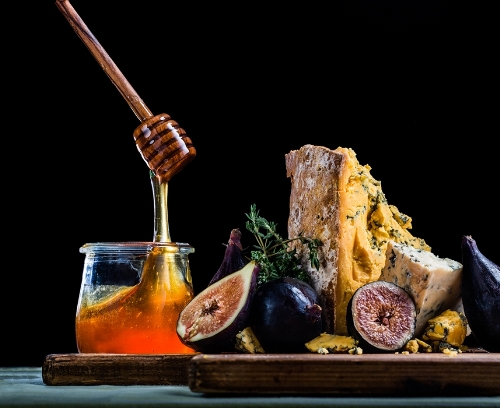 Figs and Honey
The photographer's name is Steve Hansen, and he is also a chef, which is sort of cheating if you ask me. The confluence of culinary artistry and skill behind the camera is obvious.
But what first caught my eye was the pairing of cheese and sweets. In this case honey and figs, but others have paired sweet jams and fruits to great gustatory effect. It doesn't make any sense, just like pairing fruit with pork doesn't make any sense, but it works.
In fact, I will eat stuff served with cheese that I would never in a million years eat on its own. Quince jelly? Awful stuff, but damn...it goes well with blue cheese! Figs? Yuck. Those little seeds are gross. But they go well with cheese (and prosciutto, but that's another Food Thread).
So what combinations are pleasing to the Horde's palate, but alone, are eh?
******
Haggis fights are the worst fights...
Scotland's largest haggis producer wins legal battle
I love haggis. Anyone who goes anywhere near Scotland and doesn't try it is missing out on a marvelous food experience. And maybe projectile vomiting, but that is not a certainty.
******
This looks like fun! Lots of weird cookbooks with...um...interesting recipes. And a smattering of reference books and memoirs and such.
200 free ebooks about cooking, food prep, & housekeeping
Okay, I'll be honest, most of these are more interesting from a historical perspective; the recipes themselves are amusing, but nothing great.
[Hat Tip: Curmudgeon]

******
From commenter "Pete Bog" comes some great looking stuff. He asks about doing a "Wood-Fire Cooking" thread, which sounds like fun, but in the meantime take a look at what he makes. I am absolutely stealing the pork ribs in paella idea. That is brilliant, and I am pissed that I didn't know about it 25 years ago.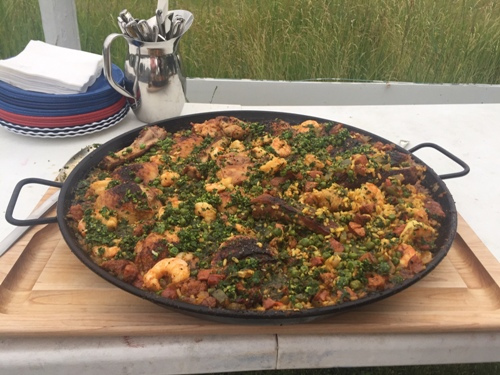 Since it is summer and lots of outdoor cooking is happening I wondered if I could suggest a wood-fire cooking thread? I am attaching a couple of pictures from meals we have cooked recently. One is of Paella cooked over a wood fire in our "Cowboy Cauldron" which is basically a large kettle to hold the fire with a grill. Lots of chicken thighs, Linquica sausage, shrimp, pork ribs, peas, parsley, soffrito and of course Spanish rice. We use wine and chicken stock for the simmering liquid for even richer flavor. Don't forget the paprika, chili powder and red pepper flake along with the saffron. It is a great visual and the flavor is fantastic.

The second is of chicken that was done in a wood burning pizza oven over a bed of red peppers and onions. it is also great if you add leeks and/or potatoes to the skillet. The oven is very hot so the whole bit cooks in about 35 minutes. Great wood smoke flavor and lovely in the cast iron skillet.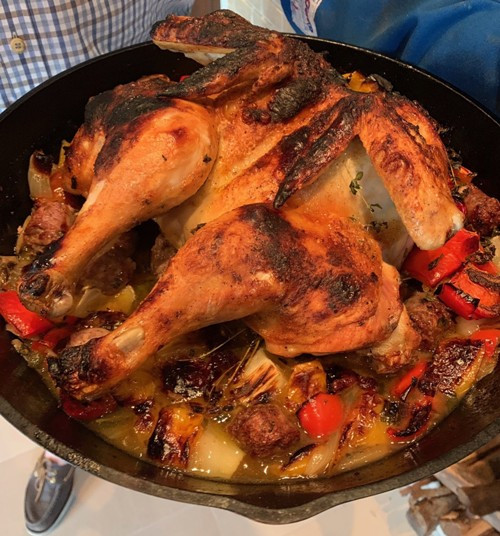 ******
Here's a useful primer on exactly what the hell is going on in those jars and bowls and Zip-Locs and other assorted food experiments.
What's the Difference Between Pickling, Brining, Marinating, and Curing?
[Hat Tip: Misanthropic Humanitarian]

******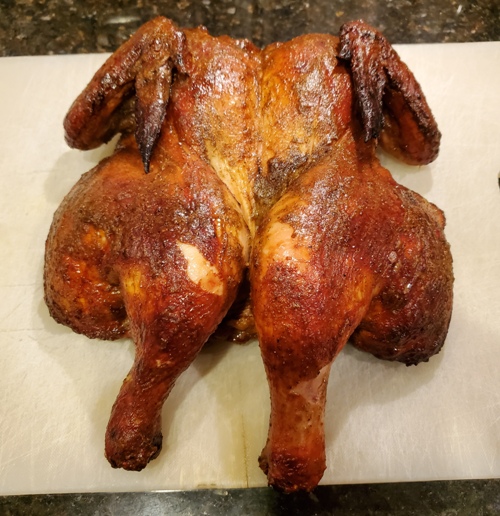 Speaking of experiments, that is a four+ pound chicken after two hours and 20 minutes on the grill. I kept the temperature floating just above 300° and the results were exactly what I wanted. The chicken was tender and juicy, without even a hint of dry or overcooked meat. The best part may have been the skin, which was nice and crisp without being dried out. Next time I am going to try to keep it at a lower temperature...maybe 300° will be the upper limit. As long as the little beasties living in the flesh are killed, I am comfortable with lower temperature cooking.
Study Shines New Light on How Salmonella "Die" at Low Temperatures
I am not advocating chicken tartare, but I am also willing to bet that long and lower temepratures will kill bacteria just as efficiently and well as the accepted high-temperature cooking.

******
What the...
Falafel baked egg cups
...how come nobody told me about this? I love this kind of crap. Easy to make, fun to eat, and utterly forgettable. I find these kinds of recipes all of the time, make them once, or maybe if they are really good, twice, then never again, as I have moved on to some other silly but fun food.
******
Food and cooking tips, triple-cream cheeses, young wild pigs, crisp bacon (although I am moving toward less crisp), thick and fluffy pita, and good tomatoes that aren't square, pale pink and covered with Mestizo E.coli:
cbd dot aoshq at gmail dot com
. Any advocacy of French Toast with syrup will result in disciplinary action up to and including being
nuked from orbit.
And yes, shaking a Manhattan is blasphemy...it's in the Bible!
&topic=world_news">

posted by CBD at
05:18 PM
|
Access Comments