« Saturday Gardening And Puttering Thread [KT]
|
Main
|
Barr Demands Answers for Epstein Death »
August 10, 2019
Ace of Spades Pet Thread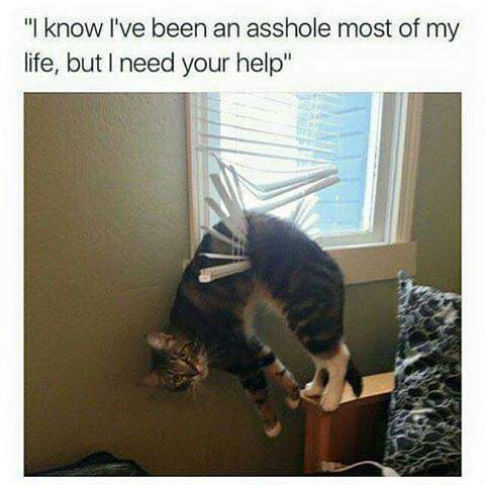 H/T Legally Sufficient
***

Good afternoon Horde. Yes, it is time for the almost world famous Ace of Spades Pet Thread. Please take some time out of your busy schedule and enjoy the world of pets.

***
A Little of This. A Little of That.

Are you a dog owner? The 10 Commandments for dog owners.

I can't imagine being a vet. What a tough vocation. They with patients who cannot communicate. They interact with emotional owners. They have to deal with deadbeats, keep up with continuing education. And lastly they euthanize our family members when it is time. What vets think about pet owners.
***

Although summer is quickly coming to an end. That means winter is right around the corner. When is it safe to leave your pet in a car? An excellent and educational read. H/T Hrothgar.
Meet The PetMorons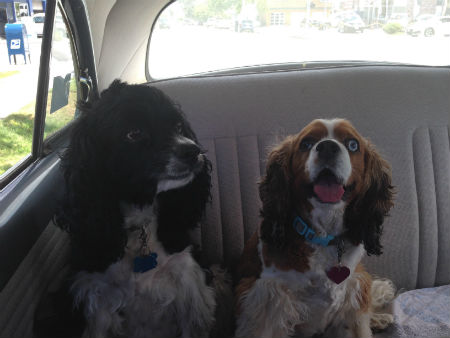 Our first photo today is from a Moron by the name of Tom. He submitted this photo to KT to pass along to us. The pups are Kaz and Darla. Sorry I don't have any other information to pass along.
***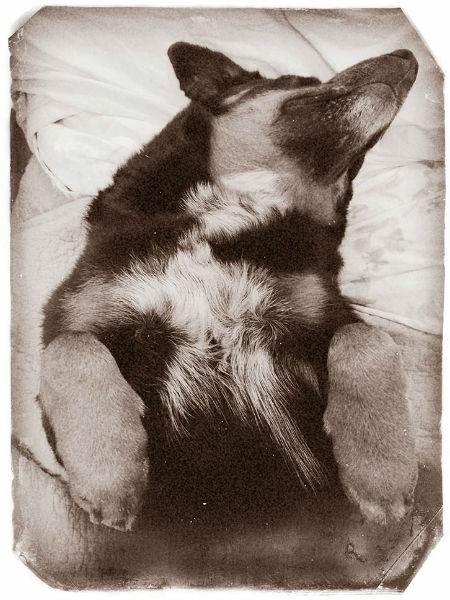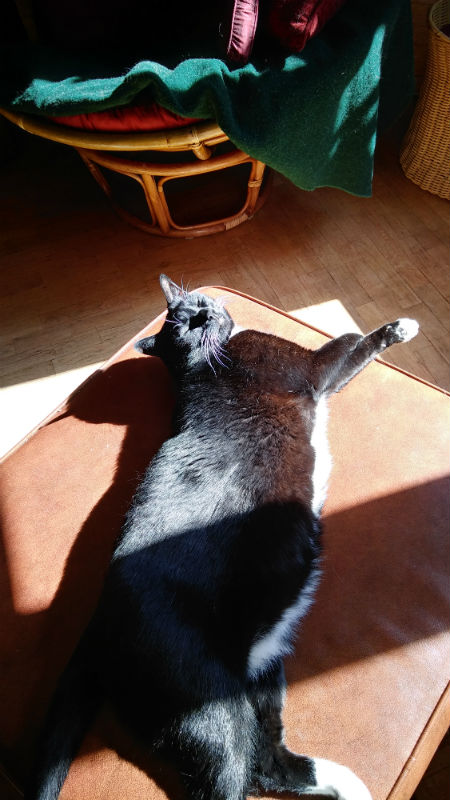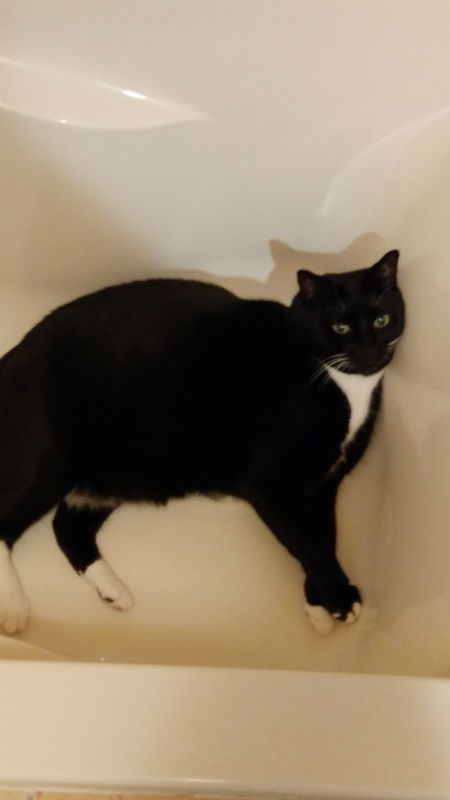 Greetings MisHum, may you live forever!

To stock the depleted archives of Moranimal photos I provide the following:

Ella, my sister's dog of Highly Mixed Parentage and total glee. Since my
sister is an accomplished photographer and likes to play with Photoshop
the photo was given the daguerrotype process for fun. As is traditional
Ella is clearly abused and neglected and sometimes does not get fed for
MINUTES!

Two pics of Diesel, the camera-hog of my two cats. In one he is lounging
on his personal footstool (he lets me use it sometimes) to absorb
photons, a critical task for black cats. He may be saving us from global
warming with this selfless action. Like Ella, clearly underfed and abused.

In the other photo...you know how cats like to sit in sinks? That's not
a sink. That's my bathtub. Which should give you an idea of how HUGE he
is. (And when he falls asleep on my lap sometimes my legs go numb...)


Keep up the excellent work with the Pet Thread! It is an oasis of happy
furriness.

Sabrina

Live forever? Guess who will be going to work every Monday morning forever? All kidding aside, thanks for the well wishes. Quite the cat you have there. What team does Diesel play linebacker for? And what can we say about Ella? Hope she survives the abuse.
***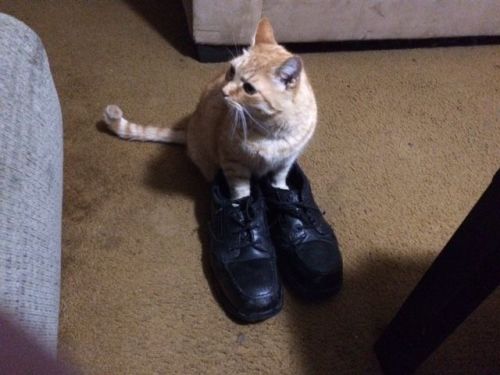 Here is one of a cat I've sent a photo of before: Tigre. In this shot our most
photogenic of kitties posed with his front paws in daddy's slightly oversized
shoes. Tigre never met a door he didn't want to go in and out of, over and
over and over. One day we had a cat door installed to save on heating and A/C,
but Tigre was waiting for US to open it the next morning. After several tries
at showing him (he's pretty, but a little slow) he finally realized he could
go through the cat door all by himself. He zoomed in an out of that thing for
hours, ecstatic. - Wendy
Sometimes the least gifted are the most fun to be around. Tigre sounds like quite the card. Thanks for sending his photo and the story in.
***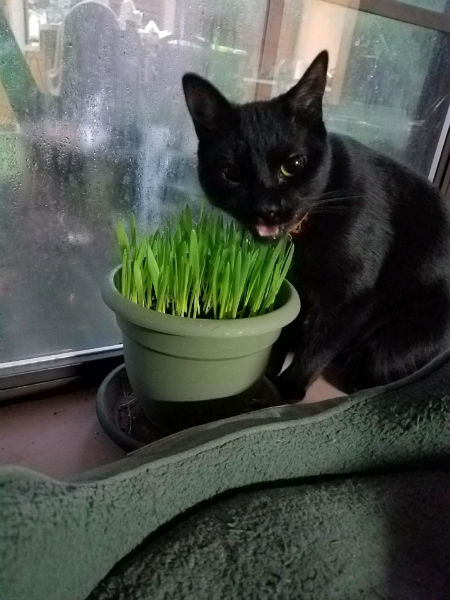 Mrs. E plants catgrass and Madison 'Lucky" LaMore eats the bunch in less than 4 hours. Doesn't seem to harm her either. Won't give her catnip cause she is already too hyper. - Eromero
Maybe Madison 'Lucky' needs to switch to decaf catnip? J/K. A lovely looking cat. Appears to have quite the fan in Mrs. E.
***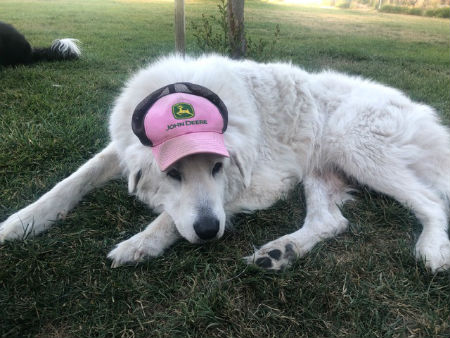 This is my friends Great Pyrenees wearing my hat. She is the sweetest dog. Her name is queen. Can you make this submission anonymous? The ultimate moron dog?
Since you are a regular Moron, your wish is granted. Although a pink JD hat might mean you're a girl :) or Jonah Goldberg.
Sorry about the political reference.
***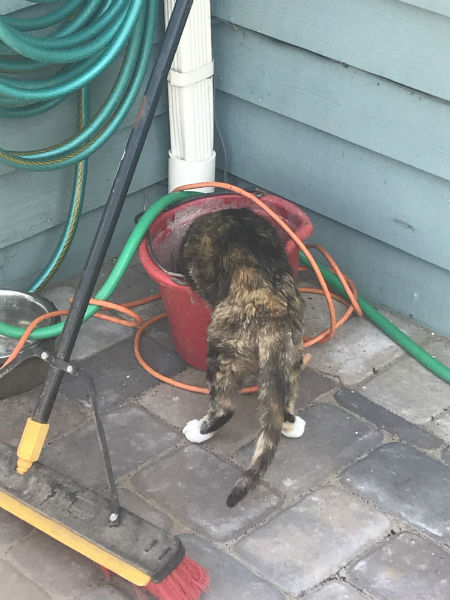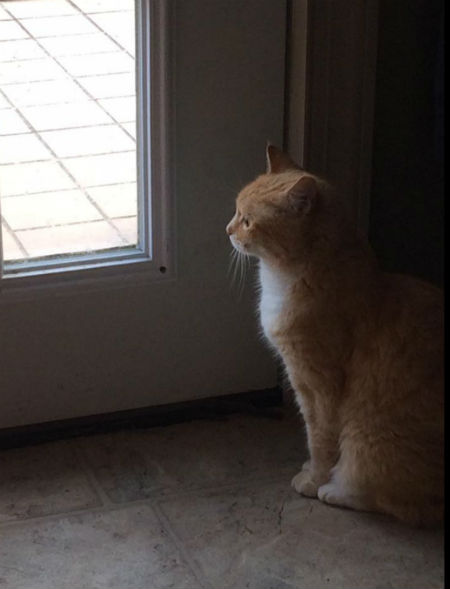 This is my cat Cleo.

Cleo is a shelter cat of about 16 years raised on my farm since she was a kitteh. She had a yellow tabby litter-mate sister, Sunny, that stayed outside and would not come in except to eat and sleep when cold. She also would not come near me, except when I was indisposed, so to speak, at which point she would circle through my legs while I was seated. Bastard ass coyote got her about 3 years ago.

Anyhow, Cleo has a bowl of fresh water inside the house and one on the porch, but of course moron cats are gonna moron. I guess you get to be that age you drink wherever and whenever you damned well please. - Bitter Clinger
Nice to see a regular commenter also submit photos to the Pet Thread. It is nice to know that moron pets are going to Moron. Sorry to hear about Sunny's demise. Coyotes are scum.
***
So that wraps up another AoS Pet Thread. Thank you everyone for the submissions. You make it all happen.
If you have something you wish to share with us you can contact us at petmorons at gmail dot com.
Hope you all have a great week!!!

posted by Misanthropic Humanitarian at
03:00 PM
|
Access Comments