« Thread before the Gardening Thread August 10 [KT]
|
Main
|
Ace of Spades Pet Thread »
August 10, 2019
Saturday Gardening And Puttering Thread [KT]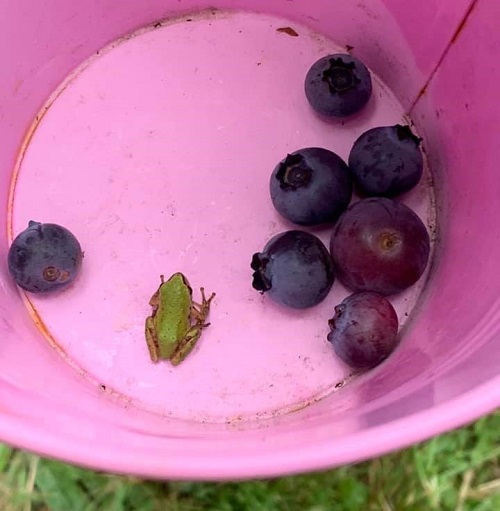 Don't eat green blueberries
The photo above, like the next one, is from the Saturday Gardening Thread Niece Network. There are pink blueberries now, but watch out for those green ones.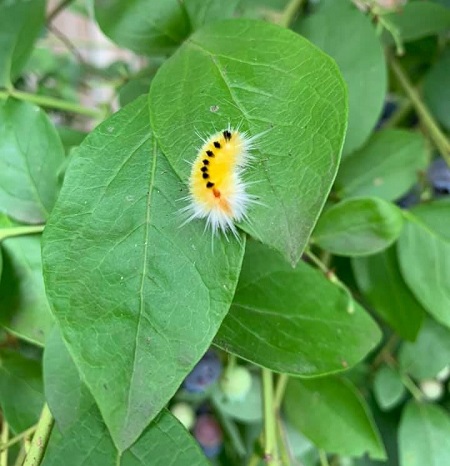 Care to identify this caterpillar? Remember that some hairy caterpillars, especially the tufted ones, have toxic hairs. And be careful not to get caterpillar hairs in your eye.
While we are in the I.D. business, the famous Pat* in Idaho would like some help. She also sent in a photo of the Hummingbird Mix in question, but it deserves a little more attention than we can give it today:
Hope The Horde can help ID this plant. It isn't anything listed on my Territorial Seed Co. hummingbird mix packet. The closest thing I can think of is vervain. It's mostly prostrate, though it's grown vertically up through the nearby blueberry bush. It has tiny, 5-petal lavender flowers, hairy stems. I couldn't get a good closeup of the flower heads.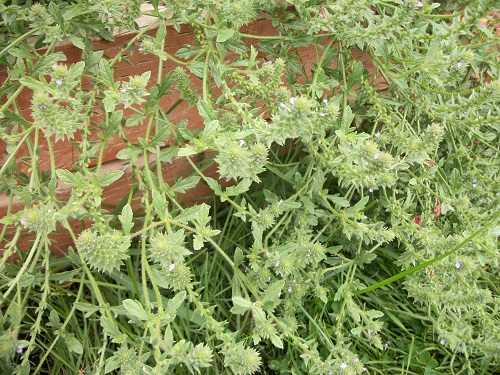 But here is a daylily photo she sent in earlier:
The daylily behind my garage had its last flower today (Thursday 7/25), but I managed to get this photo last week. Each stem is about 3 feet tall.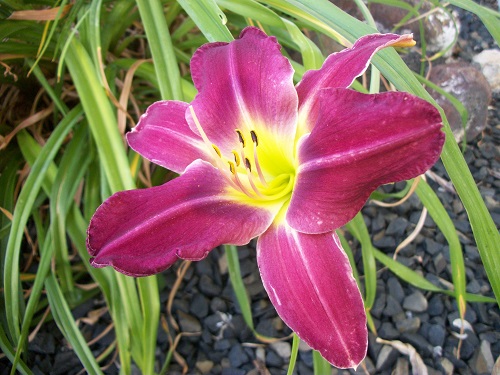 What do you have behind YOUR garage?
Puttering Around the Home
At one time, the Saturday Gardening Thread included workshop hobby content from time to time. Gardeners are often great at puttering, as the late Henry Mitchell (writing in WaPo) documented so well. But I am sure we have other putterers in The Horde as well. I thought it might be appropriate to re-introduce some content about household puttering. This week, I saw a piece on vital home maintenance tasks for summer. OK, that sounds kind of like work, but these are things that need occasional attention, and some of them can be turned into puttering if you try. Three involved dust and lint: Changing all your air filters, cleaning your refrigerator coils and cleaning out your dryer vent.
I once saw a display of art made primarily from dryer lint at a gallery in Newport Beach. It seemed to be mostly about texture: lumps and bumps projecting from the canvas, in various neutral tones, mostly. I expect that lint from refrigerator coils might be worked into that genre of art, along with a few bits of dried produce from under the refrigerator.
The other piece of art I remember from that show was a live man wearing a French maid's costume with a short skirt, tights, apron, cap, men's basketball shoes and a gas mask.
There are still dryer lint artists today. You can send colorful dryer lint to this artist, who goes for more realism than the art I saw. That is, if you do not wish to create some art yourself.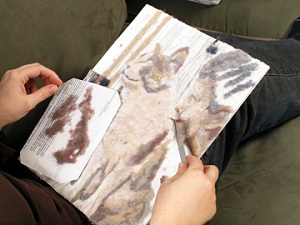 Doing any notable puttering today?
Butterfly Gardening
Hank Curmudgeon sent in this story on someone who takes puttering to a whole new level, the butterfly man of Evergreen Park, who has released more than 1,000 monarchs and swallowtails so far this year.
Erlich's front and back yards, his garage, part of his basement and his time are dedicated to growing and releasing butterflies, and tending to all the plants necessary to make that happen.

Last year he released 1,700 monarchs and 1,300 black swallowtails into the environment. Hundreds more got their start in his homegrown labs and were then transferred to his "recruits," friends and fellow gardeners who delight in monitoring the winged creatures until they are ready to be released.
He grows milkweed, fennel and parsley for caterpillars, and flowers for adult butterflies. He also started a garden at the public library, where he does presentations.
Along the south and west side of the library, tall compass plants sway their yellow blooms on the breeze, drawing bees and butterflies. Out front, a plot of zinnias, daisies, tropical milkweed and lantana are an example of what average gardeners might grow if they want to attract their own butterflies.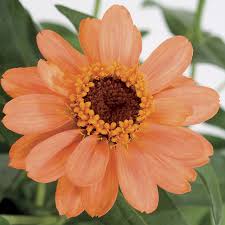 Apricot Profusion Zinnia
One side of the library mentioned above is planted in Compass Plants, favorites of large, showy butterflies, along with its cousins, the Cup Plant and Rosin Plant.
Why compass plant? It all has to do with those lovely lobed leaves. When they first develop, the leaves of the compass plant are arranged randomly. However, within 2 to 3 weeks, the leaves will orient themselves so that their flat surfaces face east and west. They also stand vertically. This is such a reliable feature of the plant that past generations have learned to use it as a reliable way in which to orient themselves.
Another interesting aspect of Compass Plant biology is their life expectancy. Given the right conditions, individual plants have been known to live upwards of 100 years!
For gardens, I like the look of its colony-forming cousin, Rosin Weed, once used by Native Americans to produce chewing gum. Only grows 5 feet tall. Blooms before native sunflowers. Drought tolerant.
Unlike many composite flowers, which have fertile disk flowers and sterile ray flowers, Rosin Weed exhibits the exact opposite. It is the showy ray flowers that are fertile.

Rosin Weed attracts a variety of pollinators but it is especially relished by some of our smaller solitary bees.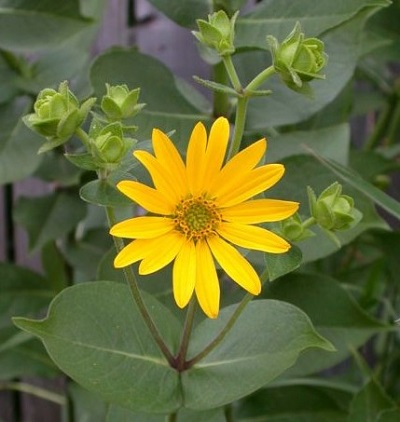 Compass plant, in contrast, can grow up to 8 feet tall in moist soils. May need some neighbors to prop it up.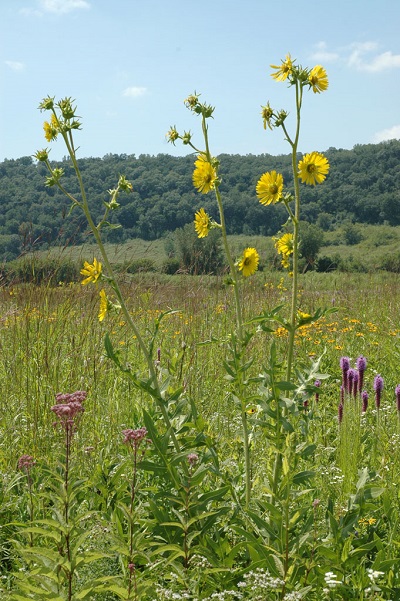 Compass Plant with Joe Pye Weed and Prairie Blazing Star
Ladyhobbit's majestic Joe Pye Weed last week looked taller than 8 feet. Might be a good companion. By the way, if you missed Illiniwek's doe and fawn last week, take a look.
Incidentally, there are several species of plants that are called Joe Pye Weed. They were once all classified as Eupatorium.
They all have fluffy flowers. One plant that used to be called Eupatorium (and sometimes still is in the trade) is Conoclinium coelestinum, or Blue Mistflower. Sometimes known as Perennial Ageratum. It can become invasive if it likes its situation. Attracts bees and butterflies. It looks an awfully lot like Ageratum.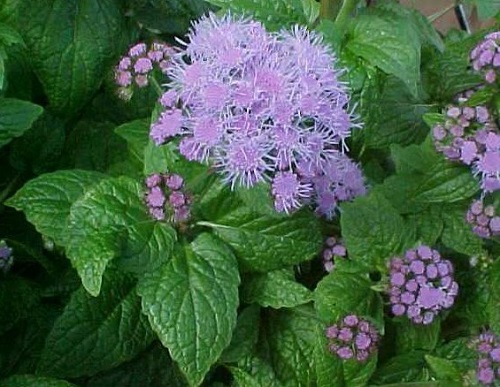 But back to actual butterflies:
I was underwhelmed by the butterfly photos in the Butterfly Man article. So here is one by Snowdog. It is a fritillary. I think it is a Gulf Fritillary. It is on a Lantana blossom.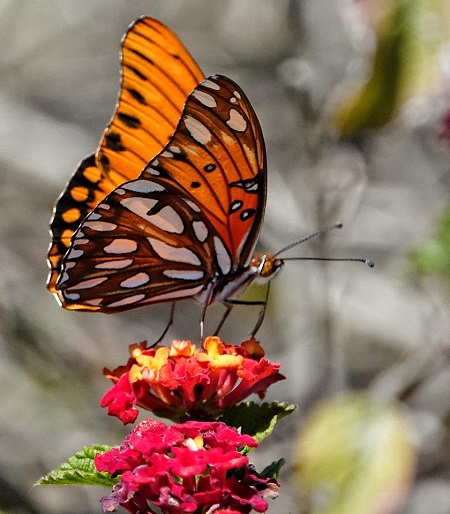 This in turn brings us to the larval host for Gulf Fritillaries (and a few other butterflies), passionflowers.
Mikee in Austin sent in this Passionflower photo. This species is likely more attractive to Gulf Fritillaries (for laying eggs) than the kind grown for fruit, or the red ones. He says the grills and windshields of his vehicles also attract Gulf Fritillaries.
Passionflowers are covering the fence line between my construction site for a new house and the little old lady's home next door. She's been gardening in her East Austin home for three generations, since at least 1963.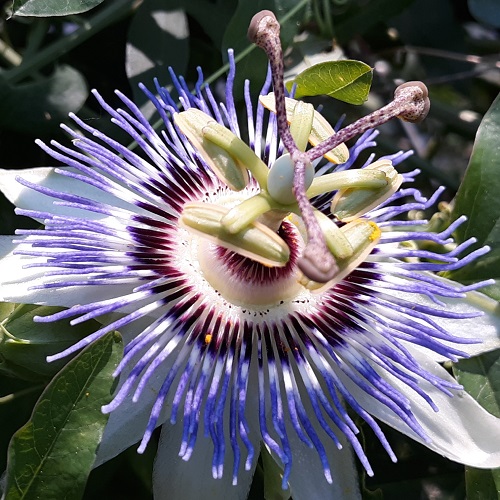 Her Iris are pretty, too. Some have sneaked onto my property and will be replanted as a front yard garden when the house is finished.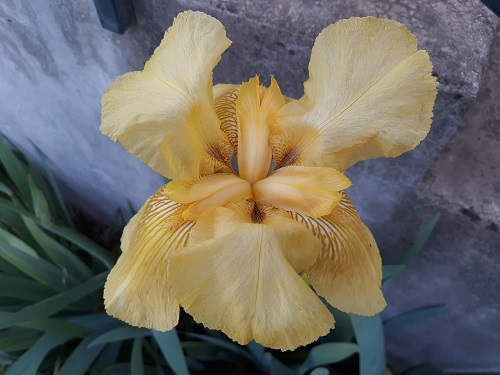 S. Lynne sent in a photo of her outhouse flower, a kind of double Rudbekia:
My neighbors and I have these six to seven foot tall flowers in our yards. Some previous residents must have shared at one time. We finally discovered they were called Outhouse flowers. Guess they used to camouflage the throne in the olden days.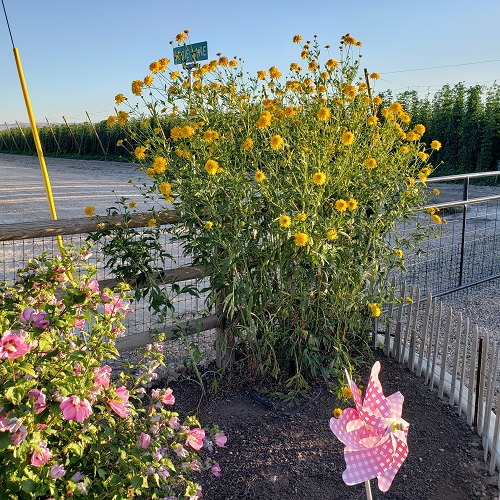 That's really what it's called! It has been grown by real outhouses.
It was bred from an American wild flower. This one. The Cutleaf Coneflower.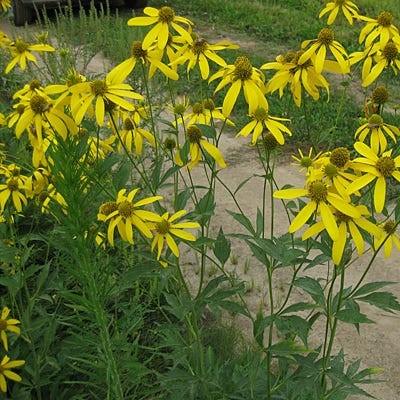 The single garden hybrid, Autumn Sun, is spectacular. Breeders can do wonders.
Rudbekias are caterpillar hosts for some of the brush-footed butterflies, like the Silvery Checkerspot. They are nectar plants for many, many butterflies.
Incidentally, those are hops growing behind S. Lynne's Outhouse Flowers. She says they are a new variety, Eureka.
Hops host the caterpillars of Question Mark and Comma butterflies. Some say it hosts the Red Admiral as well. Comparison of the Question Mark from the the Eastern Comma here.
The Edible Garden
From Garden & Gun Magazine (consider a subscription), a timely recipe utilizing fruits from the garden and orchard, Blackberry and Peach Cobbler. I usually make clafouti-type cobblers, but this one sounds great, too. The crust is similar to a shortbread cookie, with crystallized ginger and pecans added.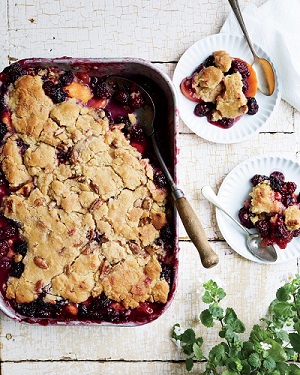 Make some homemade vanilla ice cream or whip some cream and have a little garden party. It's time.
Do you have a favorite cobbler recipe? I think this one would adapt nicely to certain plums.
Got anything going from the garden to the kitchen today?
If you would like to send information and/or photos for the Saturday Gardening Thread, the address is:
ktinthegarden
at g mail dot com
Include your nic unless you want to remain a lurker.


posted by Open Blogger at
01:24 PM
|
Access Comments