« Ace of Spades Pet Thread
|
Main
|
Be of Good Cheer »
August 10, 2019
Barr Demands Answers for Epstein Death
Note: The Ace of Spades Pet Thread is below! Remember you can keep commenting there about nice things, like doggies.
Attorney General William Barr said Saturday that he is "appalled" by the death of disgraced financier Jeffrey Epstein - and said that he has spoken to the Department of Justice's inspector general about opening a probe into the circumstances surrounding the apparent suicide.

"I was appalled to learn that Jeffrey Epstein was found dead early this morning from an apparent suicide while in federal custody. Mr. Epstein's death raises serious questions that must be answered. In addition to the FBI's investigation, I have consulted with the Inspector General who is opening an investigation into the circumstances of Mr. Epstein's death."


Epstein, who is accused of sex trafficking minors, was found unresponsive inside his cell at the Metropolitan Correctional Center in New York City around 6:30 a.m. Life-saving measures were initiated immediately by responding staff. He was transported to the New York Presbyterian-Lower Manhattan Hospital and was dead on arrival, officials said.

The New York City medical examiner's office told Fox News that an autopsy is pending to determine the cause of death. But the death comes two weeks after the 66-year-old was placed on suicide watch after being found injured in his cell. Epstein was in his own cell at the time of his death and was no longer on suicide watch, according to the Associated Press.
I'm certainly not going to knock anyone for speculating about foul play here, but I do think there's a case that this was just a suicide, enabled by the usual high standards of government work.
He tried to kill himself three weeks ago. He had been on suicide watch, but no longer was. (I don't know how long they keep you on suicide watch, but obviously the answer isn't "forever.") Now in a bed with regular bedsheets (I heard someone say that suicide watch bedsheets are intentionally flimsy so they can't be used as a noose without simply tearing), he offed himself.
Were guards supposed to check up on him every half our or so? Maybe. But you can kill yourself quickly if you want, and besides, the guards really aren't there to keep you from killing yourself. They're there to follow the protocols that will keep them from getting fired. There's a difference, you know?
Not saying that there's nothing to the darker speculations -- I'm just saying the least-sinister theory of the case shouldn't be dismissed.
But, on the other hand, the Daily Mail suggests that there might be something more sinister here:
Jeffrey Epstein was found hanged in his prison cell at Metropolitan Correctional Center on Saturday morning

However, a source who has seen Epstein in recent weeks has told DailyMail.com that 'there was no indication he might try to take his own life'

The insider further claims the billionaire had told prison guards and fellow inmates that he feared someone had tried to kill him

Epstein, 66, was briefly hospitalized on July 24 after being found semi-conscious on the floor of his jail cell

It is unclear whether he attempted suicide or whether was attacked

The billionaire was not on suicide watch at the time he took his own life on
Saturday, sparking outrage from top Washington figures

Attorney General Will Barr has ordered both the FBI and the Inspector General to open investigations into Epstein's death

Epstein's death comes just 24 hours after explosive court documents were unsealed implicating several powerful men in Epstein's sex scandals
The Hero of Cucks, Ben "Spotlight" Sassy, saw a chance to strut around and play Pretend Hero and so he's getting his quotes printed in the liberal press.
Sen. Ben Sasse (R-Neb.) on Saturday wrote a letter to Attorney General William Barr that "heads must roll" regarding Jeffrey Epstein's apparent suicide after his body was found and it was reported that he had been take off suicide watch.

"The Department of Justice failed, and today Jeffrey Epstein's co-conspirators think they might have just gotten one last sweetheart deal," Sasse, who chairs the the Senate Judiciary oversight subcommittee, wrote in the letter.

"Every single person in the Justice Department -- from your Main Justice headquarters staff all the way to the night-shift jailer -- knew that this man was a suicide risk, and that his dark secrets couldn't be allowed to die with him," he added.

"Given Epstein's previous attempted suicide, he should have been locked in a padded room under unbroken, 24/7, constant surveillance. Obviously, heads must roll," he wrote.
Um, that sounds unconstitutional. If we did that to a suicidal illegal immigrant who'd been detained, Sassy would be screaming that we were Nazi Germany, putting people inside the Panopticon.
And in the meanwhile, Sassyboy has had not one word to say about the DOJ's leaking and lying and spying on a presidential candidate.
This might be a clue worth following up on: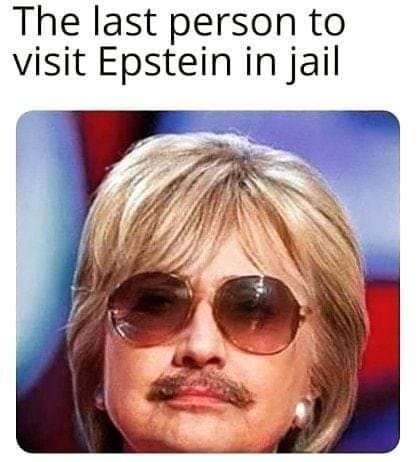 Amusing:

posted by Ace of Spades at
04:10 PM
|
Access Comments