« Why Not?
|
Main
|
The Morning Report - 07/17/19 »
July 16, 2019
Overnight Open Thread (07-16-2019)
[Misanthropic Humanitarian is otherwise engaged, and Ace's D&D die, repurposed for who gets Tuesday night coverage, landed on "Dildo." The downside is that I usually get a head start on the Art Thread on Tuesday nights, so next week will probably just be a Lucian Freud/Ivan Albright retrospective]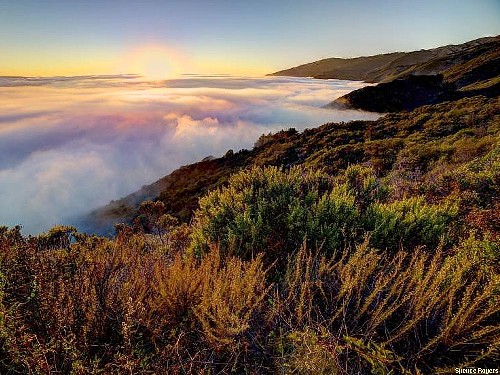 I have a friend who's an artist and has sometimes taken a view which I don't agree with very well. He'll hold up a flower and say "look how beautiful it is," and I'll agree. Then he says "I as an artist can see how beautiful this is but you as a scientist take this all apart and it becomes a dull thing," and I think that he's kind of nutty. First of all, the beauty that he sees is available to other people and to me too, I believe. Although I may not be quite as refined aesthetically as he is ... I can appreciate the beauty of a flower. At the same time, I see much more about the flower than he sees. I could imagine the cells in there, the complicated actions inside, which also have a beauty. I mean it's not just beauty at this dimension, at one centimeter; there's also beauty at smaller dimensions, the inner structure, also the processes. The fact that the colors in the flower evolved in order to attract insects to pollinate it is interesting; it means that insects can see the color. It adds a question: does this aesthetic sense also exist in the lower forms? Why is it aesthetic? All kinds of interesting questions which the science knowledge only adds to the excitement, the mystery and the awe of a flower. It only adds. I don't understand how it subtracts.
-- Richard P Feynman
I'm in favor of legalizing drugs. According to my values system, if people want to kill themselves, they have every right to do so. Most of the harm that comes from drugs is because they are illegal.
-- Milton Friedman
There is nothing noble in being superior to your fellow men. True nobility lies in being superior to your former self
-- Ernest Hemingway
It is absurd to divide people into good and bad. People are either charming or tedious
-- Oscar Wilde
******
Good. Destroy women's sports as quickly as you can, you freakish, profoundly disturbed maniacs! Your psychoses, supported by the pinch-faced scolds of the SJW contingent will drive away normals in droves, and you will be left with...whatever your lunatic dreams can conjure.
Another man wins gold in women's weightlifting
The transgender conquest of women's sports continued over the weekend as a New Zealand weightlifter took home multiple gold medals at the 2019 Pacific Games in Samoa.

Laurel Hubbard won two gold medals and a silver in the three heavyweight categories, for women weighing more than 87 kilograms, or 192 pounds, finishing first in the snatch-lift and combined categories and second in the clean-and-jerk.

The 41-year-old weightlifter was born as Gavin Hubbard and reportedly transitioned while in the mid-30s.
Of course he did.
[Hat Tip: Jay Guevara]
******
We warned you...but no...you had to let them build the next generation, and the generation after that.
******
Dads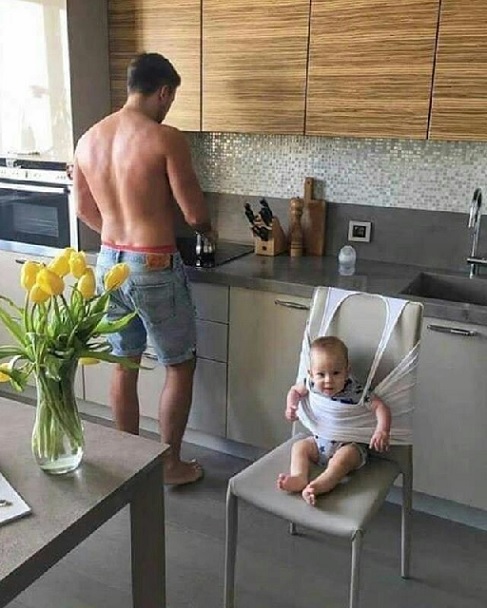 [Hat Tip: Tami]
******
******
Yeah...I don't know about "Brilliantly," but some of them are amusing...

Classic Rock And New Wave Songs Brilliantly Reimagined As Vintage Pulp Fiction Paperbacks
******
******
North Carolina Lunacy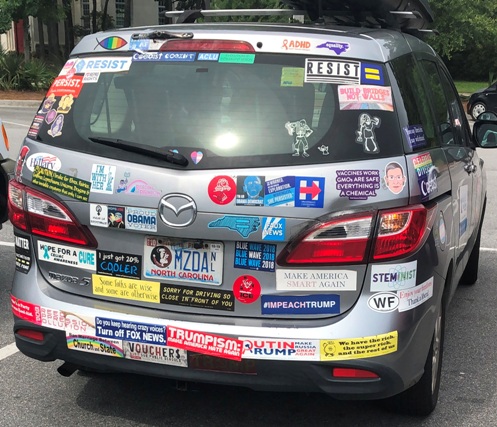 Yeah, it's an NC car, but it was in South Carolina. They should tighten up their border!
[Hat Tip: Jane D'oh]
Okay...I screwed this up completely. I have no idea why I thought that Jane D'oh was in SC, and I will not blame the Irish Whisky.
It was in Georgia!

******
©2021 by AceCorp LLC. All Rights Reserved. Do not taunt proprietor with Makita, DeWalt or Milwaukee products. Shelves are non-weight-bearing and are for decoration only. Dehydrating room is closed. Platinum members to the right, all others please use rear entrance. All members wearing fur-lined Crocs will be asked to leave. Fasting members take precedence over non-fasting members. Send all unwanted Browning Hi Powers to: cbd dot aoshq at gmail dot com
******
Addendum
IrishEi's favorite song!
&topic=world_news">

posted by CBD at
10:00 PM
|
Access Comments